Remembering Dr. Michael Green
February 11, 2019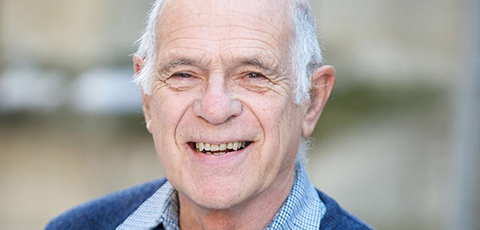 "If anyone ever has embodied Regent's vision of an 'intelligent, vigorous, and joyful' Christian, it was Michael."
Regent College mourns the loss of Dr. Michael Green, Professor of Evangelism at Regent from 1987 to 1992 and a dear friend and mentor to many in the Regent community. Michael died in hospital on February 6, 2019 at the age of 88. He is survived by his wife, Rosemary, their four children, and many grandchildren.
Educated at Exeter College, Oxford, and Queens' College, Cambridge, Michael was an academic, writer, Anglican priest, and prominent evangelist. Before coming to Regent, Michael was rector at St. Aldates Church in Oxford (1975–87), a community in which many Regent alumni and faculty found a spiritual home while completing their studies.
Regent College President Jeff Greenman first met Michael at St. Aldates while in the process of embracing Christianity, later studying under him while completing an MDiv at Regent. Jeff recalls:
"Michael Green was an unforgettable, exuberant, and contagious Christian. He was a rare combination of scholar and practitioner, evangelist and exegete. If anyone ever has embodied Regent's vision of an 'intelligent, vigorous, and joyful' Christian, it was Michael.
"Michael taught numerous times as a sessional lecturer with Regent's Summer Programs before joining the permanent faculty in 1987. He taught at Regent in the areas of evangelism, apologetics, applied theology, and New Testament. One of my favorite memories of Michael at Regent was his 'Green on the Grass' sessions on the lawn, under a tree, on sunny summer days. He'd sit with students and talk about everything and anything that they wanted to ask about­­––spiritual struggles, pastoral questions, advice on doing evangelism, tricky New Testament texts, or whatever else. He was relaxed and funny and always full of immensely practical wisdom on living out our faith and helping others to find it.
"Students from Michael's era at Regent will always remember going on evangelistic missions that he organized in cities in British Columbia and Washington state. Just as he had taken students from his congregation on outreach missions, so he took Regent students out of the classroom and into the streets to share the gospel. For him, talking about sharing the gospel in a classroom was prelude to making the learning become real by actually sharing their faith with non-Christians. No one who participated in these missions will ever forget what they were like and what they learned."
"I was privileged to count Michael as my pastor, teacher, mentor, and friend."
Michael left Regent in 1992 to serve as Advisor on Evangelism to the Archbishop of Canterbury, George Carey. Although he officially retired in 1996, Michael continued to serve as an Honourary Fellow at Wycliffe Hall, and from 2005 to 2007 he took a role as co-Rector of Holy Trinity church in Raleigh, North Carolina. Over the course of his career Michael wrote more than 50 books, marked by a deft touch on theological issues and his characteristic directness and humour. Standout works include his modern classic, Evangelism in the Early Church, (first published in 1970; rev. ed. Eerdmans, 2004); his spiritual autobiography, Adventure of Faith (Zondervan, 2003), and a popular level Christology: Who Is This Jesus? (1991; repr. Regent College Publishing, 2007).
To the very end, Michael was committed to bringing Jesus to everyone he encountered. His life and death embodied the single-minded and joyful devotion described in Acts 20:24: "I consider my life worth nothing to me; my only aim is to finish the race and complete the task the Lord Jesus has given me—the task of testifying to the good news of God's grace."
On learning of Michael's death, Dr. Jim Houston, founding Principal of Regent College, commented: "he was a great visionary, so unashamed of preaching the gospel in a Pauline boldness, yet with such joyous humor. It is the finality of death which is so awesome, making our evangelical witness more urgent than ever."
Please join us as we give thanks for Michael's life and legacy and pray for his family in their loss.