Iwan Russell-Jones Reflects on Arts at Regent and His Upcoming Move
October 30, 2019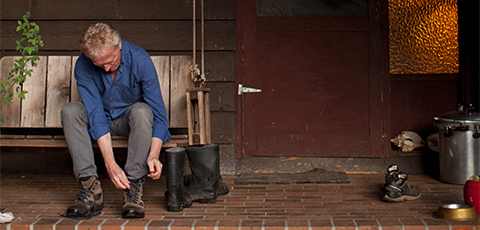 Regent wants to be an institution that integrates theology and life. It wants to be heart and head and body. And I think the arts is a fantastic symbol of that.
Last month, we released the news that Dr. Iwan Russell-Jones, the Eugene and Jan Peterson Chair in Theology and the Arts, along with his wife, Dr. Amanda Russell-Jones, will be moving back to Wales after the 2019/20 academic year. Read the full news item here.
If you've spent time at the College this past decade, you know that the Russell-Jones family has played a central role in Regent's community life, academically, socially, and spiritually. There's hardly been a single Regent lecture, social event, or (especially) arts presentation in that time without the enthusiastic presence of at least one Russell-Jones.
In light of this fact, we wanted to give Iwan a further chance to reflect on his time at Regent and his future plans. Hear the unlikely story of Iwan's arrival at Regent, the highlights of his time here, and why he's convinced he has the best job at the College.
You joined the faculty in 2011. What brought you here?
It's a pretty amazing story really. I left the BBC in 2010 and I'd been there a long time. I loved my time at the BBC in many ways, but I also felt that it was becoming more and more difficult to do what I really wanted to do—which was to make programs, films, of a religious nature within a BBC context. I thought, well, if I leave the BBC and set up my own company I'd have more chance of pitching to a much wider range of broadcasters and commercial channels
So I left in 2010 and started to pitch ideas and put my own little company together. But I also sent my CV out to various places. A friend of mine—a guy called Lindsey Brown who used to run IFES [International Fellowship of Evangelical Students]—he said to me, Regent has an amazing summer school program. Why don't you send your CV there? They might be interested in some of the things you do.
So I sent my CV and a cover note to the Dean at the time, who was Paul Williams, and I said if there's anything I can do for you, you know, summer school or whatever, I'd be really interested in hooking up with Regent. I'm particularly interested in theological education for lay people. And I knew that Regent was very strong on all of that. He got back to me very quickly and said, "Did you know we were advertising a job in theology in and the arts? And did you apply?" And I said, "Well no, I didn't apply." And he said, "Would you be interested in applying?" And I said "Yeah, ok."
Then I think Christmas intervened, and nothing happened for a while. I didn't receive anything. I got back in touch with him in January and said, "I quite understand if you filled the job, but I'd still like to come for Summer School or whatever." He got back to me again and said, "No no no, the trail hasn't gone cold. Can you come over next week?"
That was early February 2011. It all happened very quickly.
And two years later you were appointed the first Eugene and Jan Peterson Chair in the Arts. Can you talk about what it meant to you to inherit that legacy and what it was like holding that Chair?
When I came here, I was the theology and the arts person. But they'd been busy raising money for an endowed chair. I remember a faculty meeting where I was asked to leave. I wasn't quite sure why. They were basically discussing the establishment of a theology and the arts chair.
And then I was asked to be it. We had a fantastic inauguration weekend. Eugene Peterson gave a lecture, and the chair was inaugurated. And the next night I was placed in it, and had to do a presentation. That was a fantastic weekend celebrating the arts. Music—jazz, poetry—really a tremendous moment for Regent because I think it's the first fully endowed chair at Regent. That that should be theology and the arts says a lot.
Actually, when Eugene and Jan were asked what they wanted the chair to be in, it was their choice for their name to be attached to the theology and the arts chair. You would think it would be spiritual theology or pastoral ministry or something. But no, they wanted it to be in theology and the arts. It's a tremendous testimony to the importance of the arts, but also the importance that Regent has placed on the arts over the years.
What were some highlights of your time at Regent?
Working here has been a tremendous enrichment for me theologically and artistically. I valued that so much personally. But then actually contributing, being able to be a part of the flourishing of so many students who come here—Some of them are already very good artists and they want a theology to back up what they're doing artistically. But other folks, they're really finding their feet for the first time in the arts and discovering their love for it. And then, boy, you know, they take off. And that has been just brilliant.
So many of the things that I've been part of were already in place when I arrived. That's thanks to people like Maxine Hancock and Dal Schindell and Loren Wilkinson. And particularly this fantastic thing called the Integrative Project in Arts and Theology, which I think is one of the most amazing things that Regent does. Regent wants to be an institution that integrates theology and life. It wants to be heart and head and body. And I think the arts are a fantastic symbol and embodiment of it. With the Integrative Project in the Arts, people have to think hard theologically about the arts. But they also have to produce and create artistically. And I think the combination of those two things, the academic rigour and also the artistic production, is a rare thing! I don't think there are many places in the world where a Christian institution is committed at a Master's level to that sort of education.
Some of the best nights here—some of the best experiences for me—have been the nights when IPIAT students present their work. They have to do it publicly. If they're painters they've got to show their work in the gallery and talk about their artistic vision, but also the theological thinking that lies behind this. If they're poets, they've got to produce a collection of poems. Writers, filmmakers, whatever. Those evenings where they present their work are just amazing—a fantastic celebration for the whole community of Christianity and the arts.
It's the best part of the job actually. I believe I've got the best job at Regent. You really see students coming alive, both in their faith, but also in their art. There's nothing better, in my view.
What's coming next?
We're leaving with sadness but also because we feel it's time. For the last nine years we've basically been trying to live in two places. We've obviously been living in Vancouver during the term times, and that's been great. But we've also been trying to keep a life in Wales together. And our family is there. We just feel it's time to move back, for their sakes and for ours as well. But I hope very much that links will continue with Regent and we'll continue to do things in some capacity with Regent.
We also hope that we'll be able to make a contribution back in Britain. We love Britain. We love British culture. It's going through a rough time at the moment. It's hard to believe in many ways the stuff that's going on with Brexit and the kind of divisions that we're seeing in British culture. But we are keen to make a Christian contribution there in whatever capacity we can. At the moment I'm not sure what that looks like. Maybe some more teaching. I certainly hope that. Maybe some more filmmaking. Who knows?
What is it of Regent that you most want to bring with you into these next steps?
Regent has this rare commitment to the life of laypeople. We train ministers here now, and that's fantastic. But they're training alongside people who are not going to be professional Christians. They are going back into professions of one kind or another and contributing to the life of the world. And I think Regent gets that in a way that very few places do. I wouldn't have wanted to go to most theological colleges, to be honest, to teach. But Regent has had a vision from the beginning that is unique and special and wonderful––theology for life.
This is not theology for religious professionals. It's not just about life in the church, or in the Christian bubble, but actually life out in the world trying to witness to Christ. That's been my life. I haven't lived in a religious institution for most of my professional life. It's been out in a large secular institution. For so many Christians, that's the reality. And yet often churches, pastors, theological colleges don't serve the many Christians who are struggling to tie their life and their faith together. So for me it's been a really brilliant opportunity to help people do that, and I want to continue that if possible back in the UK.
---
View the trailer for Making Peace with Creation below. Iwan directed the film in and around Vancouver with the help of a team of Regent students.