Iwan Russell-Jones Lends a Hand with New European Evangelical Movements
July 17, 2019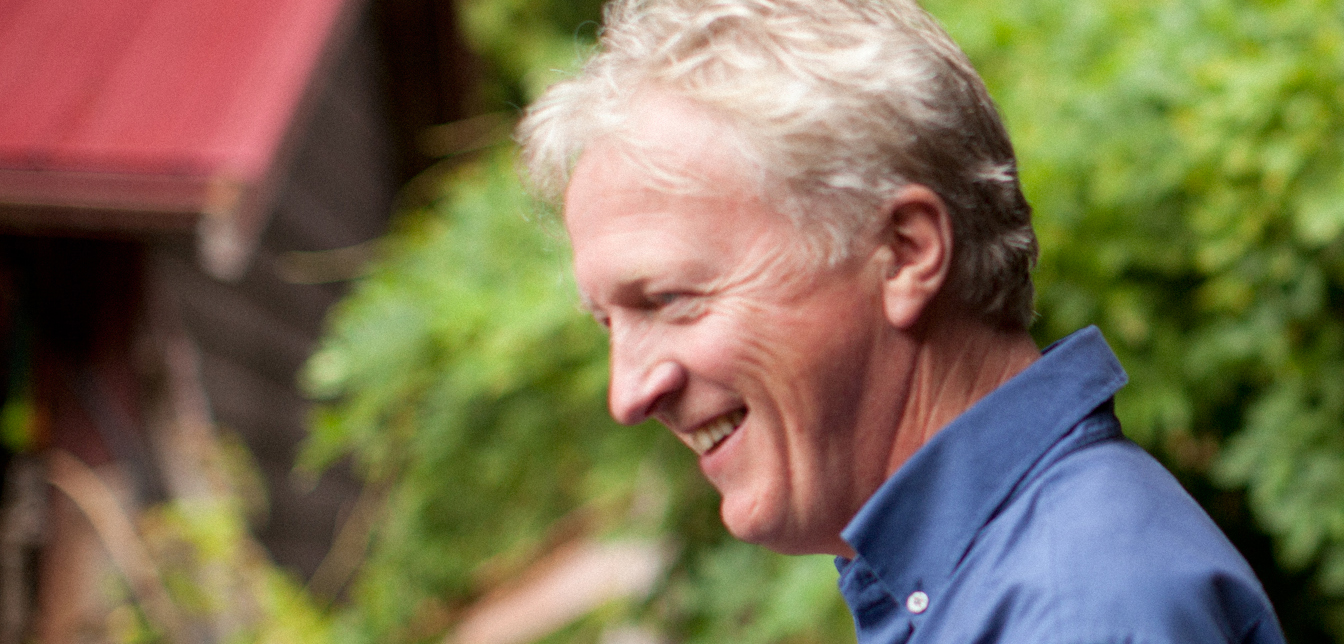 Western Europeans and North Americans can learn a lot from these Christians. They're in tough situations but they're doing fantastic and creative things.
This likely doesn't come as a surprise, but when Iwan Russell-Jones, our Eugene and Jan Peterson Associate Professor of the Arts, is not at Regent, he continues to energetically pursue his vocation. This summer, Iwan spoke and led at two separate burgeoning evangelical movements in Europe. The first was the international mentorship program for young professionals, Graduate Impact, birthed out of the International Fellowship of Evangelical Students. The second was the Justice and Reconciliation Conference in Skopje, Macedonia organized by the Balkan Institute for Faith and Culture.
These two events have a lot in common: they're both new; both theologically robust; both rooted in the evangelical church; and both taken with the very Regent-y vision that our faith should infuse every facet of our lives, both public and private.
We Skyped with Iwan during his time in Macedonia to get the details.
Regent: Let's start with your work with the International Fellowship of Evangelical Students. What is IFES? And what is Graduate Impact?
Iwan Russell-Jones: IFES is the International Fellowship of Evangelical Students. They've long been involved in work right across Europe. But in the last few years they saw the need for continuing the work past graduation, past university, when Christians often need support and mentoring in their lives—particularly in the different professions. So IFES managed to find some money for a project that's Europe-wide that they have called Graduate Impact. It consists of professional groups that are gathered from across Europe—there are groups in medicine, law and education, for example. . . And they just started one on media and journalism. They're drawn from all over Europe. Folks in the early parts of their careers are meeting with people like me who've had a career or are at the far end of it. I help lead the media and journalism group.
How did you get the call to be a part of this?
I was just leaving the BBC. A guy called Tim Vickers was working for IFES. We were both at the Lausanne Congress that took place in Capetown in 2010. And we struck up a friendship. He's always had a vision for connecting faith and life. It's actually a very Regent vision. It's trying to [provide] the best theological research to people in the middle of life rather than thinking that theology is somehow different to the business of living. His vision has been to get this support going for graduates for quite a while, and has been wondering about trying to get something going in journalism and media. He approached me to [see] if there's any way that I might be able to be involved. We met up last summer and I figured out that if one of the meetings was in summer and the second meeting was in the second reading week in the Fall Term I could probably do it. Hence my involvement.
You've had one meeting so far in Brussels. How did it go?
Yeah it went really well. IFES had two groups meeting at this conference centre in Brussels. One of them was a medical group and then our group. We shared some times of worship but split up into different groups for the sessions. It was great. What was really surprising to me—and yet not surprising—is that most of the participants in both groups were from Eastern Europe. They're really hungry for support, mentoring—for theology really.
Did it involve lectures? Or was it more sitting around a table and discussing the issues they were bringing from their life and career?
A bit of both, really. It's a small group—like 12 people with me and one of the other leaders. So we could sit around a large table. I worked with another Graduate Impact leader—a guy called Samuel Johns who spent a lot of time at Regent a few years ago when he was doing his Masters in geography at UBC. The way we approached it was a bit of lecturing and a bit of sharing.
I gave them some material on a theology of communication—a basic approach to thinking biblically about the world that you're in, stuff on journalism and truth-telling and story-telling, and all that sort of thing. Much of that was based around a course I teach at Regent––I'm actually teaching it this fall––called Image and Word.
And we also gave each person from the group a good amount of time to talk about their work. I got them to prepare a couple of things before they came—something they're really proud of that they've already achieved in their career, and something they've found particularly challenging, difficult. There were lots of conversations based around what they shared. It was always rooted in the practice of journalism.
There was one guy who'd just been in Uzbekistan doing reports for television on elections there. That provoked quite a long discussion about the extent to which what we're doing is actually helping a situation, telling the truth about a situation, or to what extent is it being propaganda for outfits who want to pull the wool over our eyes.
Journalism is such a quickly morphing career right now. Were there a lot of conversations around that cultural shift?
Yes indeed. One of the guys there was working for LinkedIn, for example. I don't have any experience in that. I sometimes felt like a bit of a dinosaur really—I worked in television for many years. What's television? It's old-fashioned. It's almost as old as the printing press! But yeah, there were two people who were working in television and folks working in classic newspaper journalism. But there were other people who were in social media and wanting to use internet for ministry, for example. Or trying to get a television station going on the internet, very much bypassing all the old broadcasting technologies.
What do you say to early professionals who are trying to understand how their work with social media or TV or journalism is related to their life at church or their worship of God?
I think this is where we go back to basics. It's why we spend so much time at Regent on the fundamental biblical doctrines of creation and redemption—understanding that these things are not about some otherworldly reality. They're about our lives. Salvation is an incredibly all-encompassing thing that is about the salvation of the whole creation. And in that, art, culture, politics, medicine, education, they've all got their place.
It seems obvious in some ways, but actually the way that a lot of Christians are being taught is quite restrictive and people know actually they need help. They need theology. And that's why studying theology is a great privilege, isn't it? It's important for everybody. I love the fact that Regent is a college that really is committed to theology for life. This is what [it] is all about. It's absolutely vital that Christian people, thinking Christian people, are theologically educated, and that they're thinking theologically about whatever area of life they're in.

Your Brussels meeting was a few weeks ago; now you're in Macedonia. Can you let us know what you're up to in Eastern Europe?
Yeah, so this conference is all on reconciliation and justice. You know the Balkans has just been a powder keg since the fall of Yugoslavia. And the folks who planned this event are trying to get Christians here to face up to the divisions in their society and to think about what reconciliation and justice really mean in this context.
It's run by a great couple called Kosta and Nada Milkov. Kosta used to work for IFES in the Balkans. And then he went off to Oxford and did a doctorate on Maximus the Confessor, would you believe. He's a real expert on Orthodox theology. Nada did a Masters in publishing. They came back to Macedonia and they've set up this thing called the Balkan Institute for Faith and Culture.
What this couple are doing, man, it's just brilliant. Kosta could have got a job probably in any Western university or seminary. He's an evangelical, really knows his stuff theologically—but they both wanted to come back and serve in Macedonia. They've set up a publishing house and opened a little cafe that they call a literary cafe in Skopje, the capital, and they run conferences. They publish some leading Macedonian literary people—not Christians necessarily, but they've made fantastic links in the creative arts. I think they're using these possibilities to get a conversation going and to be part of the culture rather than apart from the culture
It's a great privilege—I know that—to be in these places. These are great initiatives and Western Europeans and North Americans can learn a lot from these Christians. They're in tough situations but they're doing fantastic and creative things.
What will you be talking about this week?
I'm doing a few things, including showing the film that I made with Loren Wilkinson called Making Peace with Creation. I'll be giving a talk on "Jesus, Justice and the Arts", focusing especially on the Ecce Homo theme. And then I'm going to speak on four movements in contemporary politics in the last century that have been motivated by a Christian vision of justice in one way or another. [The first is] the Barmen Declaration, the work of the Confessing Church in opposing Nazism in Germany and how really at the heart of that was a prophetic vision—naming the idols. [I'll talk about] the Civil Rights Movement in the States and the whole emphasis on the Exodus—that God is the one who created the Exodus and who made Himself known through it. God is the one who makes a way out of no way. [I'll talk about] Liberation Theology in South America, not so much the Exodus on this occasion but the emphasis on the Biblical bias for the poor. God's got a heart for the ones who are oppressed. And then finally [we'll cover] the Kairos Declaration in South Africa, which is about really confronting apartheid and the emphasis there on justice: there is no reconciliation without justice.
Also Amanda Russell-Jones, my wife and colleague, is talking about Josephine Butler—Butler's whole vision of justice for women and the work that she did in the nineteenth century on that.
One final comment and question: I think of you as an academic and a teacher and a professor but also you have these other interests and passions. Being overseas and doing these conferences also seems like a big part of what you feel passionate about. Could you talk how you feel this work is a part of your vocation and calling as a journalist and an academic?
Well, you see, I've never really thought of myself as an academic. I want to be a Christian. I want to be a Christian intellectual. But I don't particularly see myself as an academic. I think academia is important, and learning is important. But I spent my life at the BBC. I started off in academic theology and got really frustrated with how divorced it was from life. Then accidentally I ended up at the BBC and tried to make sense of what I was doing there.
I was someone who had been theologically educated, but [when I got to the BBC I had to ask], what's that got to do with filmmaking and journalism? I feel very strongly for Christians who are in secular careers and finding it really difficult to make the connections between that and their faith. The longer my life has gone on the more I think this is a problem that faces so many people in churches all over the world: What are my faith and my life all about? If theology isn't about life, what is it about? If it's not able to make sense of the world in which we live and the work we do and the ambitions we have, then what's it all about anyway? For me, coming to Regent was an extension of what I was already doing. Regent's vision is to be fundamentally a theological college for lay people. That's how it started, and it's still a strong dimension of what Regent's all about. There are not very many theological colleges that I would want to be at, to be honest. But Regent has got that element to it and I think that's really important. So all this stuff that I'm doing in these other places, I feel, is the same thing. It's actually about enabling Christians to connect their faith and their life.
Thank you very much!