Introducing the Fifty Forward Fund
June 10, 2019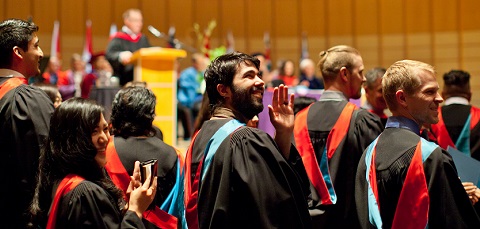 "Past, present, and future students come together through alumni giving."
As Regent anticipates its fiftieth anniversary, the College's Advancement team is excited to announce a new initiative highlighting the importance of alumni generosity: the Fifty Forward Fund.
As a non-profit, Regent has to meet most of its operating expenses with either tuition or donation revenue. As more of our budget is covered by donations, we become less reliant on tuition dollars. Gifts to the Fifty Forward Fund will be directed to Regent's most basic funding needs, where every dollar donated is a dollar not charged to a student.
Director of Advancement Richard Thompson (ThM '00) explained the impact of these gifts.
"Last year donors paid for almost 30 percent of Regent's operating budget. That represents about $2 million not charged to students. I'd love to see our amazing donor community commit to surpassing that 30 percent mark. If we could see 35 or 40 percent of Regent's budget funded by donations, that would be a game-changer for students."
Richard also described the background of this initiative.
"The Fifty Forward Fund itself is new, but it reflects a reality as old as the College itself," he said. "Donors have been making Regent more affordable from day one, and alumni donations have been subsidizing Regent students for decades. The Fifty Forward Fund aims to makes that link more explicit. We want to help alumni see how their generosity is making a difference to current and future students."
Alumni and Church Involvement Officer Christina Lui (MCS '06) shares a similar perspective.
"Past, present, and future students come together through alumni giving," she said. "I love that we're highlighting that relationship as we celebrate fifty years. I think Fifty Forward reminds alumni that they are vital to the College's future, and reminds current students that they're upheld by people who know what it's like to be in their shoes, alumni who are cheering them on.
"The Fifty Forward Fund is basically about gratitude and commitment. If we as alumni want to see Regent flourish for another fifty years, we need to invest in making that happen. I meet so many former students who are transformed by their experience at Regent. I hope grateful alumni will consider how they can give back to this community in the future."
---
To learn more about the Fifty Forward Fund, visit Regent's giving page.