Remembering Dal Schindell
August 07, 2019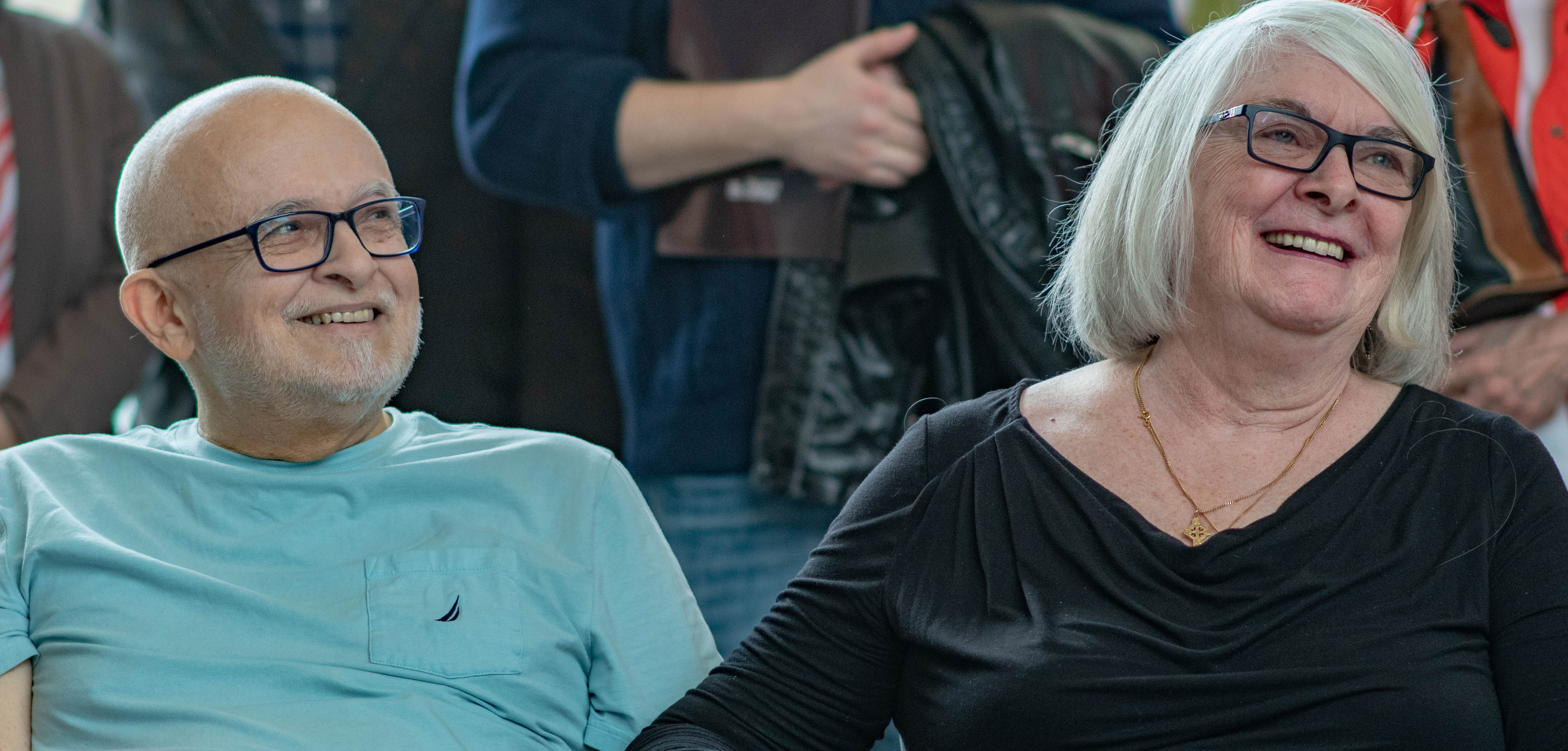 Dal was a stalwart friend and brother in Christ to countless staff, faculty, students, and alumni.
It is with enormous sadness that we announce the death of Dal Schindell on the evening of August 6. Dal was Regent's Director of Publications for thirty-two years, as well the Director of the Lookout Gallery (re-named the Dal Schindell Gallery in April 2019), a faculty member in Christianity and the Arts, a thesis and IPIAT supervisor, and a member of the College cabinet and senate. He died in Vancouver after an ongoing battle with cancer.
Dal was a stalwart friend and brother in Christ to countless staff, faculty, students, and alumni. His sense of humour, quiet warmth, and bow ties were unequaled. He thought nothing of driving ten miles out of his way to take someone home. His collection of "Christian kitsch" was of great delight and museum-worthy.
Dallard Wallace Schindell was born in Vancouver, British Columbia on June 9, 1947. He graduated from the Arts Honours Program in UBC's Faculty of Education in 1967 and completed an art degree at the Vancouver School of Art in 1971. After completing a Diploma in Christian Studies at Regent in 1972, he pursued graduate work at the Sheffield Polytechnic Institute. Dal remained in the UK until 1977, funded by a generous Canada Council grant that allowed him to continue his studies at the British Museum and Library, the Victoria and Albert Museum, and the Tate Gallery.
In 1980 Dal joined the faculty and staff at Regent, overseeing the College's publications and lecturing in Christianity and the Arts. He co-taught a number of popular courses such as Vocation of the Artist and Exegeting Popular Culture. As the Director of the Lookout Gallery, Dal curated shows that included the work of sculptor David Robinson, artists Grace Tan and Erica Grimm, and calligrapher Friedrich G. Peter. He retired in 2012, eager to return to his first love: painting.
Under Dal's leadership, Regent's advertising acquired an ingenious sense of humour, upending the traditional solemnity of theological institutions. In a time when 7–Up was marketed as the "UnCola," Dal promoted Regent as the "UnSeminary." He proposed (though unsuccessfully) that the Regent Bookstore's coffee bar should be named the "Café Au Laity." His Christianity Today ads were marked by a joyful irreverence that brought theological figures like Eugene Peterson, J.I. Packer, and Bruce Waltke into conversation with grizzly bears, Jelly Roll Morton, and speedboats.
Loren Wilkinson, Dal's longtime friend and colleague, observed, "The ads ranged from quirky to the corny—but they conveyed that studying theology was not likely to be boring." And they worked. Dal recently admitted that many students who made their way to Regent said to him, "I saw that ad and knew Regent was the place God was leading me to."
For all his levity, Dal was a gifted and committed artist. His paintings were exhibited in a variety of contexts, and he was as comfortable working with charcoal as with oils and crayons. His work was marked by an empathetic and creative encounter with human experience. One remarkable series of oil paintings portrayed people suffering from mental illness. As Loren Wilkinson noted, those paintings brilliantly conveyed Dal's conviction that, "yes, we live in a world in which we encounter suffering and pain. But it is also a world penetrated by grace, radiating goodness even in its brokenness."
Dal also shepherded CRUX, Regent's academic and literary journal, from its beginning. He built it into a journal whose content—from poetry to academic articles—continues to bring accolades. But it was Dal's arresting cover images, drawing on his own art and the work of others, that caught people's attention.
Dal married Kit (Catherine) Somerville in 1973. They met on a February evening at Fairview Presbyterian Church in 1970 and were both members of Regent's class of 1972. Alumni remember with a smile the cartoons Dal would surreptitiously doodle on Kit's class notes. He was devoted to her. They shared a love of travel, food, history, architecture, humour, friends, and family.
Dal was a member of Fairview Presbyterian Church for more than fifty years. He served his congregation as an elder and served his denomination (The Presbyterian Church in Canada) as a Ruling Elder and member of the Renewal Fellowship Board. Dal was active in the leadership of CIVA (Christians in the Visual Arts).
An oil painter who loved NHL hockey, Dal was also an encyclopedic expert on British and European Football. He savoured both early organ music and Bruce Springsteen. He preferred to buy his groceries daily and never left the store without making a donation to the Food Bank. He had many friends. Countless others sought his counsel.
Dal had a deep and rich faith in Christ. His life embodied the notion that everything ordinary is touched by the transcendent. He endured hardships with faith and gratitude. His good friend (and colleague) Maxine Hancock wrote several years ago, "Dal Schindell lives out among us the truth of John 12:24, 'Except when a grain of wheat falls into the earth and dies, it remains alone; but if it dies, it bears great fruit.'"
Dal is survived by his wife of forty-six years, Kit Schindell, their two daughters, Marieke and Claire, and six grandchildren.
A memorial service will be held at 1:30 pm on Saturday, August 17 at Kerrisdale Presbyterian Church, 2733 West 41st. Please wear a bow tie if you have one.
In lieu of flowers, Dal's family has requested that donations be made to Regent College to support the creation of an annual Dal Schindell Arts and Theology Prize. For details, please contact Richard Thompson at [email protected].
---
In 2008, Dal gave a Regent Chapel talk about his experience having a stroke. You can listen to his talk at Regent Audio.