Announcing the Bruce Waltke Biblical Studies Scholarship
December 06, 2019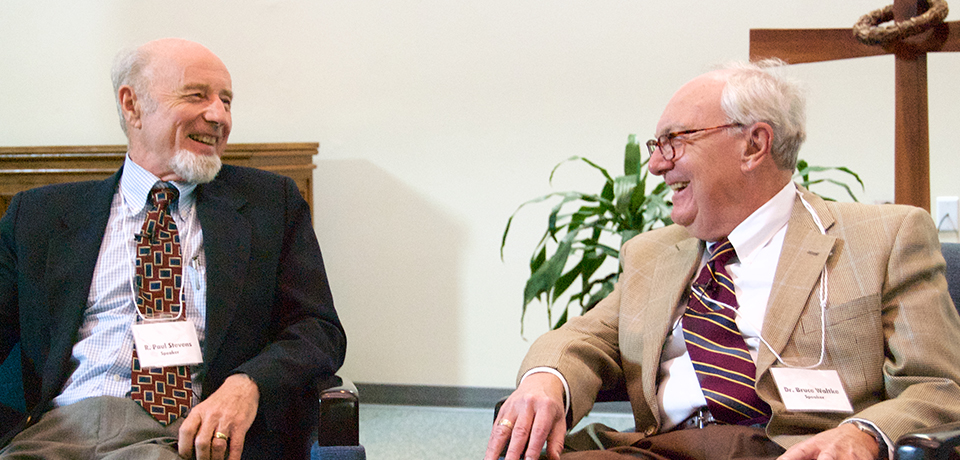 Our hope is that this scholarship will promote study of the OT, with its deep roots revealing the character of God and the promised hope of Jesus and the Spirit
Thanks to the generous gift of two of the College's long-time friends, Regent College is very pleased to announce the creation of the Bruce Waltke Biblical Studies Scholarship. The married couple, who were both greatly impacted by their Regent studies and by Bruce's infectious love of God and the Scriptures, had wanted to see Dr. Waltke honoured for some time. When informed of the scholarship that would bear his name, Bruce, to no one's surprise, immediately gave thanks to God and confided that he did not feel worthy of such an honour.
In the words of the donors, "As students of Dr. Waltke in the early 80s, we have valued how he has honoured our Lord and His Word through the decades of his devout life.
"His frequent refrain, 'As you translate Scripture, it translates you,' has certainly rung true for us. We're so thankful for Dr. Waltke, who wisely teaches students to build their lives on a Biblical foundation—so that we may solidly walk in God's way amidst a chaotic world and so that we can integrate faith with our professions. We appreciate Dr. Waltke's commitment to love God with all one's heart, soul, and mind, along with his commitment to scholarship and the church. Our hope is that this scholarship will promote study of the Old Testament, with its deep roots revealing the character of God and the promised hope of Jesus and the Spirit realized in the New Testament."
President Jeff Greenman expressed his deep appreciation for the gift: "I am deeply grateful for the support of these good friends for a new scholarship in honour of Bruce Waltke, one of Regent's most beloved professors. The wonderful generosity of our donors is making Christ-centred, transformative learning at Regent possible for a new generation of students from around the world."
Director of Advancement Richard Thompson commented, "This has been a very special and encouraging season at Regent, with the recent funding of multiple scholarships which recognize the legacy of some of the significant figures in the College's storied history. Most are aware of the generous gift that recently created the R. Paul Stevens Chair of Marketplace Theology and Leadership. But there were several other significant donations this year as well: a recent graduate created the Paul Stevens Marketplace Theology Scholarship; a number of friends of Regent and Dal Schindell have combined to create the Dal Schindell Arts & Theology Scholarship; another Regent graduate has generously funded the Margaret Taylor Memorial Scholarship; the estate of Dr. Walter Ellis has created a scholarship in his memory; and a local family with a long and rich history at Regent established the Janet Chee Bible Scholarship.
"This newest scholarship in honour of Dr. Waltke is just one more testament to the loving commitment of our donor family to make it possible for a new generation of women and men to study at Regent."
To be considered for the Bruce Waltke Biblical Studies Scholarship, students must be accepted for admission to Regent College and must submit a financial aid application. Applications open on January 15, 2020. Learn more