Regent Hires New Director of Chinese Studies Program
April 23, 2019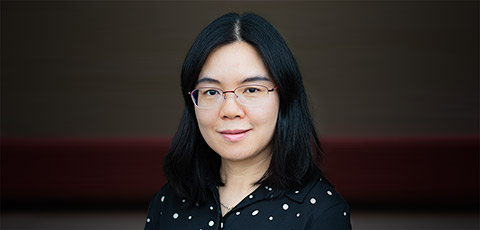 "She is the best person to continue what God has done in China through the Chinese Studies Program in the days to come."
We are thrilled to announce that we have hired Dr. Grace Hui Liang as the Director of the Chinese Studies Program and Associate Professor of Chinese Christian Studies.
Over the last two decades, Dr. Liang has emerged as a leading voice in Chinese biblical scholarship and theology. Her main areas of research include Old Testament wisdom literature, Chinese biblical interpretation, and early Protestant missionary writings in China. Since 2007 she has been working as an Associate Professor in the School of Humanities at Zhejiang University.
Dr. Liang is also no stranger to Canada, or to the ethos of Regent College. From 1999–2000, Dr. Liang was a participant in the Regent College-Chinese Mainland University Joint Training Program for PhD students, and has returned since as a visiting scholar and to deliver guest lectures. Last April, she joined us at Regent to deliver the lecture "Retelling the Biblical Chronology in China."
In her role as Director, Dr. Liang will work in partnership with Dr. Edwin Hui, who will continue as the Chee Family Dean of Chinese Studies.
Dr. Hui took a moment to share his excitement that the new Director would be someone who combined academic excellence with a deep understanding of the mission of Regent College:
"She knows what Regent believes in and the values we embrace. Grace has been working inside China for two decades as a Christian scholar and she is well connected with Christian scholars both inside and outside of the church as well as government and non-government organizations. She is the best person to continue what God has done in China through the Chinese Studies Program in the days to come."
President Jeff Greenman commented on the rich potential for cross-cultural dialogue that accompanies Dr. Liang's arrival.
"We are thrilled and honoured that Dr. Liang will be taking the next step in her remarkable career at Regent," said Dr. Greenman. "Students here—as well as the wider community—will benefit immensely from her expertise, her heart for service, and her commitment to building bridges between Chinese and Western cultures."
Dr. Liang has already arrived in Vancouver and will be stepping directly into her new role. We wish her a smooth transition into Vancouver life, and a long and rich career at Regent College.
"Dr. Liang's appointment gives me great excitement for the future of the Chinese Studies Program at Regent College," said Academic Dean Paul Spilsbury. "She's been a highly influential biblical scholar in China, and we're confident she'll continue her leadership here at Regent."