Announcing the Paul Stevens Marketplace Theology Scholarship for MDiv Students
July 02, 2019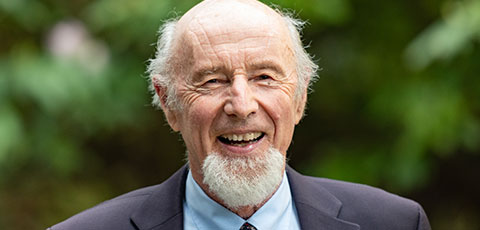 Paul Stevens is widely regarded as a pioneer of the marketplace theology movement.
Regent College is thrilled to announce new funding for Master of Divinity students with an interest in marketplace theology—the Paul Stevens Marketplace Theology Scholarship!
The scholarship has been established thanks to a generous gift from one of Regent's alumni. The gift was extended in gratitude for the transformative impact of Paul Stevens' teaching and mentorship, and in the hope that others might have a similarly transformative experience during their studies.
The donor shared as follows:
"Paul Stevens has been a huge blessing in my life during my Regent journey. He has been possibly the biggest influence in the way that I think and approach the theology of the marketplace, and all that it entails for the whole people of God. It is because of Paul's guidance and teaching that I firmly believe that I am called to be a minister in the marketplace."
The scholarship will provide $1,000 in funding to selected Master of Divinity students who take a course in marketplace theology. The first students eligible for the funding will be those beginning in the Fall 2019 semester.
President Jeff Greenman observed, "This scholarship is a wonderful recognition of Paul's powerful impact on Regent and on the church worldwide. Paul's life and teaching embody Regent's central mission—to provide world-class Christian theological training that is expressed with the heart and hands as well as the mind. We are deeply grateful for this generous gift, which ensures that his legacy continues to bless and impact the next generation of Christian leaders in both the church and the marketplace."
Paul Stevens, Professor Emeritus of Marketplace Theology and Leadership, is widely regarded as a pioneer of the marketplace theology movement. He joined Regent's faculty in 1987. In 1999 he was named the David J. Brown Professor of Marketplace Theology and Leadership, a position he held until 2005. Paul's career has been marked by a passion for empowering ordinary people to integrate their faith into their daily lives. He continues to teach regularly at Regent's Summer Programs and is a friend, mentor, and teacher to many in the Regent community.