Regent College Appoints Jens Zimmermann to J.I. Packer Chair
October 03, 2019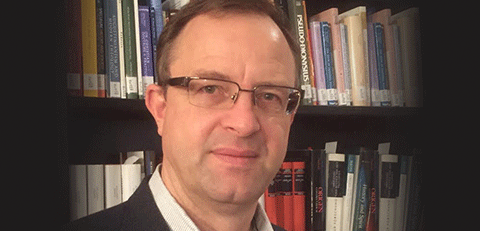 "So many aspects of what he stands for make him a perfect fit with the Regent ethos."
The wait is over for those eagerly anticipating the announcement regarding Regent College's J.I. Packer Chair of Theology. We are thrilled to announce that Dr. Jens Zimmermann will be taking up this key position in the Fall Term 2020.
Born and raised in Germany, Zimmermann joins Regent from Trinity Western University, where he served for twenty years, including the period from 2006–2016 when he held the Canada Research Chair of Interpretation, Religion, and Culture.
Academic Dean Paul Spilsbury expressed his excitement at the appointment and offered a warm welcome.
"I am delighted that Professor Zimmermann will be joining Regent College as the new J.I. Packer Chair. Jens brings a wealth of insight and intellectual engagement to the task of theology, as well as a deep faith in Christ, a personal engagement with the truth of the gospel, and a strong alignment with the mission and ethos of the College. Our faculty, students, and the wider community of Regent will be deeply enriched by his teaching and scholarship, and I am very much looking forward to welcoming him next fall."
Zimmermann—who describes himself as a theologian first, with a strong interest in philosophy and literature—has in recent years used his variety of academic experience to focus on two particular questions. These are the questions of theological anthropology and epistemology—what it means to be human and how human beings acquire knowledge.
Over the last several years, these broad questions have led Zimmermann to undertake an investigation spanning several publications into the theological and philosophical roots of humanism. He has challenged the popular conception that humanism is derived from secular roots, revealing that a profoundly incarnational theology forms the historical foundation of the humanist tradition. Zimmermann's most recent book, Dietrich Bonhoeffer's Christian Humanism, argues that this incarnational grounding for humanity marked the central theme of Bonhoeffer's theology, preaching, political activism, and opposition to Nazism. Stanley Hauerwas predicted it "will become one of the most important books for those wanting to understand Bonhoeffer."
Dr. Zimmermann's expression of a Christ-centred humanism coalesces with Regent's driving vision of a theology that supports human flourishing. President Jeff Greenman commented on how this sense of shared vision exists on both the academic level and the personal level.
"Jens Zimmermann is a great addition to our faculty. So many aspects of what he stands for make him a perfect fit with the Regent ethos: his passion for scholarship that's as excellent as it is Christian; his deep interest in the lives of his students; his dedication to the arts; and his commitment to pursuing urgent, socially relevant questions in his scholarship. Jens's theological expression of Christian humanism has a wealth of potential for further research, as well as for Christian discipleship and cultural engagement. I am thrilled that he will be continuing his service to the church, the academy, and the world as our new J.I. Packer Chair of Theology."
Zimmermann expressed his eager anticipation of participating in the work that is already underway at the College.
"I am very much looking forward to joining the faculty, staff, and students of Regent College in their effort at addressing, with compassionate care and theological sophistication, crucial cultural issues of our time while also grounding students and professionals in the greater Christian tradition."
In particular, Zimmermann expressed a hope that his work at Regent will foster deeper collaboration between the work of Regent College and UBC.
"In much of my scholarly work, I have investigated Christian Humanism, that is, the call to live one's life in conformity to the humanity of God established in God's becoming human, dying on a cross, and rising again to inaugurate the new creation. God's solidarity with humanity to the point of death enjoins every Christian to work together with all who promote human flourishing. I am therefore particularly passionate about theology's interdisciplinary potential and am keen on dialoguing with scholars who dedicate their time to understanding the human condition and to alleviating suffering."
Zimmermann's passion for bridging boundaries both within and between disciplines has been evident since the beginning of his career. His first PhD in Comparative Literature, completed at UBC in 1997, was later supplemented with a second PhD in Philosophy from the Johannes Gutenberg University in Mainz Germany. His writings and lectures demonstrate an appreciation of the wealth and breadth of the Christian tradition, highlighting the deep relevance of theological investigation and philosophical reflection for every academic discipline. More recently, Zimmermann has researched with an international team of scholars the impact of technology on human flourishing, particularly on the notion of personhood.
Those interested in learning more about Dr. Zimmermann can visit his personal website. If you are eager to meet Zimmermann in person, he will be lecturing on Wednesday, October 23 at ACTS Seminary. The lecture is entitled "Dietrich Bonhoeffer: Christian Humanist? A Theology Symposium." Regent's Dr. Ross Hastings is among the respondents. The event is free and open to the public.