Interview with Dr. Grace Hui Liang
November 12, 2019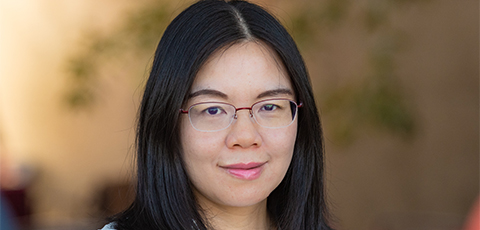 "With a deep passion and appreciation towards the Chinese Studies Program of Regent, I wish to devote my life to serve God and His kingdom through serving the Regent community and Chinese academia in the near future."
This April, we were thrilled to announce the hiring of Regent's newest full-time faculty member, Grace Hui Liang, as the Director of the Chinese Studies Program (CSP) and Associate Professor of Chinese Christian Studies. Since then she has hit the ground running as the leader of one of Regent's most dynamic programs.
Dr. Liang's appointment at Regent is the most recent in a string of landmark achievements contributing to the development of Chinese biblical scholarship. Her doctoral dissertation, completed in 2002 at Zhejiang University, marked a significant step in Chinese scholarship: The dissertation pushed past the status quo of engaging with the Bible only in the field of literary studies, working with Scripture on the level of theological interpretation, and clearing space for similar future explorations in Chinese scholarship. After finishing her PhD, Dr. Liang became the first Chinese post-doctoral scholar to do research in biblical studies in Israel, spending a year at the Department of Bible, Bar-Ilan University. Her next step, a fully-funded ThM at Western Theological Seminary from 2004–5, marked yet another "first." Dr. Liang became the first student of Western's ThM program from mainland China, and at year-end she was asked to speak on behalf of the Master of Theology graduates at Western's 129th Commencement service.
In 2007, Dr. Liang was hired as the Associate Professor at the School of Humanities at Zhejiang University, where she worked until her hiring at Regent. She also served as Senior Research Fellow of the Key Institute of Christianity and Cross-cultural Studies at Zhejiang University for many years. During this time she continued to prove herself as a prolific and passionate contributor to Chinese biblical scholarship. She has authored over fifty articles and several monographs, and has been deeply involved with leading Chinese academic journals. On mainland China she has been involved with Biblical Literature Studies and the Regent Review of Christian Thought, and in Hong Kong with Logos & Pneuma: Chinese Journal of Theology. She was also Chief Editor of The Biblical Library Series, which produced over thirty books since 2009, making it the largest series of books on biblical studies published in mainland China.
Naturally, Dr. Liang has had a lot on her plate this semester, but she was gracious enough to find time to sit down and answer a few of our questions. Hear the story of how she ended up moving from Zhejiang University, discover what's happening in the world of Chinese biblical scholarship, and hear Grace relate her recent research passion.
---
Welcome to Vancouver! We're so glad to have you. How has your transition to living here been?
It is my great honour to return back here. Vancouver is like my second hometown. Although I have not come back to visit this lovely city often in the past twenty years, I feel it always inhabits my heart. It is the place where I not only launched my academic career into biblical studies, but also started my spiritual journey as a Christian. So my transition to living here is like a traveller going back home after a long trip. Thanks to our Lord. With His guidance, I found a lovely place for my family to live very smoothly before we landed here. And the faculty and staff of Regent College have also provided a lot of assistance for my move to Vancouver. I also appreciate the support from my colleagues, relatives, and friends both at home and abroad. Without their care and love, I could not have transferred into my new position at Regent so quickly.
How did you first become interested in Christian and biblical theology?
My interest in Christian and biblical theology could be traced to the first time when I came in contact with Regent as a doctoral student from Zhejiang University. I was selected to participate in the Regent College-Chinese Mainland University Joint Training Program for PhD students in the academic year of 1999–2000. In those days, the study of the Christian religion in China was concentrated in the cultural, social, and political aspects. As a late-comer to the Chinese academic marketplace, biblical studies accounted for a very small proportion of published articles and monographs. My one-year doctoral study at Regent gave me an unusual opportunity to be exposed to the profound spiritual and academic traditions laid down by eminent Christian scholars like James Houston, J.I. Packer, Bruce Waltke, Gordon Fee, and others in Regent College. I especially benefited from two key biblical courses taught by Prof. Iain Provan and Prof. Rikk Watts, which developed my strong interest in biblical studies. Later I chose Old Testament wisdom literature as my doctoral thesis topic and future research area. With the professional biblical training and the rich collection of academic material I brought back from Regent, I successfully passed my doctoral examination and was awarded a PhD from Zhejiang University in 2002. This was the first doctoral dissertation on the study of the Hebrew Bible in mainland China since China's "reform and opening up" in 1978.
In sum, Regent College provides a crucial starting point for my teaching and research in the area of theological and biblical studies. I have been since constantly inspired and encouraged by Regent's tradition to promote the same tradition of Christian study in mainland China.
What has been a highlight of your career so far?
Early research on the Bible in China was mostly preoccupied with historical studies with emphases in the areas of mission studies, history of Christianity in China, or history of cultural exchange between China and the West. I feel very blessed that I have not only witnessed the development of Chinese biblical studies during the past two decades, but also made significant contributions to the teaching and research of the Bible in mainland China from the early stage of my career till now.
The primary place I was able to contribute to this development was at Zhejiang University, one of the top three mainland Chinese universities, where I returned in 2005 after my advanced study and research abroad. I started to develop many biblical courses there, and some of them are the earliest biblical curricula on OT studies and biblical interpretation offered in mainland Chinese universities.
Also at Zhejiang University, I was able to lead the largest study group of Chinese doctoral and graduate students in biblical studies in mainland China. Although limited by the student's recruitment size, I supervised about a dozen PhD candidates when I was appointed as "doctoral supervisor" by Zhejiang University in 2011. Some of them are becoming some of the best young biblical scholars of a new generation in China after graduation.
Can you tell me a bit about your vision for the Chinese Studies program? What do you hope to accomplish in your new role here at Regent?
With the constant efforts made by Prof. Edwin Hui, the Dean of the CSP in the past three decades, CSP has carried on the mission in four spheres: the Program for the Joint-Training of Mainland Chinese PhD Students in Christian/Religious Studies (JTPHDS), the Teaching Enhancement Project for Young Scholars in Mainland Chinese Universities (TEP), the publication of CSP's journal, Regent Review of Christian Thought, and CSP's Summer School in China. These important projects of CSP have met the rising needs from mainland Chinese academia in the field of Christian Studies and kept Regent College as the best known and most widely respected western institution in China.
As the new Director of the CSP, my vision is that I will promote the same tradition of supervision of Chinese doctoral students and management of those projects under the guidance of Prof. Hui. For the joint education project with leading Chinese universities, there are more than 250 doctoral students that have participated in the program to date. Since most of them approached Christian studies from theological and philosophical perspectives as PhD students in the philosophy departments in China, I will encourage more students in the area of biblical studies to apply to the JTPHDS and learn from the prominent biblical faculty of Regent College.
For the TEP, the aim is to train young Chinese biblical scholars and improve their teachings in mainland Chinese universities. This year, we invited six Chinese scholars to come and take biblical courses at Regent Summer School. They also made series reports on the topic of "Sinicization of Christianity in China," especially from the biblical perspective, since CSP wants to make further reflections on this Christian movement in China. Prof. Hui and I will continue to lead those interactive speeches among Chinese visiting scholars and doctoral students at Regent. For CSP's summer programs in China, next year we will expand the school's size. I will update you on this exciting news later.
With the great support of our faculty and staff, I will devote myself to provide leadership in planning, developing, and implementing the mission and programs of Chinese Studies at Regent College in the coming years.
I understand that your connections with Regent stretch back to your time as a PhD student. Can you tell me a bit about your history with the College?
I remember the speech Prof. Paul Spilsbury, the Academic Dean, made in the New Students Orientation of Regent College this early September. He said: "Once you connect with Regent, your relationship with it will never stop." This is just what I have experienced. Regent College has played a very significant role both in my academic development and spiritual growth for two decades since 1999.
As you mentioned, my first connection with Regent could go back to August, 1999, when I was selected into the Joint Training Program of CSP and completed a one-year doctoral study under the supervision of Prof. Edwin Hui and other Regent professors. I got a PhD in OT studies after I went back to China, which was directly related to my intensive study and thesis draft writing at Regent. Meanwhile I continued my tenured position at Zhejiang University.
My second visit at Regent was made in spring 2003 during my post-doctoral study and research in Israel. Invited by Prof. Edwin Hui, I spent about two months as a visiting scholar doing research on the CSP's project, "East-West Cross-Cultural Dialogue in Religion, Philosophy and Ethics." I published an article for Regent Chinese Journal and several essays for the Newsletter of Chinese Studies Program of Regent College to share my research and experience in the Holy Land at that time.
I came back to Regent the third time in early June, 2017 as a special visiting scholar of the TEP, which was then a new academic initiative organized by the CSP. After a four-week intensive study, taking OT Foundations and NT Foundations with Prof. Iain Provan and Prof. Paul Spilsbury at Regent Summer School, I had gotten a lot of insights to improve my teaching and supervision of doctoral and graduate students in China. During my visit, I was invited by the CSP to make two public lectures at Regent on the topics of "Reading the Bible in China: Case Studies on Its History of Reception" and "Thoughts of Christian Socialism in the Republic of China." Reflecting the latest Chinese theological and biblical scholarship, these two lectures were warmly welcomed by students of Regent College, UBC, and local ethnic Chinese communities in the Greater Vancouver area.
Another exciting thing I want to share with you is that not only am I blessed by Regent but also most of my doctoral students have been selected to participate in the JTPHDS or TEP since 2014. Nourished by both the creative theological and cultural traditions of Regent, we are very grateful to be members of the Regent community and it is my vision and passion to help expand this community to China in the years to come.
What led you to apply for this new role?
It is the calling from our Lord to lead me to fulfill this new role after my twenty years' dedication to biblical teaching, supervision of Chinese doctoral and graduate students, and promotion of Chinese biblical scholarship in mainland China. With a deep passion and appreciation towards the CSP of Regent, I wish to devote my life to serve God and His kingdom through serving the Regent community and Chinese academia in the near future.
What is your vision for the Regent Review of Christian Thought?
As one of the leading Christian academic journals published in mainland China, Regent Review of Christian Thought plays a very important role for Chinese Christian studies. Founded in 1993, it has published twenty-three volumes till now. It provides a very good academic platform for young Chinese scholars to publish their research results on Christian and biblical studies. It also becomes a discussion field for the CSP's alumni to make dialogue between Christian faith and Chinese culture. I am currently working on the final editing of the new issue. In order to make further prominent contribution to Chinese academic circles, we plan to publish some special issues and enhance the reputation of the journal both at home and abroad. Our journal also welcomes our faculty's article contribution, for which CSP will invite excellent Chinese scholars to do the translation.
Tell me about your relationship with Dr. Edwin Hui. When did you first meet him?
In the past twenty years—although I have only met Prof. Hui a few times since I returned back to China after my doctoral study at Regent—he influenced me very deeply. The first time we met each other was at Regent in August, 1999, after I arrived at Vancouver with other CSP doctoral students. As the Dean of CSP, he was also the academic advisor of my thesis writing during that time. As the first PhD student focused on biblical studies in CSP's Joint Training Program, Prof. Hui always gave me a great deal of advice and encouragement. I was also greatly inspired from his writings when I carried the proofreading work on the Chinese translation of his book, An Introduction to Christian Theological Thought, which still serves as an important theological guide book for Chinese scholars and students.
In March, 2003, the second war on Iraq started. Since I lived and carried on my post-doc research in Ramat Gan, [Israel], where Bar-Ilan University is located, Prof. Hui suggested I leave for a while since he worried about the safety situation in the Middle East. So I made a short visit at Regent in April and then was back to Israel to continue my study and research.
Later I met him occasionally with other CSP alumni in Beijing when he came to attend the annual national conference for Chinese scholars interested in Christianity. The conference was held by the CSP in collaboration with the Institute of World Religions of the Chinese Academy of Social Sciences since 1997. During his second teaching at the University of Hong Kong (HKU), I met him twice: once was at the alumni reunion of CSP at his HKU office in 2006, another was to have dinner with him and Winnie, our respectable Shimu, when I made an academic visit at HK again. I met him at Hangzhou together with my doctoral students in 2016 when he made a nationwide trip in mainland China. We met again when I visited Regent as a TEP scholar in 2017.
Prof. Hui has played a significant role both in my academic career and spiritual growth. This is not just my experience but that of most CSP alumni.
What is Dr. Hui's legacy in China?
Looking back the past thirty years, Regent College's Chinese Studies Program has become an ideal meeting place for Chinese scholars and western academics to engage in a cross-cultural dialogue between Christianity and Chinese culture. Serving as the most successful program in the West for training Chinese doctoral students to pursue Christian and biblical studies, CSP has recruited about 250 PhD students from the top Chinese universities to carry their doctoral studies at Regent since the 1990s. Many of them are becoming leading Chinese scholars in the broad area of Christian studies in mainland China; some were even appointed as the department or college deans in their universities. In sum, the CSP's alumni represent the best of the growing body of scholarship in Christian and biblical studies in Chinese academia. And Regent College has constantly been the best known and most widely respected western institution in China.
As the main founder of CSP, Prof. Hui brings to the above mission not just tremendous effort but great enthusiasm. He is considered as the "godfather" of the Regent School in China, the informal scholarly group of the CSP alumni in Chinese academic circles. Through his persevering devotion to the heavy work of CSP, he has made the greatest contribution to Chinese Christian studies among other overseas Christian colleagues. By the way, as our doctoral supervisor, academic instructor, and spiritual mentor, he is a person with high humour, extensive knowledge, and warm-heartedness. Although his cancer re-emerged in the recent years, he remains always concerned about the work affairs of CSP and gives his advice often. On behalf of the alumni of CSP, we earnestly pray that with our Lord's help, he will get well again soon and continue his legacy in China.
What are some burning questions in your current research?
My recent research work is on cross-scriptural hermeneutics. I have developed and adopted "dialogical hermeneutics" as the main method to do my research since 2014, which is an initiative in methodological exploration of Chinese biblical studies from the perspective of comparative scriptural studies. It is based on the hermeneutical method of cross-religious reading and attempts to provide an open and dynamic interpretative mode for Chinese biblical reading. This approach has been inspired by some of my observations of Chinese and western classical interpretive traditions, especially on the scriptural reasoning of Chinese classical scholarship and rabbinic biblical interpretation. Through the inquiry of their interpretive characteristics and reading intentions, I advocate that "dialogical hermeneutics" will provide a rich hermeneutical resource for the future development of Chinese biblical studies within the multi-religious classical context and promote the construction of an indigenous biblical interpretive approach. For the above thoughts, I have been invited to publish a representative article in the 50th issue of Logos & Pneuma, the best AHCI journal in the study of Chinese theology.
Meanwhile I am also writing on the reception of Christian socialist thoughts in the Republic of China. I intend to portray how the western theological ethos has made a significant impact on the indigenization of Christian faith in modern China. For this once neglected research area, I have planned and edited a special 51st issue of Logos & Pneuma, in which I published an introductory article.