Initiative Gathers Students, Staff, and Faculty around the Same Dinner Table
December 10, 2019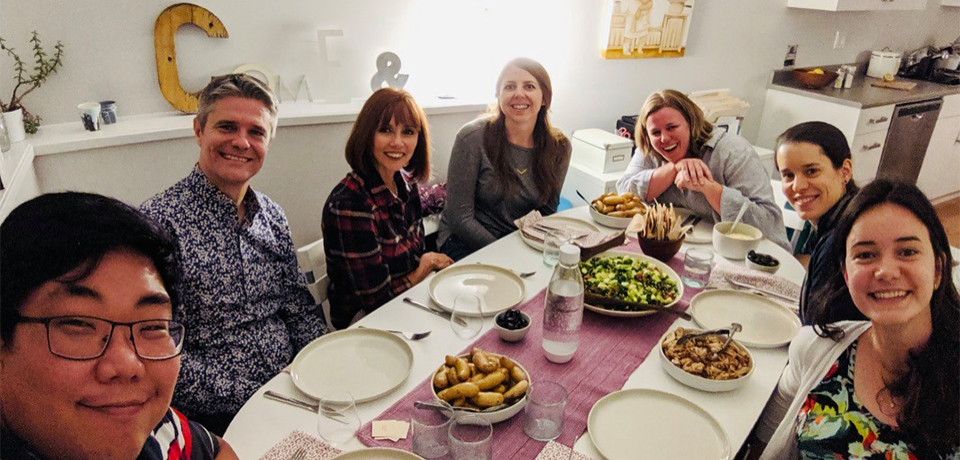 So far, conversations have ranged from students' reflections on the Kenya course last summer, to the faith journey of a student and spouse from China, to discussions about a student's research paper on angels.
If you've been around Regent lately (or around our social media feeds) you have likely heard the words "Gathering Table." It's a collaborative initiative of the Dean of Students Office and the RCSA Council this year, and it's all about getting students, staff, and faculty around a table, enjoying themselves. Two of the organizers were kind enough to share their vision and let you know how to get involved.
Claire Perini is an Australian Vancouverite who has been serving as the Assistant Dean of Students at Regent College since 2013, after graduating with an MATS (Applied).
Aubrianna Pennington is an MATS student from the Southeastern United States who began her studies in January 2019. She is the Member-at-Large of the Community Table for the Regent College Student Association.
What is the Gathering Table?
CP: The idea is simple: a weekly gathering around a table, with students, faculty and staff, in the homes of staff, faculty, or students. Our hope is that there be all kinds of tables (it may be a dining table or a coffee table), all kinds of meals (simple or elaborate), all kinds of people (who may or may not know each other), all growing in relationship with one another as they eat together.
What's the vision behind it? How did this get off the ground?
CP: One of the key aspects of the mission of the Dean of Students Office is to foster a community of hospitality and connection. We believe that eating together is one of the most profound ways by which we relate to one another, to the created world, and to the triune God. Throughout the biblical narrative and in the Christian tradition, meals stand as one way that the people of God extended hospitality and shared in a communal identity. So the Gathering Table is simply seeking to participate in that great tradition of giving and receiving hospitality.

Over the summer, Regent received a generous donation to be used to help foster connections between students and faculty. The Gathering Table is the way in which we are seeking to steward that gift.
AP: The student body and so many of Regent's events make it clear that a commitment to hospitality and celebration of diversity are a huge part of our institution's unique identity. The vision for Gathering Table is to support the values already at work in the Regent community through more intimate fellowship that is accessible for all.
I understand this isn't the first time something like this has happened. Is the Gathering Table modeled on any old Regent traditions?
CP: Gathering for meals in peoples' homes is not new for us here at Regent College. Hospitality has been woven into the DNA of Regent since the very beginning. In addition, a couple of years ago, the RCSA Council, in collaboration with the Dean of Students Office and others, created the Ubuntu Road Initiative in response to students' expressed need for further avenues to connect meaningfully with other students, staff, and faculty during their time at Regent. The vision behind this initiative was to foster an environment of connection, offering an intentional way for us all to be "coming-alongside-one-another" kind of people. In many ways, the Gathering Table is a continuation of that vision: to offer opportunities for deeper personal engagement, and so to enhance our experience of communal life together.
How's it going so far? What types of conversations are happening around the table?
CP: The first Gathering Table event was on September 19, 2019. We are excited to continue this into the winter term.
AP: There have been 9 events hosted by individuals or couples, both staff and students, with about 50 overall guests of faculty, staff, and students.
CP: So far, conversations have ranged from students' reflections on the Kenya course last summer, to the faith journey of a student and spouse from China, to discussions about a student's research paper on angels, followed by a conversation about manifestations of the Holy Spirit in the lives of those around the table.
AP: I was able to attend two Gathering Table events this term. At the first, a newly arrived student asked those of us who have been around how Regent had shaped our view of the sacraments. The responses were beautiful, often mirroring my own deepened understanding of concepts like fellowship or hospitality.
At the second, I was able to hear from several international students about how difficult the transition can be arriving in Vancouver and at Regent, but also the support they've received from one another and from local churches. Gathering Table dinners, hopefully, provide space and time for depth in conversation that larger events cannot always accommodate.
How can people get involved?
CP: The opportunity to host or to be a guest at a Gathering Table event is open to current students, staff, and faculty. The Weekly Announcements email offers an avenue to sign up as a guest and those interested in hosting a meal can contact me, Claire, at [email protected].