Regent Student Wins Roth Prize
October 23, 2019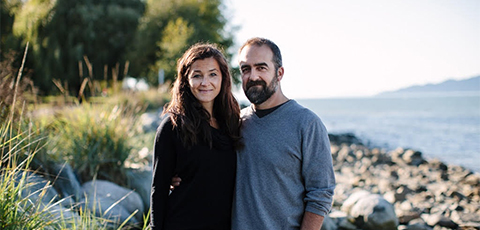 Nevin seems to anticipate movements in the church by 100, 120 years.
Regent College offers a warm congratulations to fourth year MA Theological Studies student Dan Glover, who has been awarded this year's Roth Prize from the Mercersburg Society.
What is the Roth Prize? Who is Dan Glover? And how do you win the 2020 prize? Read our brief interview with Dan to find out.
What is the Roth Prize?
The Roth Prize is an annual prize given by the Mercersburg Society to a student—it can be an undergrad, grad, postgrad, or doctoral student—for a paper having to do with some aspect of the Mercersburg theology.
What is Mercersburg Theology?
Most people are familiar with the name of Phillip Schaff, who was a pretty prominent church historian in the mid 1800s who came from Germany and worked in the US. He edited and published those huge sets of the ante-Nicean, post-Nicean, all through church history: significant works. He was brought over by John Williamson Nevin to the US to teach at the German Reformed Theological Seminary in Mercersburg, Pennsylvania.
Nevin was the premier theologian of what came to be known as the Mercersburg School, or the Mercersburg Theology. He was reacting against a hyper-individualist, rationalistic approach to Christianity that was manifesting itself both in a scientific approach to systematic theology of the major American schools, and in a rationalistic scientific approach to Revivalism. Charles Finney famously said, revival is not merely a work of the Holy Spirit; I have revival down to a science, and wherever I go and apply these philosophical methods, revival happens.
He said that?!
Roughly, yes. And Nevin said, "Nope," Christian faith is about union with the incarnate God-man and it is a mystery that we participate in. Mercersburg sought to give a much higher place to the person of Jesus Christ as the place where God and humanity come together. They focused a lot on the incarnation. They had a very high view of the church at a time in American theology where there was not much place for the church.
What denomination were they working out of?
They were a tiny denomination, the German Reformed church. Nevin had been a Presbyterian, and had been taught personally by Charles Hodge—was probably his brightest student. But they differed over a lot of these issues. Nevin and Schaff had a very high view of the sacraments, a high view of the church as the place where God continues to work in the world. They were doing something very different from the rest of American Evangelical theology in their day.
How did you hear about the organization and the prize?
The Mercersburg Society, as far as I can tell, is quite a small society, quite a small group of theologians and church historians. But I remembered seeing a poster on Hans Boersma's door like three years ago. And he might have even suggested, "Oh, you should see if they're still giving a prize, because they had a call for papers three years ago on the posters out here." And I saw it again one day. It's in the basement.
I've never seen it.
On the bulletin board and it's from about 2016.
The real lesson here is read the basement bulletin board.
Yeah. It was a call for papers from 2016 so I thought, I wonder if they're still doing that. I looked it up online, and they do. The Roth Prize is an annual award for the best paper on Mercersburg theology. And it's a cash prize, $750 American. That's like $3000 Canadian, so it was great. [Laughs]
So actually I submitted a slightly edited version of a paper I wrote for Ross Hastings's atonement seminar. [It was] on Nevin, defending his theology of the atonement against attacks in his day and more modern critiques that his theology of the atonement isn't robust enough. And I was arguing that his project was never to write a theology of the atonement, it was to correct—he had a high view of the church so his work was pastoral, not systematic and comprehensive. He was trying to correct errors. But I believed from reading him that he sounded so orthodox, and very much Reformed in keeping with what he's writing on other things. So I dug around some lesser known sources, especially from his very early writings, and believed that I could defend that he was orthodox on atonement and justification—just that he didn't choose to focus on that.
And you found a personal role model while you were at it?
I actually really do like him. I'm writing a thesis on this topic now—Nevin on atonement and justification.
He seems to anticipate movements in the church by 100, 120 years. [He anticipates] some movements in the Protestant church toward a higher view of the sacraments, catechism, incarnation— participation is a huge theme for him.
Thank you very much, and congratulations!
Find out more about the Roth Prize, as well as the history and mission of the Mercersburg Society here.