Dr. Phil Long Retiring from Regent College
January 08, 2019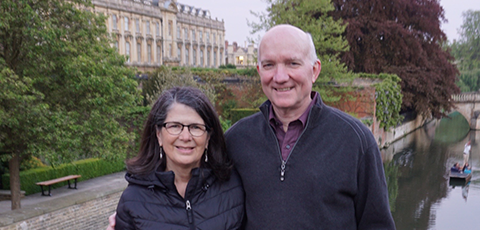 Phil's love for Scripture and the deep faith he and Polly embody, along with their hospitality and humour, have been deeply enriching for us all.
Dr. Phil Long, Professor of Old Testament, will be retiring from Regent College in summer 2019.
Phil joined Regent College's faculty in 2000, having previously taught at Covenant Theological Seminary in St. Louis, Missouri and at the Freie Theologische Akademie in Germany. Over the last two decades he has blessed both colleagues and students at Regent with his wise teaching, excellent scholarship, and unstinting good humour.
Polly Long, Phil's wife, has been a vital presence in the Regent community, teaching Greek and academic writing and leading preaching labs at the College, while also leading seminars on hermeneutics and homiletics in local churches. Although Polly retired from her work at Regent in 2015, she has sustained an active ministry empowering and equipping women to engage in wise and thoughtful biblical interpretation. Together, Phil and Polly have modelled a shared life that encapsulates Regent's mission, fostering in the laity a deep understanding of Scripture and active commitment to the good of the world.
Academic Dean Paul Spilsbury expressed his regret at Phil and Polly's departure, saying, "Phil has been an integral part of the Regent College Faculty throughout his time at the College. The love for Scripture and the deep faith he and Polly embody, along with their hospitality and humour, have been deeply enriching for us all. I personally will miss Phil's warm presence on campus. His clarity of thought and gentleness of expression are assets that will not easily be replaced."
When we spoke briefly with Phil about his plans following retirement, he had this to say:
"Polly and I have treasured our time at Regent College. The privilege of teaching the students here and working with these wonderful colleagues has been a tremendous experience––one for which we will always be grateful. I've been delighted to work in the field of biblical studies, and, Lord willing, I plan to continue writing in that area. But I'm also looking forward to freeing up some energy to devote to other passions and gifts.
"Retiring isn't a painless decision. It's easy to think, well, God called me to this place and this work, so I should continue doing it. But I've realized that there can also be a fresh calling––to make space for new things in my life. I am also heartened by the excellent younger scholars moving up in the academy, so I'm happy to make a bit of space for them as well.
"I'm approaching a venerable old age!" he laughed. "And I want to spend some time on the other good things in life. Polly and I are really looking forward to having more freedom to be with our family, especially our 11 grandchildren. And I've always wanted to spend more time as a painter. Art has always been a big part of my life, and I'm excited by the prospect of spending some years in the visual arts."
Please join us in gratitude for the many years of good teaching, good counsel, and good company that Phil and Polly have brought to us here at Regent College.