Regent Exchange is a new initiative designed to seek the good of the city through the exchange of ideas and lived experiences.
In Fall 2016, Regent Exchange will host a third and final event in this series on housing to explore ways of tackling the housing crisis at the systemic and policy level. Watch this page for details, or subscribe to receive updates.
---
Updates
Changes to Upcoming Housing Event
IMPORTANT NOTE: The Regent Exchange housing event originally scheduled for May 27 will be moved to the Fall. Please watch this page for the new date and other details. Anyone who ordered tickets will be issued a full refund.
---
Past Events
Churches and the Housing Crisis
What part can churches play in alleviating the current housing crisis in Vancouver? On January 27, 2016, UBC professor David Ley hosted a panel of three guests to discuss this question. Read more and watch the videos.
Hacking the Housing Crisis: Making Vancouver Home
IMPORTANT NOTE: This Regent Exchange housing event will be moved to the Fall. Please watch this page for the new date and other details. Anyone who ordered tickets will be issued a full refund.
Churches and the Housing Crisis
January 27, 2016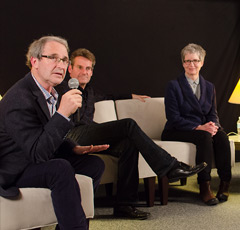 There was a buzz and energy in the Regent College Chapel on Wednesday, January 27 as people came together for Regent Exchange: Churches and the Housing Crisis. Members of Christian communities across the Lower Mainland gathered alongside urban planners, social workers, architects, city officials, students, journalists, and academics to discuss how churches can respond to Vancouver's current housing crisis.
The event, attended to full capacity, was hosted by UBC Professor of Geography David Ley and featured three panelists: Joan Seidl of 127 Society for Housing, Tim Dickau of Grandview Calvary Baptist Church, and Robert Brown of Catalyst Community Developments.
Watch the full presentations by our three speakers below.
---
Advocating for Affordable Housing
Joan Seidl, President of 127 Society for Housing
127 Society for Housing, a housing initiative begun over thirty years ago by parishioners of Christ Church Cathedral. Over the years, a passion for providing affordable housing has driven 127 Society to partner with other organizations in Vancouver's Downtown South to build more than 250 units for low-income seniors and persons with disabilities. 127 Society provides various forms of support for its residents and encourages them to make the units their long-term homes.
---
Building Creative Communities
Tim Dickau, Pastor at Grandview Calvary Baptist Church (GCBC)
Tim is a Regent College graduate and long-time pastor at GCBC, a congregation known for its active engagement in the Commercial Drive neighbourhood. He attributes the housing crisis in part to "a failure of imagination and courage at the individual, communal, and systemic levels." He encouraged churches to build on the uniquely creative and fruitful vision of community in the Gospels.
Tim hopes that Co:Here, a development to be built on GCBC's current parking lot, will provide a model for other faith communities. However, he notes, churches interested in addressing the housing crisis must combine a creative approach to community with other forms of engagement. "It is vital that we as churches are engaging multiple options for creating a more livable city at all levels—the individual level, the communal level, and the systemic level."
---
Leveraging Church Assets for Social Change
Robert Brown, President of Catalyst Community Developments
Catalyst is a non-profit housing society that helps churches and other community organizations leverage their assets—particularly real estate—for social change. Many churches, uncertain of what to do with their real estate assets in Vancouver, end up selling their land to a private developer in exchange for a fixed sum and perhaps some worship space. Robert encourages churches and other community groups to avoid this outcome. Rather than giving up their interest in the property, community groups should use their assets in a way that supports their mission while bringing added value to the community.
On September 24, 2015, Regent College presented the first-ever Q Commons event in Vancouver. Q Commons, an event organized by Q Ideas based in New York City, convenes local leaders to think, learn, and work together on common topics and issues in our cities. The conversation in Vancouver was centred around issues of home through a variety of different lenses: housing affordability, building community, and infusing more happiness into a city sometimes described as fostering loneliness. It was this event that lead us to create the Regent Exchange initiative.
---
Living Connected to Place
Karen Reed
Karen Reed works as a community builder in East Vancouver. Rooted in this neighbourhood to work for shalom and the flourishing of her community, she lives a shared life at Parker House, a six-bedroom home that is oriented around radical hospitality to the stranger.
---
The Happy Cities Experiment
Omar Dominguez
Omar Dominguez is Director of Operations and Sustainability for Happy City, a consulting group founded by Charles Montgomery, author of Happy City: Transforming Our Lives through Urban Design. Happy City helps build happiness into neighbourhoods and cities through research, public events, and collaborative consulting. Their clients include the World Health Organization, British Land, and the Government of Mexico City.
---
Housing Affordability: A Sign of the Times
David Ley
David Ley is a professor of geography at the University of British Columbia and author of Millionaire Migrants: Trans-Pacific Life Lines. His current research involves a comparative study of housing market bubbles in five global cities: their causes, social consequences, and policy responses. He is also a participant in the national Neighbourhood Change Research Partnership, examining growing income inequality and polarization in large Canadian cities.
Stay Informed
It looks like you have Javascript turned off in your browser. If so, you can still subscribe
here
.