Celebrating 50 Years of Service to Regent College
July 09, 2019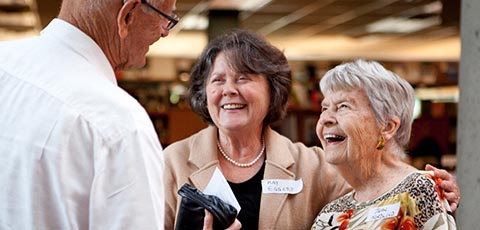 "The work of governance is not flashy but it is utterly essential to the long-term health of a strong institution."
Regent College's Board of Governors recently hosted a special luncheon to honour all former Board members, Senate members, and foundation Trustees—all 50 years of them. For five decades God has demonstrated his faithfulness to the College through the wise governance of the Board, Senate, and Trustees. As Regent's 50th anniversary draws near, it was fitting to express the College's gratitude for their service.
President Jeff Greenman explained, "This delightful event enabled us at Regent to express our appreciation to people whose voluntary service to Regent has been critically important although usually unnoticed. It is important work behind the scenes that we wanted to honour.
"The work of governance is not flashy but it is utterly essential to the long-term health of a strong institution. These former members of the Board or Senate and former Trustees are people whose presence represented the dozens and dozens of skilled people who have given time and expertise to the everyday business of Regent's sustained operation, long-term planning, and wise oversight.
"We are deeply grateful to all of them for their service to the Lord in their service to Regent."
President Greenman opened the event with a welcome. Shaila Visser, a member of the current Board of Governors, then prayed and blessed the meal. The Atrium hummed with lively conversation and laughter as the guests enjoyed food and fellowship together.
A short program followed the lunch. Professor Emeritus Bruce Waltke shared a devotional, and recent graduate Jennifer Richards expressed the appreciation of the student body for the diligence of the college's governors. Uli Chi, former Chair of the Board of Governors, and President Greenman offered reflections before the current Board Chair, Roger Laing, shared closing remarks. The program ended with the whole gathering singing together Great Is Thy Faithfulness.
Through the diligence of the men and women who have served as Board members, Senate members, or foundation Trustees—both those present for the luncheon and those unable to be present—God has ministered to Regent both "strength for today and bright hope for tomorrow." It was a delight to honor these friends of the College, and Regent looks forward to further celebrations of God's faithfulness in this coming year of 50th anniversary festivities.
Learn more about Regent's 50th Anniversary here.
We attempted to invite everyone whom our records showed had served as a Regent board member, Senate member, or foundation Trustee. Our records may be incomplete. If you served in such a capacity and were not reached by us, please contact Richard Thompson, Director of Advancement, at [email protected].