Remembering Dr. Edwin Hui
November 18, 2020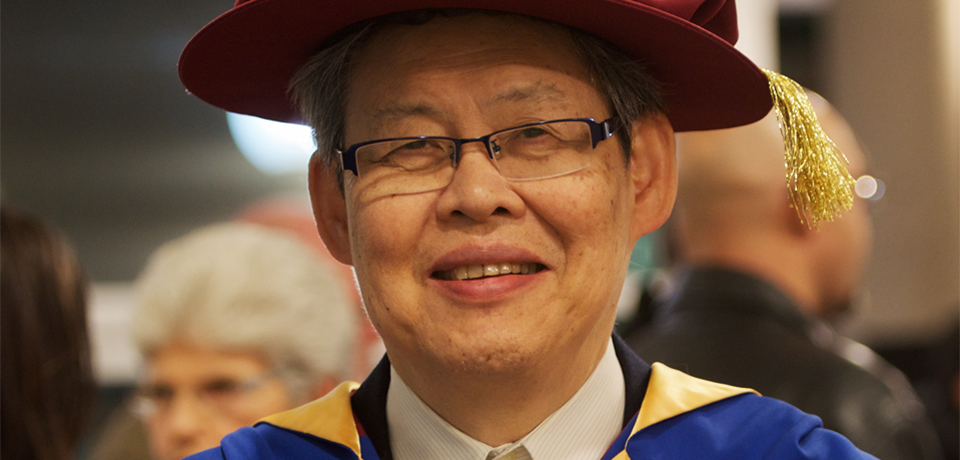 "We will miss his profoundly personal teaching on the meaning of suffering, and his passionate commitment to Chinese Christian scholarship in service of the church."
It is with great sadness that we announce the death of Edwin Chi-Wai Hui, Chee Family Dean of Chinese Studies and Professor of Bioethics and Christianity and Culture at Regent College. Edwin died at his home in Vancouver on November 17, 2020, surrounded by his family. He was seventy-four years old.
Edwin was a man of many gifts. His work as an esteemed physician, research scientist, and hospital leader evolved into a remarkable academic career in the dual fields of bioethics and the intersection of Christianity and Chinese culture.
Edwin first came to Regent College as a student, examining the intersection of spiritual growth, medical ethics, and suffering, while concurrently teaching at the University of British Columbia's School of Medicine. After completing a Graduate Diploma in Christian Studies in 1989, he began his work as Program Director of Regent's Chinese Studies Program (CSP) in 1990.
Over the years, Edwin established and fostered important relationships between Regent College and over twenty Chinese universities. Under his leadership, the CSP flourished, drawing promising young scholars from leading Chinese universities to complete a portion of their doctoral programs at Regent. Known both for his intellectual leadership and his deep care, Edwin's work with these Chinese doctoral students had a profound impact both on the many visiting scholars who studied with him and on the College.
Jeff Greenman, President of Regent College, paid tribute to his powerful impact: "Edwin Hui was seamlessly and simultaneously a deeply-respected physician, theologian, medical ethicist, and academic entrepreneur. His visionary and energetic leadership of the College's Chinese Studies Program connected Regent's ministry to dozens of Chinese universities and hundreds of Chinese scholars. We will miss his profoundly personal teaching on the meaning of suffering, and his passionate commitment to Chinese Christian scholarship in service of the church."
Edwin continued to carry on an active career in medicine long after he began his work with the CSP. He was Vice Chief of Staff at Lakewood Hospital in Los Angeles for 10 years before he was seconded to the University of Hong Kong Faculty of Medicine from 2003 to 2011 as Professor of Medical Ethics and a consultant in Clinical Ethics of the Hong Kong Hospital Authority. His groundbreaking and comprehensive study on ethics in fourteen hospitals in Hong Kong catalyzed significant institutional reorganization and medical–ethical education.
In China, Edwin was a beloved and respected leader popularly known as Xu Laoshi. Until recently, he lectured regularly in China and was a visiting or honorary professor at Peking, Fudan, Wuhan, Sichuan, Hong Kong, and Zhongshan Universities, where he was able to navigate the intricacies of medicine, ethics, theology, and philosophy with astonishing ease.
Dr. Grace Liang, now serving as Director of Regent's Chinese Studies Program, is also a CSP alumna. Reflecting on Dr. Hui's life and leadership, she said "On behalf of CSP's alumni in China, I want to express a deep tribute and remembrance of our Xu Laoshi (Teacher Hui) and highlight his huge contribution over the past three decades to nurturing Chinese PhD students. These students represent the best of the growing body of Christian scholarship in Chinese academia. Through his work, Regent College has become the best known and most widely respected western institution in this field in China."

On learning of his passing, the Center for the Study of Christianity at the Chinese Academy of Social Sciences extended condolences: "We will remember Professor Edwin Hui for his dedicated and invaluable researches in Clinical ethics, Christian philosophy, and the cross-cultural dialogue between Chinese culture and Christianity. He made great academic achievements, enjoying a great prestige in the academic circles and having a profound impact on the later scholars. We also remember him for the fruitful exchange he fostered throughout years, striving to build a high-quality platform for academic exchanges on Christian studies between China and the western world. An excellent mentor and a close friend, his exit is an irreparable loss to Christian studies."
At Regent, Edwin taught classes in medical ethics, spirituality, and suffering. He was wise and empathetic, supporting students through painful struggles with infertility, terminal illness, and depression. He was warm, kind, funny, and endlessly patient, equally equipped to guide friends and students through the intricacies of bioethics or the finer points of a Chinese menu. He was skilful and astute with his questions and the first to laugh at himself.
Regent alumnus Brian Williams (ThM 2011), remembers meeting Edwin for the first time in the Regent Bookstore, when he worked up the courage to ask him a very personal and pressing question about in vitro fertilization. "Edwin immediately invited my wife and I up to his office and spent the next hour listening and counselling us about reproductive technology, ethics, and the vocation of parenting. He was just so exceptionally theological and pastoral at what proved to be an auspicious moment in our lives."
Academic Dean Paul Spilsbury also recalls Edwin's personal impact on the community: "Edwin was a wonderful colleague and a dear friend who will be missed greatly by the whole Regent community. He was a man of gentleness and humour who modelled the presence of Christ in our midst."
Edwin was the founding Editor-in-Chief of the Regent Theological Review, which has been published twice a year in China since 2004. He has written and edited ten books and published over seventy articles in prestigious peer-reviewed journals including Medicine and Philosophy, Clinical Ethics, Bioethics, Prenatal Diagnosis, and New Genetics & Society. More recently he was working on a book in clinical ethics and the translation of a series of Puritan writings.
Edwin Hui is survived by his wife, Winnie; three children, Naomi, Jeremy and Emily; and two grandchildren.
Due to current restrictions on public gatherings, there will be no public in-person memorial service. An online memorial service will be held on Monday, May 10 at 6:30 pm. View details