Community Update: Regent College and COVID-19
March 27, 2020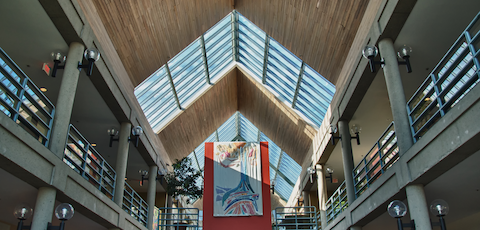 Although the building is closed, Regent's mission carries on.
Friends,
We have seen a great deal of change in the past few weeks.
On Friday, March 13, Regent College made the decision to move all of our courses online for the remainder of the term. On Wednesday, March 18, following the declaration of a public health emergency in British Columbia, we also decided to close the building and have all staff and faculty work from home.
I've provided a short update for Regent's worldwide community on Soundcloud. You can listen to it here:
It was an emotional experience to leave the College uncertain when we will be able to return. However, we are confident that this was the best decision for our community. As COVID-19 numbers grow in BC, our students and staff have expressed gratitude for the opportunity to care for themselves and others by staying home.
Although the building is closed, Regent's mission carries on. Our faculty and IT team have done a tremendous job rapidly adapting to a new online delivery model. Students continue to study, learn, and write. We are still cultivating community through shared prayer and worship. In the interest of slowing the spread of COVID-19, though, we are finding creative ways to do these things together even while we're apart.
I am also very happy to report that our Summer Programs will go on as planned––just in a different format. We have been in touch with our visiting instructors and have confirmed that nearly all courses will be available through a live online delivery model. You can expect a news release outlining details very soon.
Of course, there are still some things to work out. While I certainly hope to celebrate Regent's 50th Anniversary Reunion with many of you, it may be some time before we know whether circumstances will allow the Reunion to proceed in June. We are in a similar position in regard to Convocation and many of our other summer events. As we wait on information that affects our plans in so many ways, we are learning once again that God holds our times in his hands.
In the meantime, please pray for the College as we adjust to this change which, though temporary, is significant. Pray that our Lord will use this time to shape and refine us, cultivating a community that is joyful in hope, patient in affliction, and faithful in prayer. And please pray that God will provide for the College financially: with the markets unsettled and our April 30th year-end quickly approaching, we are very aware that we rely on him.
Finally, please let us know how we can pray for you. We know that this is a very challenging time for many, so I am grateful for a team of intercessors who have volunteered to support the Regent community in prayer. These dear friends have committed to pray not only for students, staff, and faculty, but also for alumni, donors, and friends of the College. If you would like prayer, please email [email protected] and let us know how we can lift you up. It would be our privilege.
In these unsettling times, I rest in the knowledge that God is holding us all securely in the grace of the Father, the love of the Son, and the fellowship of the Spirit. Please pray for me and the College's leadership as we navigate this unprecedented time, and please know that I will be praying for you.
In Christ,
Jeffrey P. Greenman
Regent College