Together at Midday: An Opportunity to Connect
October 20, 2020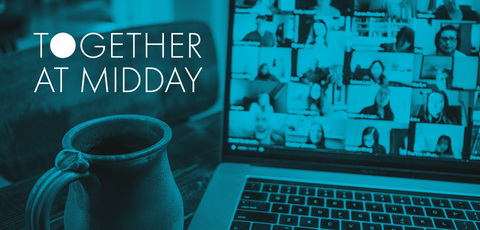 Community can flourish despite our challenging circumstances.
One of the hallmarks of life at Regent is the opportunity to be together—reflecting, discussing, sharing, praying. As we share time and activities together, we forge new relationships and strengthen old ones. While the COVID-19 pandemic has prevented us from meeting together in the sun-dappled atrium with coffee from The Well in hand, the Alumni Office continues to facilitate connections and togetherness within the global Regent community through a series of events called Together at Midday.
Together at Midday began in spring 2020 after Regent pivoted to online learning. On select Wednesdays throughout the term, alumni, students, staff, faculty, and friends gather online from 12-12:45 pm Pacific Time to hear and engage with a short reflection shared by a faculty member or special guest. In addition to a large group discussion, we also spend some time in smaller groups for more personal interaction.
Alumni and Church Involvement Officer Christina Lui shares: "It has been heartwarming to welcome and connect with alumni from every decade of Regent's history and from all across the globe at Together at Midday. I am grateful that God has provided us with the means to continue meeting together and encouraging one another towards love and good deeds. It's a beautiful reminder that community can flourish despite our challenging circumstances."
In addition to a wide range of alumni, a number of current students enjoy attending Together at Midday sessions. In particular, they've commented on how meaningful it is to meet and connect with alumni from all walks of life who have gone before them on their journey of faith.
Please check Regent's events page to see all of the Together at Midday sessions coming up this Fall, including opportunities to meet new Board member Toni Kim, visiting lecturer Elizabeth Sung, and faculty members Matt Lynch and Jens Zimmerman. We hope you'll Zoom in and join us!