Transition to Online Classes for Remainder of Term
March 13, 2020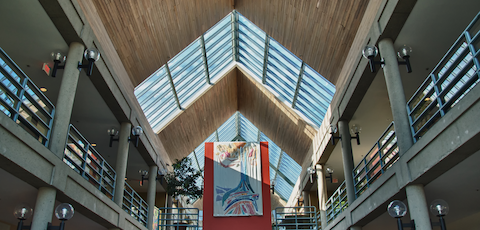 We have made the decision to transition to online classes for the remainder of the term.
Friends,
Governments and organizations around the world are grappling with the challenges posed by COVID-19.
At Regent, our primary goal right now is to keep our community healthy and ensure that our students are able to finish the term well. Following the advice of public health authorities, and in keeping with today's decision at UBC, we have determined that it is best for students to stay home as much as possible.
This evening, we have made the decision to transition to online classes for the remainder of the term. As of Monday, March 16, 2020, all remaining classes will be delivered in alternate modes. Students should not come to campus for class. Course instructors will contact students directly to provide information on how to participate in their classes. Delivery methods may vary from course to course to accommodate different course structures and content.
For the time being, the College will remain open for basic services. Staff and faculty are expected to attend work on campus. The library will remain open only for the purpose of retrieving and returning books. It will not be available as a study space. Full details regarding library hours, resources, and services will be provided early next week.
All on-campus events between now and the end of term are cancelled. Out of an abundance of caution, we are also pausing all off-campus events that Regent College sponsors or helps to fund (e.g., Gathering Table meals and Community Group events). The COVID-19 Response Team is in conversation with the RCSA regarding L'Chaim. We have yet to reach a decision regarding Convocation.
Embodied relationships are fundamental to the Regent community. That has not changed. These temporary measures are an expression of our care for the most vulnerable members of our community and the community beyond. Rather than losing heart, let's use these challenging circumstances as an opportunity to explore creative ways of caring well for one another. In this time when we cannot congregate at the College, please think of those who may be feeling anxious, isolated, or alone and consider how you can reach out to express support and solidarity in safe and loving ways.
A few notes for students:
If you are in the last stages of an IPIAT or other project requiring a final presentation, please contact your supervisor directly to discuss alternatives for presenting your work.

If you are working as a TA or SE, please contact your supervisor to discuss your working arrangements.

If you are self-isolating and do not have Regent friends or a church community who are able to support you (e.g., bringing groceries and other essential items), please contact Claire Perini. We would love to care for you as best we are able.
This is a rapidly changing situation. To stay up to date on the College's response, you can follow the updates posted at https://www.regent-college.edu/fine-print/special-notices.
Please bear with us as we work through the challenges of a swift transition to alternative course delivery modes, and please extend patience to us as we respond to ever-shifting circumstances. We will do our best to respond to all questions as quickly as possible. In the meantime, we ask for your patience and your fellowship in prayer.
In Christ,
Jeffrey P. Greenman
President, Regent College