Board of Governors Renews Contracts with President Jeff Greenman and Academic Dean Paul Spilsbury
October 20, 2020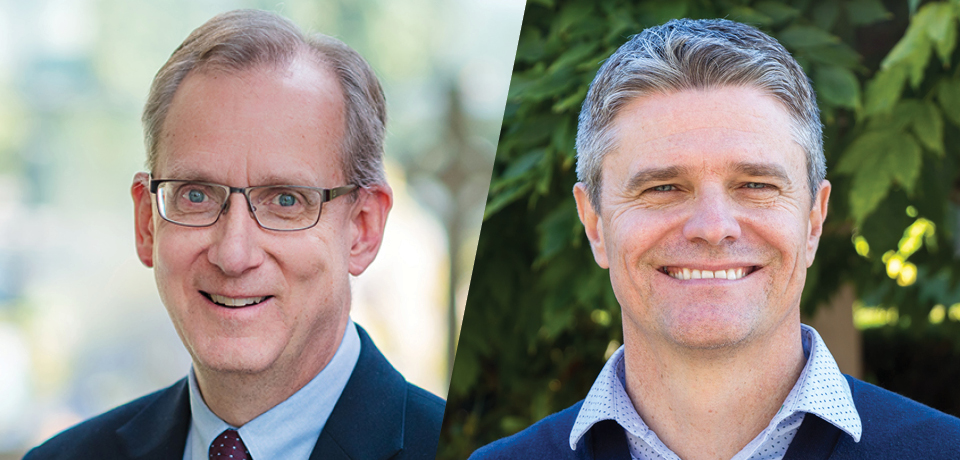 "This affirmation of their contribution... will enable us as a community to build on the goodness of God and the gains we've made in the last five years."
Regent College's Board of Governors is pleased to announce that it has renewed the leadership appointments of President Jeff Greenman and Academic Dean Paul Spilsbury for another five-year term.
Board Chair Roger Laing commented: "In the past five years, this combination of Jeff and Paul, in concert with the faculty, staff, and administration, has effected a fundamental turnaround in Regent College's stewardship of scarce resources, and we're pleased about that. This affirmation of their contribution is exciting for us and we believe will enable us as a community to build on the goodness of God and the gains we've made in the last five years."
Dr. Jeff Greenman was installed as President of Regent College in the fall of 2015. His inaugural address, "Now More than Ever: Whole Persons, Whole People, Whole World," tackled the critical importance of renewing the College's mission in ways consistent with its historical foundations. Under his leadership, Regent College has achieved financial stability, established a new strategic plan, inaugurated a major capital campaign, marked the College's 50th anniversary, and launched two new graduate programs: the Master of Arts in Leadership, Theology, and Society (MALTS), and the Master of Arts in Christian Studies (MACS).
Reflecting on his time serving the College, Jeff observed: "God's provision and guidance have been clearly on display! I am looking forward to the joys and challenges of leading the College over the next five years as it seeks to carry on with its mission to cultivate intelligent, vigorous, and joyful commitment to Jesus Christ, his church, and his world."
As a Regent alumnus (MDiv '88), Jeff points to his student experience as a profound influence on his work today: "What motivates my leadership of the College is simple: to enable students now and in years ahead to have the same kind of experience that I did—an education that is intellectually challenging, theologically robust, spiritually stretching, personally enriching, communally experienced, and just utterly life-giving. I see my role as seeking to create the conditions that make it possible for students to have that kind of experience, for great things to happen when faculty and students work together, inside and outside the classroom."
Dr. Paul Spilsbury joined Regent College as Academic Dean and Professor of New Testament in August 2015. Like Jeff, Paul is an alumnus (MCS '90) whose passion for theological education originated while studying at Regent. Prior to serving as Regent's Academic Dean, Paul served as Professor of New Testament at Canadian Bible College and Vice President for Academic Affairs at Ambrose University.
During his five years serving as Regent's Academic Dean, Paul has been instrumental in the hiring of eight new faculty members and two staff directors, and has provided key leadership in the development and implementation of Regent's new strategic plan. In addition to chairing the Faculty and the Senior Administrative Leadership Team, Paul also served as Acting President during Jeff's convalescence in the fall of 2018.
Regarding his ongoing role at the college, Paul added, "I am deeply grateful for the opportunity to keep working with my colleagues at Regent, and I look forward to partnering with them to serve our incredible students."