Remembering Ruth Oliver Cummings
February 05, 2020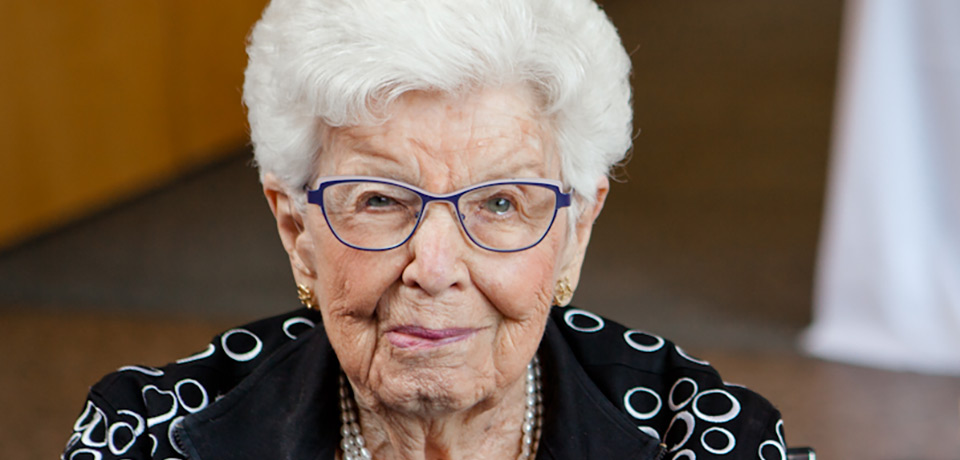 Ruth loved through serving others.
A treasured friend of the College, Ruth Oliver Cummings, passed away January 17, 2020 in Vancouver. She was 98 years old.
Ruth, along with her husband, Jack, was one of the founders of Regent in the late 1960s. Many of the earliest meetings about the formation of the college were graciously hosted in Oliver's living room.
Ruth was a legendary community servant. The first woman to sit on Regent's Board of Governors, she spent much of her life serving on numerous boards (and chairing nearly as many) including Young Life, the United Way, and the Volunteer Bureau. She became a respected expert on volunteerism, writing and speaking on its importance in our cities and the Kingdom.
Ruth loved through serving others. She combined a vast depth of personal warmth and care with an unabashed commitment to truth and justice. She wrote, "Sharing equipment at barn raisings or harvest, caring for a sick neighbor or friend, lending money to help through a tough spot or being willing to listen are all examples of ways people have endeavored to fulfil Jesus' mandate."
She was devoted to her children, Tom Oliver (Lynne), Carol Woods (Bruce), Patty Nielsen (Murray) and Bill Oliver (Kathy), eleven grandchildren and twenty-four great-grandchildren.
A memorial will be held Friday February 7th at 2 pm at Granville Chapel.
Her obituary in the Vancouver Sun is available here.