Dean of Students Office Plans for Community Life This Fall
August 13, 2020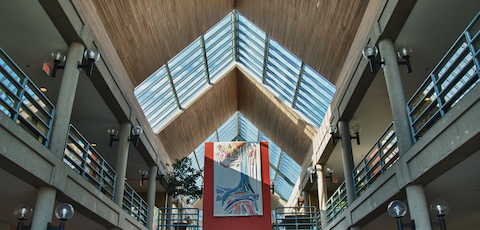 "What is God's invitation to us as a community in this season?"
It's no secret that things will look different at Regent this fall. But our core values haven't changed: We believe that a rich, vibrant community life is an essential part of a robust theological education. In this interview by Richard Wu, Associate Professor and Dean of Students Diane Stinton and Assistant Dean of Students Claire Perini offer a preview of what community life will look like this fall. How will chapel work? What are "Pods" and "Trios"? Read all about it below.
(Note: this interview has been edited for length and clarity.)
—
Part of what drew me to Regent as a student was that it felt small enough to foster a genuine sense of community within the student body. (Thankfully, I was right!) What would you say is distinctive about Regent's community life, and what role has the Dean of Students Office played in cultivating this over the years?
Diane: As a former student in the eighties and nineties, I would say that Regent's community life emerged organically from the profound hospitality of the College's founding fathers and mothers, who invited students into their homes and shared their lives with authenticity, humility, and joy. That set a foundational ethos of shared pilgrimage in seeking Christ together—in worship and study, conversation and prayer, meals and celebrations, and in gardening or rowing through the Gulf Islands together. While the members of the community come and go over the years, that fundamental vision and ethos of cultivating life together in Christ has become part of our DNA that continues to shape each new generation of students.
In the Dean of Students Office, we see our primary calling as facilitating this ongoing life of the Spirit in our midst. By all means, we seek to be prayerfully intentional in providing certain structures and opportunities for communal engagement and in offering personal care and support. Ultimately, though, it is the Spirit who breathes life into us and forms us together as God's people in this particular place and time.
One of Regent's core emphases is the value of embodied, in-person education. Obviously, the pandemic presents certain challenges in this regard. How do we continue to cultivate community in this season? Are there any surprising opportunities that weren't possible before?
Claire: As the pandemic has continued, we've been seeking to live into this larger question: What is God's invitation to us as a community in this season? This question has pushed us to reimagine our communal life. While at times this has felt daunting, it has also been an exciting opportunity to refresh some of the work that we've been doing for so long.
Diane: Yes, this does open up new, unforeseen opportunities. I think a key one is the significant increase in international students admitted this fall! Despite the new challenges in seeking to foster our communal life both locally and globally, I'm thrilled with this development. This will bring Regent into closer alignment with the shifting demographics of Christianity worldwide, with all the potential this holds for enhanced mutual learning within the global Body of Christ.
The situation also allows us to implement certain initiatives that we've thought about for years. One such idea is what we are calling "Trios"—groups of three students who meet online to help welcome new students into the community, with a hope that these may become more intentional spaces for formation and prayer. Whether these prove to be temporary bridges of support for incoming students or opportunities for deep, personal formation within a safe and trusted space—that's up to the students and the God who guides them.
Claire: Together with Trios, we're also working on creating what we're calling "Pods." These will be groups of six people who meet more casually each week for an hour of personal connection, care, and prayer. Pods will be a mix of new students and returning students, faculty, or staff. Organized by time zone and location, each Pod will determine its own day and time to meet, along with the structure and content of their meetings. Some Pods will be strictly online, while others may have the opportunity for limited in-person gatherings at Regent, depending on the accessibility of the building under government health guidelines.
Chapels will continue to be an important part of the week where we gather online to worship together as a community. Building on our Worship Coordinator Corey Janz's work over the summer, chapels will happen live on Zoom, and Corey will be able to lead us from inside the Regent building. We also hope to offer some materials asynchronously for those who are unable to attend due to time zone constraints.
Finally, last winter we began a student discussion series called "The Wisdom of Each Other." Our plan is to pick up where we left off and host another honest and hope-filled conversation around the topic of friendship. In particular, we're asking how we can continue to cultivate friendships from whatever station of life we happen to be in.
So, those are just a few things we are planning this fall and we hope to be able to share a few more ideas, as well as what the RCSA is planning, once the term begins.
On a more personal note, what's one thing that has helped you to get through this pandemic? Frivolous answers are strongly encouraged. (Deep, spiritual answers are also acceptable.)
Diane: I'd say two things. First, I bought a used bike with the money I saved on commuting to Regent! So I'm loving being able to ride my bike along the beach, following the dyke around Boundary Bay. And second: our dog, Ember! Since we've been home 24/7 for months, she's really bonded with us. We're currently training her to hunt truffles!
Claire: Is it wrong to say memes, funny videos, and GIFs? These (as well as the good friends who send them to me) have allowed me to laugh at a time when lament seems to be the most natural and appropriate response. As I have cried out for God's mercy in new ways, I have become increasingly aware that joy and sorrow, laughter and lament, will always go together in the human experience and in the life of God's people.