Crisis and Community: Students bringing theology to life
April 05, 2020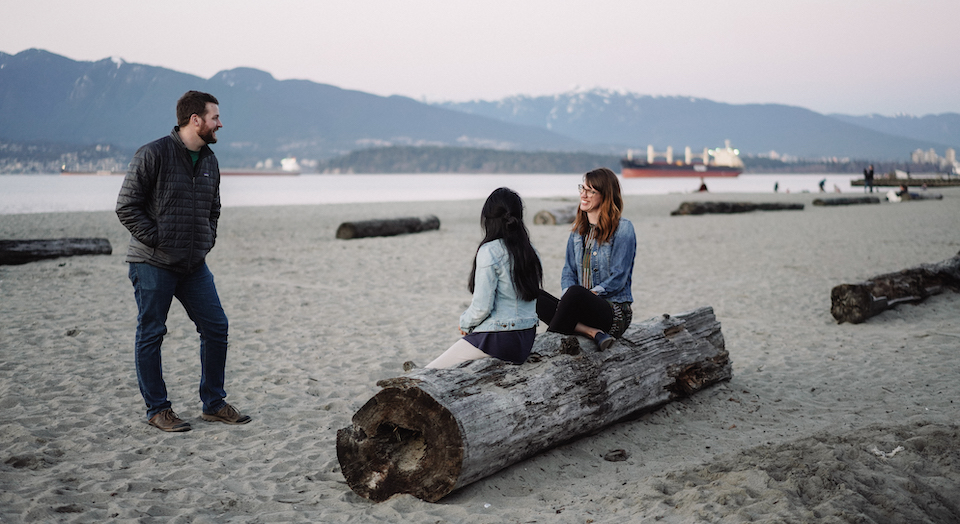 Whether by lament, reflection, or celebration, here's how our students are bringing theology to life in a world of crisis and community.
Regent's physical doors are closed, but the work of learning continues. Our students are demonstrating remarkable commitment, perseverance, and flexibility as they adapt to new ways of doing classes and community. They're also responding with great insight and creativity to the turmoil that has so quickly overtaken our world.
It's inspiring to see students embracing Regent's impulse to bring theological education to all of life. From lament, to reflection, to celebration, here are a few examples of how our students are bringing theology to life in a world of crisis and community.
To learn how you can support the ongoing work of teaching and learning at Regent College, click here.
Mary Frances offered this prayer as a contribution to the Regent community's virtual chapel service on March 24. Her lament covers the vast range of circumstances and emotions experienced by students in this time of pandemic, from separation and homesickness to academic stress and lost opportunities. Ultimately, she leads us in offering our community's sorrow to the God who loves and grieves with us.
"We lament the loss that we have already experienced, the new losses that are made evident to us everyday, and the inevitable loss that is to come. Even as your Son Jesus weeps with us, we pray that you would move with power to heal all that is broken in this world, for you are the only one who can." Listen to the full prayer here.
In this article (originally published on March 31 in Regent's student publication, Et Cetera), Aubrianna contemplates the pain of physical distancing and the ongoing possibilities of comradeship—with a little help from her friends Ignatius of Antioch and Dietrich Bonhoeffer.
"Bruce Hindmarsh frequently remarks that studying is a spiritual discipline, and though we are not physically together, this is still a discipline that we practice in unison. As unmotivated as I have been, I am still part of a community that studies … and laughs and creates and prays together." Read more.
In this Et Cetera article from March 24, Alice offers some suggestions for writing to preserve, to unload, to pray, and to remember. A journal, she observes, can serve as "a beacon … of God's abiding faithfulness." Join Alice in her reflections, and then pick up a pen!
"As I have felt more and more powerless and uncertain over the past days, a quiet, reasonable voice somewhere in the back room of my brain (which owes something both to the Holy Spirit and to my mother) keeps suggesting that perhaps the most radical act of trust and of defiance is to journal. Now is the time to record, to commit the particulars of our lives to posterity, even—perhaps especially—if that posterity is just our own selves rereading at the kitchen table next Monday." Read more.
4. "Life" by Tze-Hung Seeto
This short film blends breathtaking images and thoughtful narration into a joyful meditation on the beauty of creation. Tze-Hung invites viewers to zoom out from a focus on our immediate surroundings in order to contemplate the vastness of the cosmos and the richness of our comparatively tiny planet.
"The colour and variety, the textures and sounds of the world around us are simply breathtaking. When we're looking up at the star-filled sky at night, or out across the ocean, maybe we can all agree that it really is good." Watch on Vimeo.
What simple substance can bring comfort amid lamentation, enhance even online hospitality, perfectly accompany the writing process, inspire wonder in the delights of creation … and even wake us up in the morning? Coffee, of course!
In this short documentary from a few years ago, Filipe introduces viewers to an expert coffee roaster who speaks with striking lyricism about the intricate process behind a perfect sip of coffee. Grab a cup and enjoy this beautiful ode to a delicious drink.
Note: If you don't speak Portuguese, you'll probably want to turn on the film's English subtitles. Just look for the CC button at the bottom right of the video display.
"We can compare the master roaster with the maestro of an orchestra. In the orchestra there are many instruments which need to be harmonized, so you get a symphony that is pleasing to the ears. Within coffee you also have many elements in roasting … which need to be considered so that in the end, the roasting process becomes like a symphony that pleases the palate." Watch on Vimeo.
We hope you enjoy hearing from a few of Regent's amazing students. If you'd like to make a donation to support Regent students and those who teach and support them, click here.