More Tickets Available Soon for Regent Reunion
March 03, 2020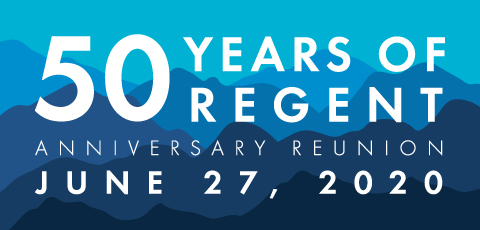 We hope to see you at Regent this summer!
The Regent College 50th Anniversary Reunion is less than four months away, and we have great news! Due to the resounding interest in celebrating this landmark event, we have, with the support of generous donors, worked hard to expand the Reunion to accommodate another 150 people.

This means we're making some changes: opening up more tickets (see below) and adjusting the location of some of the reunion activities. Worshipping together is really important to us, and since the College isn't big enough to house everyone at once we'll be hosting one large chapel service at The Nest (just a 5 minute walk from Regent). Chapel will be followed by a day of activities divided between The Nest and Regent.

Although we won't all fit into the College at the same time, everyone will have the opportunity to take in a session or two at Regent, visit the Dal Schindell Gallery (formerly the Lookout Gallery), browse the John Richard Allison Library, and shop at the Regent Bookstore. We'll close the day with a banquet back at The Nest, feasting together in celebration of God's goodness to our community over the past 50 years.

And that's not all! A number of optional activities will be taking place in the days leading up to and following the Reunion. Regardless of whether you're attending the Reunion, these activities planned by our volunteer-led Gatherings Committee and members of the Regent community (like you!) will provide plenty of opportunities to connect in and around Vancouver.

If you're willing to host, organize or volunteer for an event, we would love to hear from you: just email the Reunion Planning Team at [email protected]. As details about optional gatherings emerge, we'll be sharing them on the reunion website, social media, and the Regent Directory. To stay informed, join the Reunion Group in the Regent Directory. Not in the Directory yet? Click here!

Of course, if you're looking for a chance to spend more quality time at Regent, you can't beat our summer courses! We've curated a great selection in the weeks before and after the reunion, with offerings from Peter Shaw (a member of Regent's very first graduating class!), Darrell Johnson, Susan Phillips, Daniel Block, Sandra Richter, Wesley Hill, and David Smith. We also have an excellent lineup throughout the rest of the spring and summer terms. Visit rgnt.net/summer for details.

PURCHASING REUNION TICKETS
Don't have a ticket yet? Don't despair! Here's what's happening:
Before the tickets become available to the public, they will be offered to people who have already joined the waitlist. If you are on the waitlist, you will receive an email letting you know how to access your ticket. If you do not receive an email by Friday, March 6, please contact

[email protected]

.


The remaining block of tickets will be available to the public on Friday March 13, 2020 at 2 pm PDT on the Reunion's Registration page. Ticket registration will remain open until tickets sell out. At that time, a new waitlist will be established. Tickets returned to the College will be distributed to the waitlist on a first-come, first-served basis.


Those unable to use their tickets are encouraged to make those tickets available to others within the Regent community. Ti.to, our ticket provider, allows users to transfer their tickets to others, so feel free to connect with others directly or let us know if your ticket will be available. No refunds will be available after Friday, April 17, 2020.
If you have any questions, please contact [email protected]. We hope to see you at Regent this summer!