Remembering J.I. Packer
July 17, 2020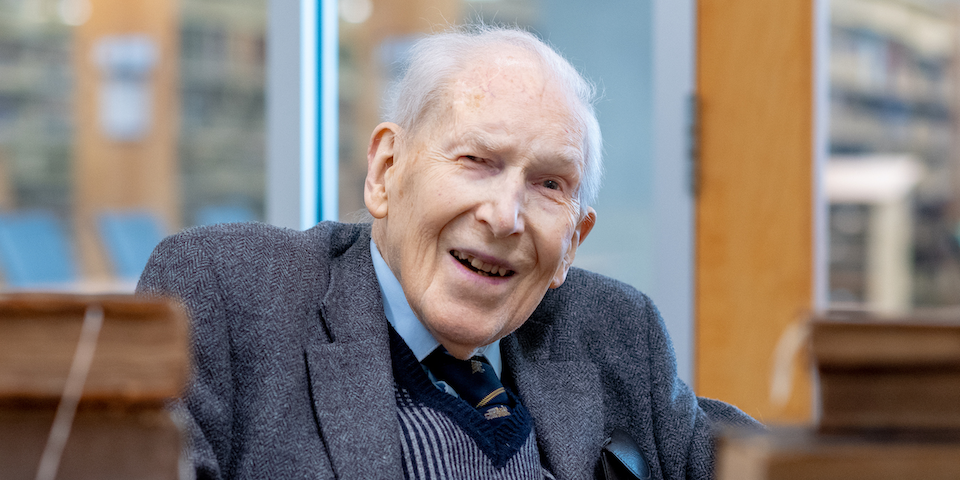 For all his accolades and accomplishments, Jim's focus was always, always, on Christ.
"Precious in the sight of the Lord is the death of his saints." Psalm 116:15 ESV
It is with great sadness that we announce the death of Dr. J.I. Packer, a treasured faculty member, author, churchman, and friend.
James Innell Packer died July 17th in Vancouver, British Columbia. He was ninety-three, and humorous, gracious, and prayerful even in his final days.
One of the most widely-respected systematic theologians of the twentieth century, Jim drew his inspiration primarily from Scripture, but was deeply influenced by the works of John Calvin and the English Puritans. Jim brought seventeenth-century Puritan devotion to life for his twentieth- and twenty-first-century students. While named as one of the 25 Most Influential Evangelicals by Time Magazine in 2005 and author of one of the best-selling Christian books of all time, Knowing God, Jim Packer's description of himself was as an "adult catechist." "Theology, friends, is doxology" is a phrase students recall, and in many respects, the adage that shaped his lengthy career.
From his youth as the son of a railway clerk in Gloucester, England, Jim won a scholarship to Corpus Christi College, Oxford, where he was noted as a remarkable student with a brilliant intellect. Growing up in a nominal Anglican home, Jim became a Christian early in his time at Oxford, largely through the InterVarsity Fellowship Christian Union and St. Aldate's Anglican Church.
Following his undergraduate degree, Jim taught Greek at Oak Hill Theological College in London. He quickly felt drawn to further study, and commenced his studies in theology at Wycliffe Hall, Oxford. He was awarded an MA and DPhil, writing his dissertation on Puritan Richard Baxter's doctrine of salvation under Geoffrey Nuttall. "It was the Puritans," Jim noted, "that made me aware that all theology is also spirituality."
Jim was ordained a deacon in 1952, and a year later, a priest, at St. John's Harborne (a suburb of Birmingham, England). It was there he first taught "doctrine," or catechism, to young people. From parish ministry, Jim became the Librarian at Latimer House at Oxford, and during this time, his writing and speaking began to gain attention in the United Kingdom and beyond. In 1970 Jim became Principal at Tyndale Hall, and in 1971, Associate Principal of the newly-formed Trinity College in Bristol. Jim remained there until he was enticed by James M. Houston, the founding principal of Regent College (who had been an Oxford don when Jim was a student) to come to Vancouver.
In 1979 Regent College was not quite ten years old, and Jim's arrival helped to establish Regent as a theological destination. He remained what he described as a "Regent Man" for the rest of his career. He was the first faculty member to hold the Sangwoo Youtong Chee Chair of Theology and he taught a wide range of classes, including Systematic Theology and Puritan Theology as well as theological expositions on his favourite Pauline letters.
As an author, Jim wrote forty-seven books, including Evangelism and the Sovereignty of God (1961), Knowing God (1973), Keep in Step with the Spirit (1984), A Quest for Godliness: The Puritan Vision of the Christian Life (1994), and Weakness Is the Way (2013). His final work, The Heritage of Anglican Theology, will appear in 2021. He co-authored nineteen others. Editors repeatedly observed that Jim was clear, factual, and humble—meticulous in proofreading his own work. He was an editor at Christianity Today for more than thirty years, and General Editor of The English Standard Version of the Bible, a role he considered one of his greatest contributions to the global church.
Jim did not court controversy, but on occasion he expressed his strong, and sometimes controversial, opinions on biblical inerrancy, theistic evolution, women in ministry, and ecumenical dialogue between Evangelicals and Roman Catholics. While others—clergy, scholars, and laity—sometimes disagreed with him, Jim was unfailingly gracious with everyone.
As an Anglican priest, Jim served as Honourary Assistant at St. John's (Shaughnessy) for thirty-seven years, preaching, leading the liturgy, and teaching adult classes. He was a champion of the Book of Common Prayer, introducing both lifelong Anglicans and first-time visitors to its theological richness and devotional grace. He contributed in leadership and service in the development of the Anglican Church in North America, and in ACNA's catechism.
Jim met his wife, Kit, a nurse, in 1952 at a conference. Seeking to reconnect afterwards, he wrote to her under the guise of wanting advice for a walking trip in Wales, her home country. She saw through the ploy but corresponded with him regardless. Though often different in interests and in temperament ("She's Welsh; I'm English"), Jim's affection and admiration of Kit were unendingly apparent to his students and parishioners.
Jim loved jazz, trains, and mystery novels. Locomotives were a lifelong fascination; he said trains (along with trees and waterfalls) evoked "his longing for the transcendent." He could quote verbatim as easily from Dostoevsky's Brothers Karamazov as Charles Williams's The Place of the Lion. He was witty and quick to see humour; he made fun of himself but never others. He cautioned his students to expect rigour in his classes, quipping "Packer by name, packer by nature."
When he was writing daily, Jim wrote 2000 words (on his treasured manual typewriter) before breakfast. When asked if he wanted a dictionary loaded onto his iPad (a device he used as his eyesight deteriorated), he smiled sheepishly and admitted, "Well, I haven't needed one so far."
For all his accolades and accomplishments, Jim's focus was always, always, on Christ. He said the Book of Common Prayer's Morning Prayer and Evening Prayer services at the beginning and end of each day, often arising at 4 am to do so. Even recovering from a broken pelvis in his last year, he would sink to his knees to pray preceding the Eucharist.
Jim is survived by Kit, their three children, Ruth, Naomi, and Martin, and two grandsons.
Memorial gifts in honour of Dr. Packer may be made to the J.I. Packer Scholarship at Regent College.
A small memorial service in honour of Dr. Packer will be held at 11 am on July 23, 2020. Due to COVID-related restrictions, attendance is by invitation only; however, a livestream of the service will be available on Youtube from St. John's Vancouver here. A celebration of Dr. Packer's life and work will be held at a later date. Details will be provided as they become available.
---
Do You have a memory to share?
Send us your tributes to Dr. Packer.
You can fill out the form
here
.