Recovering Lost Voices: Dr. Cindy Aalders on Women's Spiritual Writing
March 08, 2021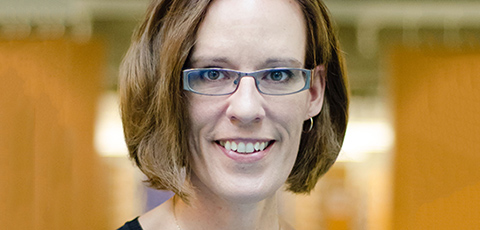 "Broadening the way we look at history helps us see a richer picture of what life was really like for Christians in the past."
On March 8, communities around the world observe International Women's Day. With this in mind, we asked Dr. Cindy Aalders, Assistant Professor of the History of Christianity and Director of the Allison Library, to share about her research into the spiritual lives and writings of eighteenth-century English women. Our conversation touched on how women's voices get lost in history, how these lost voices can be recovered, and why we should listen to them.

Dr. Aalders, you've described yourself as having an incurable case of "archive fever." Can you share a bit about the role of archives in your scholarship?
As I started my doctoral research, my hope was to learn more about how English women contributed to the eighteenth-century church. I felt that part of their story was missing. In my initial research on historical women and religion, most of the narratives I found focused on women's roles as wives and mothers. But what about women who weren't wives or mothers? And what were wives and mothers doing besides being married and mothering? How else did they contribute to religious life?
To answer those questions, I knew I needed to find manuscripts. The narratives we hear about women in the past lack development and complexity in large part because historians have often relied on books and other printed works as their sources. That's understandable, because print is easy to access. But it necessarily privileges the voices of people who had the readiest access to publication. And that's not women. It's not children. Their voices—the ones I'm really interested in—are largely still hidden voices in the history of Christianity. That's why I went to the manuscripts, and why I keep going back.
What kind of documents were you looking at, and what did they teach you?
The manuscripts I was working with were "life writings," which include things like personal letters and diaries. But I found that they were not straightforwardly personal and private. They were often far more public than we might assume when we think about letter and diary genres today. In my work, I often refer to "manuscript cultures." Eighteenth-century women rarely published in print, but they sure did write! And they circulated those writings. A woman might write a letter and send it to a friend, who would copy it out and send it on again; or part of a woman's diary might be transcribed into another's, and that volume sent on through the post—we call this "scribal publication." And religious women were very active in this world of scribal publication. They wrote theology, they engaged in pastoral care, they educated others, and much more.
Looking at women's manuscript cultures—the way they circulated their writing and shared their ideas—opens up this whole other side of Christian history. We're missing something when we only encounter what's in print. I've been fascinated by the way women's writings complement, but also complicate, the more official writings of priests and scholars—who were, in that period, men.
Were there any particular areas where you saw differences between what women were writing and what was appearing in print around the same time?
One of the things that surprised me was how many resonances with Catholic spirituality I found in women's writing. In English print culture of the time, you find a lot of fear of Catholicism, a lot of hostility. But the women I studied would read Catholic authors and adopt Catholic language and ideas. For example, they'd use the language of the Examen from Ignatius, or they would refer to each other as "confessors."
In general, I was struck by how widely these women read. It wasn't just Methodists reading Methodists or Baptists reading Baptists—women's manuscripts show that they were reading very broadly across different Christian traditions. Furthermore, they were quite open to attending different churches and "researching"—that's the word one woman used—different denominations. Again, that's not what you'd expect if you just read print sources. Broadening the way we look at history helps us see a richer and more complicated picture of what life was really like for Christians in the past.
This picture of women exploring different expressions of Christianity really contrasts with more traditional historical narratives, in which women tend to blend into the background, not showing much agency.
Yes! When I first got to Oxford, my supervisor asked me, "What kinds of sources might help you understand the religious experience of women in the eighteenth century?" I said, "Conduct books, perhaps?" Those were books that were written by men—and some women—to lay out how a woman should conduct herself in certain situations. And my supervisor said, "Maybe—but how do you know women actually read those books? Maybe a well-meaning auntie just gave a young woman a copy and it stayed sitting on a shelf." That made me think, "Of course! Just because something appears in print, that doesn't mean it reflects what's happening on the ground." So, yes, there are certainly things that men wrote about—family religion, for example—where women's manuscripts tell a different tale.
How might Christians today benefit from listening to the "hidden voices" of historical women?
I think we could learn from the vision of family I found in women's manuscript cultures. There have been a lot of things written about family, both in the eighteenth century and more recently. Print texts will generally interpret "family" in a way that's familiar from contemporary Western culture—a nuclear family. But in reading these women's manuscripts, I discovered that they understood and practiced family in a much more open-armed way. They used terms of kinship very flexibly: people with no blood relationship could refer to each other as "my daughter" or "my second mother."
I think this offers a very helpful challenge to the way the church today—especially the evangelical church—conceives of the family that it wants to preserve and protect. It's quite a narrow understanding of family, and it often leaves people on the outside. There's something very attractive to me about the eighteenth-century depictions of family that I found in the archives. The church could learn a lot from these women!

If this conversation piqued your interest, you can hear more from Christian women throughout history in a spring course taught by Dr. Marion Taylor, "Silent No More: Women Interpreters of the Bible." Learn more here!