The Saint John's Bible Heritage Edition Gifted to Allison Library
September 13, 2021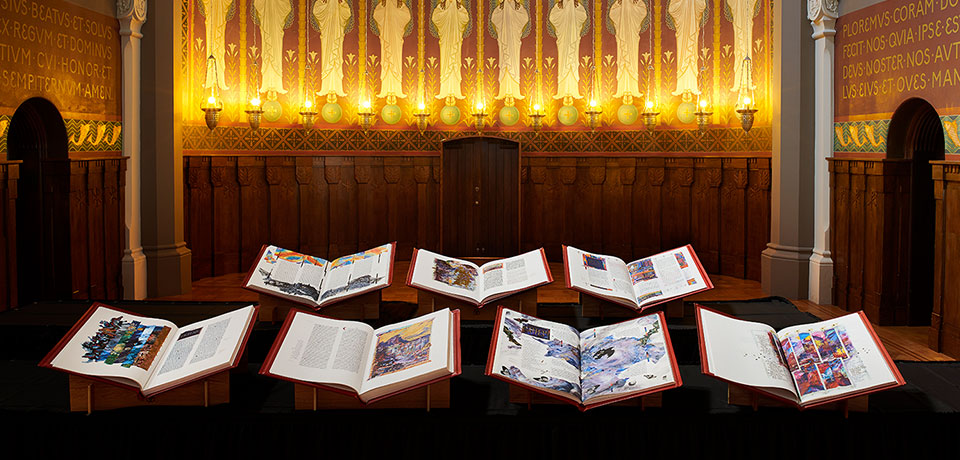 A thing of beauty is a joy forever.
The Allison Library at Regent College is delighted to announce that it has received a copy of The Saint John's Bible Heritage Edition thanks to the gift of a very generous donor.
The Saint John's Bible, commissioned by Saint John's Abbey and University, is an incredible achievement of both craft and historical significance. The project began in 1998 when renowned calligrapher Donald Jackson began to plan this beautifully illustrated text. For over ten years, Jackson led a team of meticulous scribes and artists as they put ink to vellum. In 2011, they completed a literary and artistic feat: the first illuminated, handwritten Benedictine Bible in over 500 years.
The original manuscript of The Saint John's Bible rests at Saint John's University. Regent College is very fortunate to receive the gift of a Heritage Edition—one of only 299 hand-finished, limited edition sets in existence. This Heritage Edition is a full-sized, fine art, museum-quality printed version of Jackson's original. His careful eye shines in every detail, bringing the Word of God to life on each page.
We are grateful for the generosity of alumna and former board member Julie Hindmarsh, who presented The Saint John's Bible Heritage Edition to Regent College on the occasion of Regent's 50th anniversary in honour of Dr. James M. Houston. Expressing her gratitude to Dr. Houston, Julie noted that The Saint John's Bible is a fitting tribute to his mentorship: "Through friendship, Jim illuminated the Scriptures to countless students."
"It was the beauty of the illuminations that first drew me to The Saint John's Bible," says Julie. "They artfully tie the promise of the Messiah in the Old Testament to the fulfillment in The New Testament. Jackson felt a call to calligraph the entire bible early in life. He included a fleck of gold on each page to signify God's presence. The Saint John's Bible is a rich source for visio divina as well as lectio divina. Keats says that 'a thing of beauty is a joy forever' and it is my hope that The Saint John's Bible will bring 'joy forever' to Regent College."
President Jeff Greenman commented: "The Saint John's Bible Heritage Edition exquisitely blends Regent's commitment to the power and authority of Scripture with the College's deep appreciation for the arts, and we are so grateful to Julie Hindmarsh for this generous gift."
The Heritage Edition has arrived at the Allison Library and will be available for viewing to students, staff, faculty, and visitors later this fall. Stay tuned for more information about how to access this amazing work of art.