Dr. Iain Provan to Retire in 2022
December 22, 2021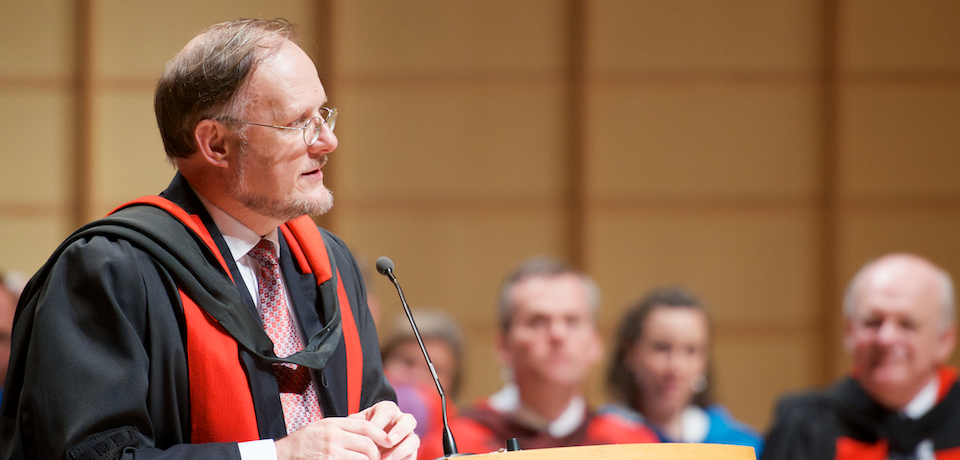 Countless students have benefited from his excellent teaching and his deep commitment to formative theological education.
Dr. Iain Provan, Marshall Sheppard Professor of Biblical Studies, will be retiring in 2022. His final courses will be offered in the upcoming Winter 2022 Term.
Iain joined Regent College's faculty in 1997 after teaching at King's College London, the University of Wales, and the University of Edinburgh. For nearly twenty-five years he has blessed the Regent community with his incisive scholarship, integrative curriculum, and strong dry wit. Students will miss Iain's clear and thought-provoking biblical instruction; the warm hospitality he and his wife Lynette extended to class after class of CTC, Old Testament, and hermeneutics students; and of course Glimmerings, his weekly conversation with students at a local pub.
Responding to the news, Academic Dean Paul Spilsbury paid tribute to Iain's impact on the Regent College community: "Countless students have benefited from his excellent teaching and his deep commitment to formative theological education. Iain has been tireless in supporting Regent's core curriculum, reshaping our biblical studies concentrations and the core course Christian Thought and Culture (CTC). He and Lynette have faithfully prayed for the Regent community and hosted hundreds of gatherings of students, staff, and faculty over the years. Our community will not be the same without him."
In reflecting on his 25 years at Regent, Iain shares: "It has probably been one of the most difficult things I've ever done and one of the best things I've done in my entire life. I've come to realize that those two things are usually very much connected to each other."
"One of the things that led me to Regent was its integrative and interdisciplinary approach to teaching Christian worldview––the idea that if the gospel is true, it must be true about everything. This led me into a much broader, more exciting, and interesting world of scholarship––writing about Scripture plus something, you know, rather than sticking to a fairly narrow view of the vocation of a biblical scholar."
Asked what has been the highlight of his time at Regent, Iain responds without hesitation: "The students. They are of high quality, not just intellectually, but an incredible bunch of people who have done such interesting things before studying here. I've very much enjoyed teaching them. I continue to be amazed by how ordinary Regent folks take what they've learned here and go back into the broader world—not just the world of professional church ministry, but massively wide-ranging vocations—and very seriously do the stuff on the ground. That work transforms culture."
Iain's plans for the future include a bit of rest and a lot of time with his grandchildren, but they don't end there:
"It's hard to know what I'm looking forward to because I don't know what retirement is yet. This is not a move from something to nothing. I'm not going to my armchair. God willing, there are many years ahead. But I don't quite know what the shape of that will be going forward. At the moment, I'm praying for clear direction on what the next period looks like."
Please join us in gratitude for Iain's twenty-five years of faithful service to the Regent College community.