Alumni Celebrate Sven Soderlund with Festschrift
July 13, 2021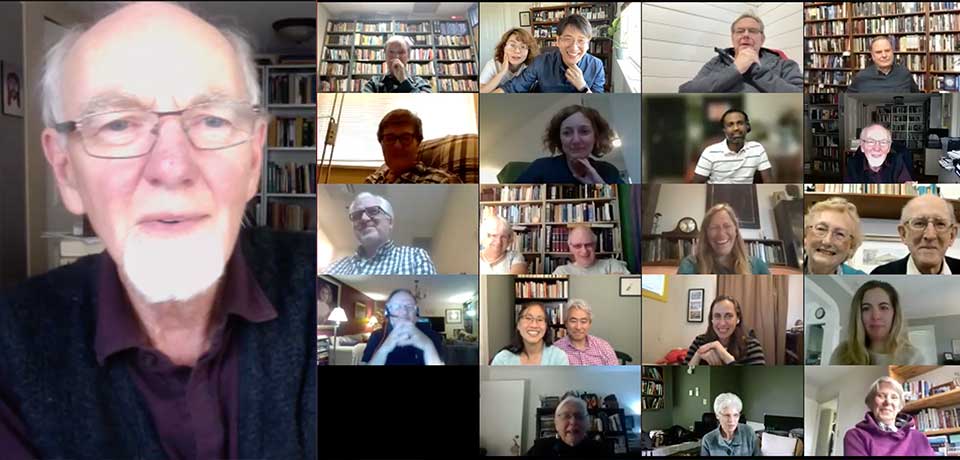 "Sven has been a large and significant pastoral presence in the lives of so many Regent students."
Members of Regent's alumni community recently paid tribute to Professor Emeritus Sven Soderlund with a Festschrift in his honour. Sven began teaching at Regent College in 1978 and officially retired in 2006. Since then, he has continued to serve as an integral member of the Regent community through regular teaching and participation in the life of the College.
Scriptures, Scholarship, and the People of God: Essays in Honor of Sven K. Soderlund, edited by Stuart T. Rochester and Joseph H. S. Lee, was released in July 2021 by Regent College Publishing. The news of its publication was shared with the global Regent community at Regent's 50th Anniversary Reunion.
Co-editor Joseph H. S. Lee (DipCS '11, MATS '12, ThM '15) explained the genesis of the project. "Sven was my ThM advisor, who guided and supported me to further my study and encouraged my family and me even after our time at Regent. However, when I began my PhD at Aberdeen in 2015, I discovered that there was no Festschrift for Sven nine years into his retirement. So I thought it would be meaningful if some of his former students could gather our forces and honour him somehow."
Joseph soon got to work. As co-editor Stuart T. Rochester (DipCS '99, MCS '99, ThM '01) explained, "In March 2019, Joe approached me and asked if I would be interested in co-editing a Festschrift for Sven. I jumped at the chance to honour Sven. My wife Kathleen and I met him in 1994 when we first arrived at Regent. His welcome was memorable, as was his hospitality, since he and Rose hosted some community group gatherings at their home. He was my supervisor for my ThM thesis at Regent and led me wisely and compassionately through the difficult patches. Sven has been a large and significant pastoral presence in the lives of so many Regent students. As far as I knew, no one had done a Festschrift for him, so I thought it would be very appropriate to work on one. I think Joe and I made a great team, and the result has been very satisfying."
Other contributors to the Festschrift include several of Joseph and Stuart's fellow alumni, as well as members of Regent's faculty (Mariam Kovalishyn, Iain Provan, and Bruce Waltke), staff (Bill Reimer), and Board (alumna Toni Kim). The contributors' tribute to Sven wrapped up with the simple words, "Thank you, Sven, for your teaching, ministry, and friendship."
President Jeff Greenman echoed the sentiment, expressing his own gratitude for Sven's many contributions: "Sven has been an invaluable part of our community here at Regent. We are so grateful for his scholarship, his incredible contribution as Dean of Students—warmly welcoming new students, caring for them during their studies, and remembering their names and stories long after they had graduated—and his willingness to continue teaching at the College over the past few years."
Click here to watch a video tribute to Sven Soderlund.