Recap of Regent's 50th Reunion
July 12, 2021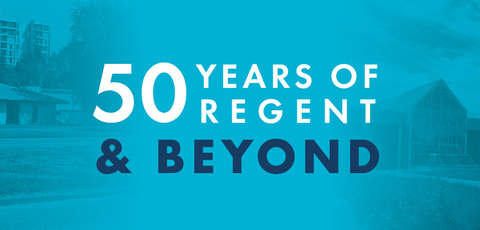 "There's something special about Regent alums—we can share deeply and hold that sacred space together." -Rosie Perera
On June 25 and 26, Regent College celebrated its long-awaited 50th Anniversary Reunion. Over 1000 alumni and friends registered for the reunion, which was held online. Participants from around the world and from every decade of Regent's history participated.
Christina Lui, Associate Director of Advancement, led the team of staff and volunteers who brought the reunion to life. She commented, "Celebrating 50+ years of Regent College with people from every stage of Regent's history was a privilege and a joy. Friends old and new connected with one another, with the College, and most significantly with the transformative work God has done through Regent in each of our own lives. I'm deeply grateful to have been a part of this milestone celebration, and look forward to continuing the good work God has given this community to do."
The two-hour program was shared first on Friday evening and again on Saturday morning in order to reach our global community. It consisted of a mixture of live presentations, pre-recorded videos, and small group interaction. Earl Phillips, incoming Chair of Regent's Board of Governors, called it "celebratory, worshipful, inspirational, thoughtful and fun; recalling past challenges and triumphs, renewing relationships, reminding [us] of God's constant provision and care, and solidifying hope for the future."
Alumni René and Sarah Breuel (both MDiv '09) shared a homily and testimony, reminding us of Christ's reconciling work throughout all creation, and the remarkable wrestling with God that so many of us experience at Regent. Research Professor of History Dr. Mark Noll reflected on Regent's special location—geographically, ecumenically, and in the context of world Christianity. The 50th Reunion program also unveiled the naming of the James M. Houston Prayer Chapel and The Armerding-Gasque Atrium as a way of honouring these founders. Hear more about their response on the reunion media page.
President Jeff Greenman reflected on a key strength of the College, the people that God has called together throughout Regent's history, as seen at this event, saying: "It was wonderful that so many people were so encouraged by the reunion. I was delighted to see the participants' eagerness to reconnect with the College, to share their recollections of special experiences, and to catch up with old friends. We praise God for the extraordinary people who are the Regent community."
Many reunion attendees remained in breakout rooms for hours after the event, catching up and reminiscing about their Regent Experience. Alumna Rosie Perera volunteered to host these extended conversations with her trademark enthusiasm and good cheer: "It was so great to reconnect with old friends from my Regent years. There's something special about Regent alums—we can share deeply and hold that sacred space together. Some of us carried on talking and praying until 12:30 in the morning!"
The reunion theme of 50+ years of living theology focused on gratitude for all God has done, and hopefulness and excitement for the future ahead. Dr. Carl Armerding, one of Regent's founders, and president from 1978 - 1988, remarked: "The Regent 50th was a tour-de-force, using the best of online connectivity to bring out the best of the Regent community. Listening to young and old share stories of God's faithfulness left us with a strong sense that Regent's best days have only begun for 'he who began a good work in you will carry it on to completion until the day of Christ Jesus' (Phil 1:6). Keep going, and God bless!"
We extend our thanks to everyone who took the time to celebrate with us! May God lead us well into the next 50 years and beyond.
If you missed the reunion, you can find reunion highlights, a recording of the entire program, and related media here.