Remembering Gail Stevens
December 10, 2021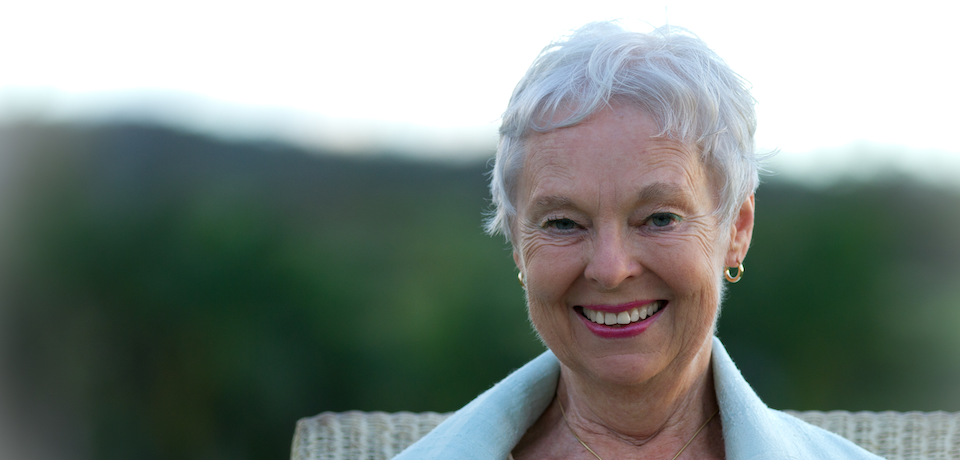 Gail had such an authentic, down-to-earth, no-nonsense way of making us feel like our everyday lives were seeped through and through with the Kingdom of God.
It is with great sadness that we announce the death of Gail Carolyn Stevens, the wife of Professor Emeritus Paul Stevens, and a great friend, encourager, and support to numerous friends and Regent students. She died peacefully on December 4, 2021, in the presence of her family and Lord. Gail was eighty-three.
Born in Edmonton, as a young girl Gail particularly loved her summers at InterVarsity's Pioneer Ontario Camp. She studied nursing at McMaster University, and in Hamilton she became friends with Paul Stevens, also a former Pioneer camper. They married in 1961 and soon moved to Montreal, where they served in a multi-ethnic Baptist church for six years.
In 1969, Gail, Paul, and their three young children, Carol, Margot, and David, moved to Vancouver, where Paul directed the Vancouver Division of InterVarsity Christian Fellowship. In addition to raising her children, Gail began her studies in counseling and work in the ministry of inner healing. She soon became an Associate Chaplain at the newly-built UBC Hospital, a role she held for a decade, adeptly combining her knowledge and experience as a nurse with her pastoral skill and sensibility.
Gail excelled—and honoured Christ—in her companionship. She not only remembered your name, she greeted you with enthusiasm. The twinkle in her eyes was unforgettable. David Hataj, a long-time friend (and Regent alumnus), reflected that "Gail had such an authentic, down-to-earth, no-nonsense way of making us feel like our everyday lives were seeped through and through with the Kingdom of God."
Together with Paul, Gail welcomed countless Regent students, faculty, staff, and alumni into their home for meals and fellowship. She used her best china for the most informal visit. Delicious treats often appeared miraculously. She was a founder of the Faculty Wives' Bible Study on Tuesday mornings. She prayed for Regent students by name every morning.
Gail also had a passion for sharing Scripture. In 1988, as a facet of her leadership within the UBC Faculty Women's Club, Gail worked with Lillian Toews, Elaine Waltke, and several others to begin the UBC Faculty Wives' Bible Studies—a highly diverse group of women who met monthly to study Scripture.
A long time member of West Point Grey Baptist Church, Gail was known as someone who offered both pastoral care and honesty. Jonathan Wilson, a frequent preacher, remembers Gail as someone who "listened intensely to my words and to the Spirit, then told me exactly what she heard—confirmation and correction." Her feistiness could be formidable, particularly in support of the gospel and those she loved.
Gail and Paul loved to travel, reaching every continent except Antarctica. They loved sunsets in Hawaii and nine-course meals in China, and every person they enjoyed them with.
As Gail's health diminished and her pain increased, her granddaughter Michelle Treschow noticed that Gail "remained so present to people. She was still asking questions about our lives, things we were doing—and she was so aware of God's presence with her."
In their sixty years of marriage, Gail remained not just appreciative of Paul, but admiring. Theirs was a remarkable partnership, supporting each other through good and difficult seasons, and inspiring others as they did so. Gail could not mention Margot, Carol, or David (or their remarkable spouses) without adding a glowing compliment, and she could not speak of her eight grandchildren, or two near-perfect great grandsons, without compliments and great joy. She adored them, and prayed for them nightly.
A Memorial service will be held at West Point Grey Baptist Church (4509 West 11th Ave.) on Monday, December 13 at 1:30 p.m. Masks, vaccination passport, and ID will be required—please come early to be scanned.
In lieu of flowers, gifts may be made to Pioneer Pacific Camp or the UBC Faculty Women's Club.