In Memoriam: Don Lewis
October 19, 2021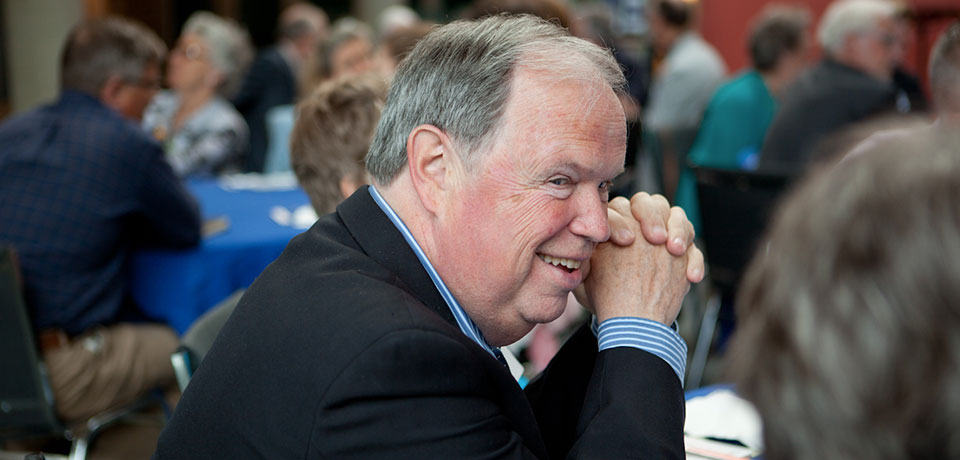 A faithful mentor and brother in Christ, he would often pray with several students and pastors in the course of a single day.
Dr. Donald Munro Lewis died Tuesday, October 19, 2021 in Vancouver, BC, of cardiac arrest. He was seventy-one. A beloved and respected historian, professor, mentor, friend, and parishioner, Don will be mourned and missed around the world. He was a wise and steadying presence from Vancouver to Cape Town.
Born in Sherbrooke, Quebec, Don was raised in a close family, his father a pastor in the Pentecostal Assemblies of Canada. He attended Bishop's University, Lennoxville, and there began his dual commitment to history and education, earning a BA in History and a Diploma in Education. After three years as a high school teacher in Montreal, he came west to study at Regent College.
Immediately after graduating from Regent, Don commenced studies at Oxford University. Working under the supervision of Dr. Peter Hinchliff at Balliol College, he delved into the Protestant evangelical mission to the British working class in London. This work sparked a lifelong fascination with nineteenth century British Evangelicalism.
After completing his doctorate in 1981, Don returned to Regent College to teach Church History. He went on to become the College's longest serving faculty member. His wide-ranging roles at the College included Academic Dean, Summer School Dean, Secretary of the Anglican Studies Program, and Editor of CRUX.
In September 2021, Don marked forty years of service, saying, "I am deeply grateful to have been on faculty for four decades. It has been a joy to get to know some of the brightest minds in the Christian world, to have been befriended by them and to work alongside them."
On learning of Don's death, faculty colleague Craig Gay observed, "Don was a rock. He was always there, always present, and in Regent's ever-changing, fast-paced environment, his presence was a solace. Don's commitment to the College was total. No one ever doubted his love for the College, or for all of us."
Former Regent President Carl Armerding shared, "It was Don as a friend, not merely as a colleague, that will always remain uppermost for me. The shy lad from Quebec who came as a student almost half a century ago will be remembered as God's faithful servant and our steadfast friend."
Don was known for beginning each class with a hymn that underscored the content of the day's lecture. A recent student reflected, "Don was a church historian in the best sense—he did history for the church. He was also a wonderful historian to study with: thoughtful, reflective, and inviting. His gentle, easygoing manner created a contemplative learning environment where you could sink into stories from the past, breathe with them, and begin to see connections across time and space, whether to other eras or to your own life experiences."
Following his early work on British Evangelicalism, Don spent nearly ten years fashioning and editing the remarkable Dictionary of Evangelical Biography: 1730-1860. Renowned church historian Mark Noll said, "Don's highest calling was to teach, a service he carried out for the encouragement, guidance, illumination, and edification of generations of Regent students. But although he was never showy about it, his scholarship made a real difference. He worked for years to plan the Dictionary of Evangelical Biography, 1730-1860, handling complicated publishing arrangements that have become an enduring standard."
In the early 2000s Don became fascinated with the Christian Zionist movement. In 2009 he published The Origins of Christian Zionism: Lord Shaftesbury and the Evangelical Support for a Jewish Homeland. This was followed by A Short History of Christian Zionism in September 2021. While deeply sensitive to the complexity and controversy inherent to the subject, Don pressed forward with the conviction that "church historians are meant to help people—both Christians and non-Christians—understand such movements. … They are to be seekers of truth."
An Anglican since his late twenties, Don was committed to the health of the Anglican Church worldwide, particularly its pastors. He was a spiritual companion to many, journeying alongside them through dark hours and seasons. A faithful mentor and brother in Christ, he would often pray with several students and pastors in the course of a single day. Prior to Covid-19, it was not unusual for Don to spend his reading week flying from Atlanta to Minneapolis to Winnipeg to visit the many alumni and pastors he mentored.
Don was a long-time member of St. John's Shaughnessy, later St. John's Vancouver. In 2013, he moved to the nascent St. Peter's Fireside, where he was a companion to its clergy, an official advisor for the Bishop of Western Canada, and, most recently, Pastor's Warden.
Don was a true evangelical. Adhering to the tenets of his church, centering his life and work on the Cross, taking Scripture as his guide, and encouraging all to trust in Christ and grow in spiritual maturity, Don wholeheartedly engaged in God's mission of redeeming His world.
Don was also a long-time member of the Hunterston Farm community on Galiano Island, where he was known for his inclination to prayer, dry humour, occasional stubbornness, and warm cinnamon buns. He delighted in the beauty of the Gulf Islands, savouring family gatherings, times of solitude, and opportunities to welcome Regent students and pastors.
Don married Lindi White in 1983. Together they had three children, David (Diane), Annika (Keith), and Benj (Sarah), and one grandchild, Abigail Grace. Don was exceptionally proud of Lindi, their children, and their spouses, not just for their accomplishments, but for their character, kindness, and generosity. Whether sharing a ride to the ferry terminal in Tsawwassen, a well-timed cheering phone call, or a late-night supper, Don relished his family's company. He recently wrote that "being a husband, father, and friend are what constitute my primary identity—after, of course, being a (genuinely flawed!) follower of Jesus Christ."
We are deeply grateful for Don's life and for his faithful ministry. We will miss him.
A memorial service will be held at Tenth Church on November 6, 2021. Details are available here.
---
Updated October 29, 2021. Authored by Julie Lane Gay.