Making Connections: Update on Regent's Digital Reach Expansion
June 17, 2022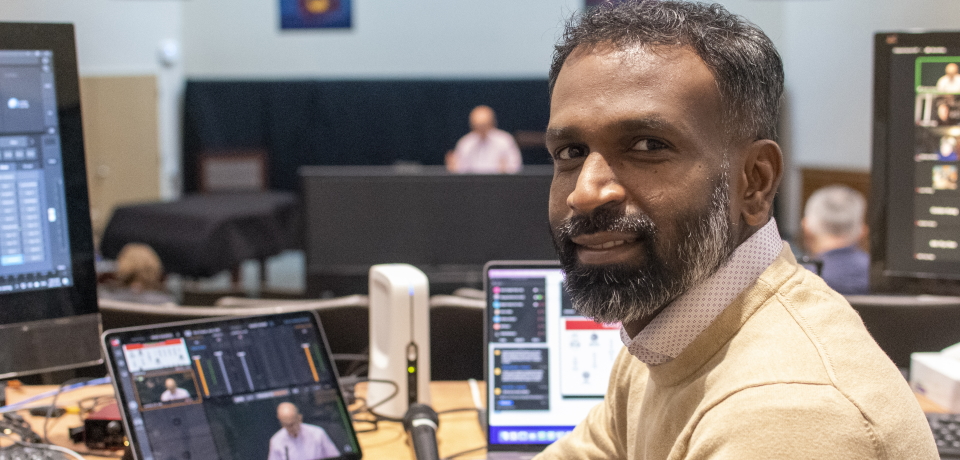 We want to serve the members of our community—not only while they're here under the green roof, but also before they join us and after they leave.
How can Regent serve alumni and friends around the world? How can it serve the global church? How can we invite the next generation of students into the Regent community?
These are some of the questions that inspired Regent's Digital Reach Expansion project—one part of the Deep Roots Wide Reach Campaign.
The Digital Reach Expansion project was introduced at last year's 50th Anniversary Reunion, where the Regent community was invited to help make it possible. Hundreds of people responded, together donating over $60,000—an outpouring of generosity that Director of Advancement Richard Thompson described as "both deeply encouraging and highly practical." The project has come a long way in the past year, aided by a couple of very significant gifts from other generous donors, and we're delighted to offer the following updates—and a preview of what's coming up next.
The Digital Reach Expansion project includes both an internet connection upgrade and the redevelopment of Regent's website. Both aspects of the project aim to improve Regent's ability to make a wide range of digital resources available to global audiences.
IT Director Cam Tucker (MDiv '11) explained the impact of the upgrades his team has been working on.
"UBC helped us do a massive upgrade to Regent's internet connection—the first in twenty years. As we know, the internet was very different twenty years ago! So that older connection really wasn't meeting our needs anymore. This upgrade has given us ten times the bandwidth we used to have. That's going to make a huge difference."
The next stage of the project is to upgrade Regent's wireless network so users all over the building benefit from the improved connection.
"We're replacing old gear, and we're almost doubling the number of access points," Cam explained. "That means our wi-fi is going to get much faster and much less spotty. We just got started with the installation, and we hope to have it done in a few weeks. After that, people should have a much better experience with the internet at Regent College. That's true for people using the network on campus, but it's also true for everyone involved in hybrid classes, online meetings, events—anything that involves interacting with someone on the campus network."
While Cam's team finishes upgrading Regent's wi-fi system, Director of Communications and Public Engagement Amy Anderson (MA '16) is leading the development of a new Regent College website.
"Our current website was launched in 2012," Amy said. "It's served us well, but ten years is a long life for a website! In the last few years we've been running up against limitations on our ability to connect with students and share Regent's work with the broader world. We've known for a while that we need to build a new site, and we're really grateful to be able to move forward with it now.
"We're at a really exciting point in the project. We've been asking a lot of questions about what has and hasn't been working on our current site, and how we can serve people more effectively. We've gotten a lot of helpful feedback, and we're very grateful to all the members of the Regent community who have contributed to this process. Now we're working with our design partners to put those insights to work."
One challenging aspect of the project is the wide range of users. "Regent's website touches every person who interacts with the College," Amy explained. "We're doing a lot of work with current students to find out how we can make their everyday interactions with the site quicker and easier. At the same time, we're very mindful that Regent has a global audience. We want to serve the members of our community—not only while they're here under the green roof, but also before they join us and after they leave. Many alumni also look to Regent to help equip their churches and communities. The resources we share online have a very wide reach."
President Jeff Greenman commented on the importance of the work Cam, Amy, and their teams are doing.
"Regent has produced, and continues to produce, outstanding theological resources. But it has always been challenging to make those resources easily accessible—both to our own community and to the global church. Addressing that challenge through the Digital Reach Expansion accomplishes two very important things.
"First, it benefits the global church. There's a real hunger out there for thoughtful, engaging theological resources that meet people where they are, in homes, churches, and workplaces around the world. Regent's ministry has never been limited to degree students. We have a calling to serve the whole people of God, and that includes people who may never study with us full-time, but who can benefit greatly from the opportunity to learn, think, and reflect alongside us.
"Second, making these resources available does help people who are considering further study get a taste of what Regent is all about. We know that coming to Regent is a big decision that often involves a significant process of discernment. We also know how much wisdom our faculty and community have to offer. By giving people a chance to hear from our faculty and see the kinds of conversations we're having, we hope to help them discern whether God is calling them into the Regent community."
Jeff summed up: "The beauty of expanding our digital reach is that such a broad range of people can benefit from what we're doing. We trust that when we share the wisdom and resources of this community with the world, God will use them to meet the needs of his people in countless ways—many of them quite unexpected! We also trust that some of the people who engage with our online resources will ultimately feel called to study here. It's a privilege to be able to introduce people to our community while also contributing to other communities around the world. It's really a win-win."