Regent Announces Three New Faculty Hires
March 29, 2022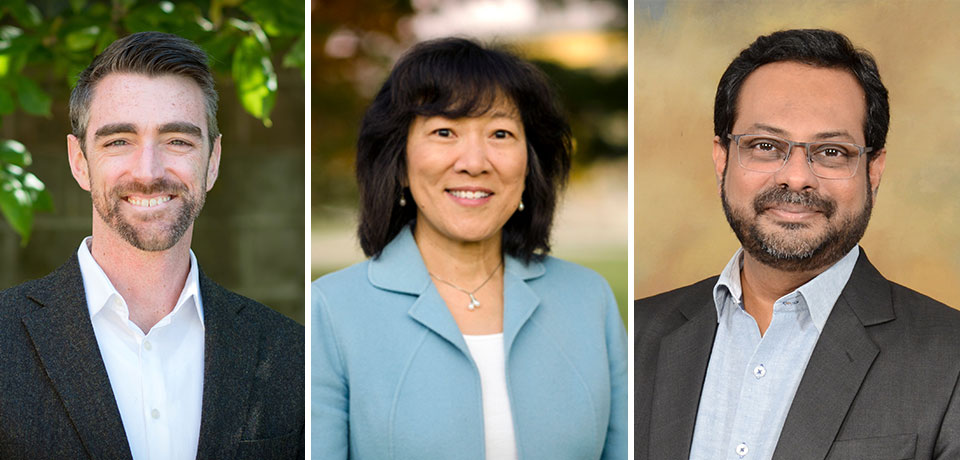 "God continues to provide outstanding faculty for current and future generations of students."
Regent College is delighted to announce three new faculty appointments for the coming academic year: Dr. David Robinson as R. Paul Stevens Assistant Professor of Marketplace Theology and Leadership, Dr. Lisa Sung as Visiting Associate Professor of Theology, and Dr. Prabo Mihindukulasuriya as Post-Doctoral Fellow in the History of Christianity.
President Jeff Greenman reflected on his gratitude for the three new hires. "God has faithfully provided the Regent community with outstanding scholars, teachers, and mentors throughout our history, and I am profoundly grateful for the way God continues to provide outstanding faculty for current and future generations of students."
All three of these faculty members bring rich and varied backgrounds to their new roles, combining experience in academics, church and parachurch ministry, and leadership.
Dr. David S. Robinson (MDiv '08) is known in the Regent community for his diverse intellectual interests, pastoral heart, and unique ability to make complex questions, subjects, and debates both understandable and deeply relatable.
Jeff commented on David's appointment to the Stevens Chair. "During his time as a post-doctoral fellow and adjunct professor over the past several years, David has become an integral part of the Regent community. He is a brilliant theological ethicist, a versatile and highly respected teacher, and a tremendous colleague. He has a passion for bringing theology down to the ground level, so to speak, where it interacts with the everyday lives, experiences, and vocations of Christians from all walks of life.
"We undertook a worldwide search for the first-ever Stevens Chair, and sometimes worldwide searches surprise you by leading to someone very close to home. I'm thrilled to be welcoming David into this position, which is so significant to Regent's mission and our unique approach to theological education."
Dr. Elizabeth (Lisa) Sung specializes in theological anthropology (focusing on personhood and identity, as well as culture, race, ethnicity, and nationality) and soteriology (focusing on sanctification and spiritual formation as related to character development). Lisa first joined the Regent community as a Scholar-in-Residence from 2019 to 2020. She has delivered a number of public lectures since then, and taught a course on "Race, Racism, and Christian Identity" in Regent's 2021 Summer Programs. She is looking forward to deepening her relationship with the Regent community in the coming years.
Academic Dean Paul Spilsbury warmly welcomed Lisa's appointment. "I'm very grateful to be adding Lisa's voice to the ongoing conversation at the heart of Regent's academic community. In addition to her expertise as a scholar, Lisa has an extensive background in spiritual direction and formation, and is well known for bringing together theological rigour and pastoral concern for the lives of individuals, churches, and institutions. I think she'll fit right in with a faculty and student community that values integration of head and heart across disciplines, contexts, and vocational trajectories."
Dr. Prabo Mihindukulasuriya (MA '00) recently completed his PhD at the University of Colombo. His academic career has included teaching across a broad range of theological subjects, including Old and New Testament, systematic theology, and Christianity and culture. His primary research focus, however, is the history of Christianity in South Asia, with a particular emphasis on his native country of Sri Lanka.
Paul also expressed his gratitude for Prabo's appointment. "Prabo has a truly impressive background spanning multiple aspects of theological education, and has pursued a variety of fascinating research interests. I'm particularly looking forward to the way his expertise in the historical development of Christianity outside the Western world will broaden and deepen the conversations happening here at Regent. I think this will be incredibly valuable as we work to equip students, alumni, and other lifelong learners for faithful engagement with a globalized world."
David, Lisa, and Prabo are excited to work with each other, and with Regent's returning faculty, beginning this fall. In the meantime, we look forward to introducing these faculty members more fully in the coming weeks. See below for more information, and watch this space for interviews with all three new appointees!
David Robinson
Dr. David S. Robinson has been appointed as Regent College's inaugural R. Paul Stevens Chair in Marketplace Theology and Leadership, a position that will begin on May 1, 2022.
David holds a PhD from the University of Edinburgh. After graduating with his MDiv in 2008, he returned to Regent in 2018 as Post-Doctoral Fellow in Theology and Science, and since 2019 he has taught at Regent, Vancouver School of Theology, and St. Mark's/Corpus Christi College. He currently serves both Regent College and UBC's Philosophy Department as an SSHRC Post-Doctoral Research Fellow, a position funded by the Canadian Social Sciences and Humanities Research Council.
David has worked closely with Sangwoo Youtong Chee Professor of Theology Dr. Ross Hastings as Project Co-Leaders of Regent Interface: Engaging the Sciences in Ministry Education. This role includes hosting the 2022 Interface Lectures, taking place March 29–31.
In addition to numerous articles and book reviews, David is the author of Christ and Revelatory Community in Bonhoeffer's Reception of Hegel (Mohr Siebeck, 2018).
Lisa Sung
Dr. Elizabeth (Lisa) Sung will begin a two-year appointment as Visiting Associate Professor of Theology on August 15, 2022.
Lisa holds an MDiv and PhD from Trinity Evangelical Divinity School, as well as Master's degrees in piano and musicology from the University of Michigan. As a systematic theologian and spiritual director, she has extensive experience teaching in seminaries and universities throughout North America and East Asia, as well as ministering to theological schools, churches, and ministry organizations. Her background in church and parachurch ministry informs her teaching, scholarship, and mentoring practices.
Lisa is currently working on two books, one titled Race, Racism, and Christian Moral Identity, and another focused on the Christian doctrine of humanity. She engages these and other theological topics with a wide range of audiences at churches, conferences, and retreats, as well as in the classroom.
Prabo Mihindukulasuriya
Dr. Prabo Mihindukulasuriya will begin a one-year appointment as Post-Doctoral Fellow in the History of Christianity on July 25, 2022.
Prabo comes to Regent following a number of years at Colombo Theological Seminary, where he has held a variety of faculty and staff roles. From 2014 to 2021, he served as Deputy Principal and Head of Publishing, a role that also included extensive teaching responsibilities.
Prabo's dissertation will be published as Unmasking the Empire: British Christian Humanitarians and the Ceylonese Campaign for Justice Following the 1915 Pogrom later this year (Social Scientists Association, 2022). His extensive publication history also includes a 2013 monograph, two edited volumes, numerous journal articles, and multiple entries in reference works, including "Poverty and Wealth" and "Prosperity Gospel" in the South Asia Bible Commentary (Open Door Publications/Langham Partnership, 2015).
Prabo has recently contributed guest lectures on the subjects of "Christian Spirituality in South Asia," "Indian Christian Spirituality," and "Indian Christologies" in several seminar courses led by Dr. Diane Stinton. He is excited to return to Regent full-time to teach History of Christianity this fall.