Introducing Dr. Lisa Sung: Get to Know our Visiting Associate Professor of Theology
April 04, 2022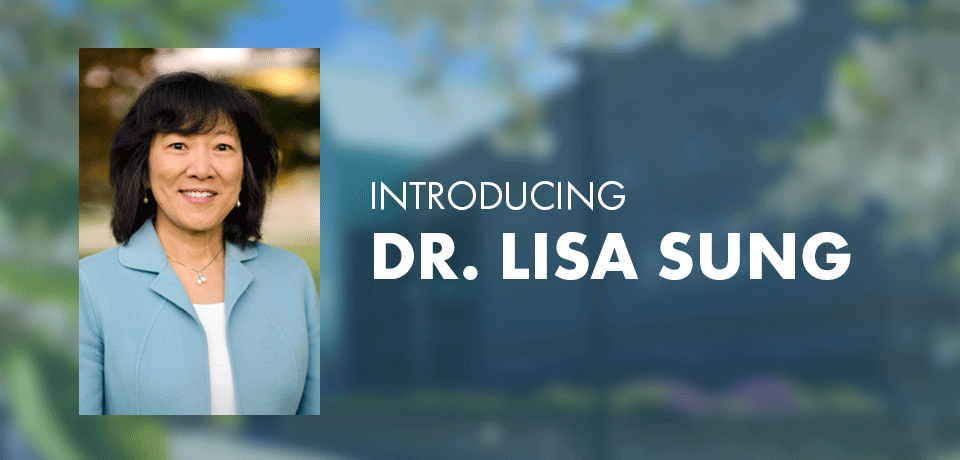 My personal aim in teaching theology is to foster the lived reality of personal integrity and flourishing in Christ as the catalyst for missional living.
As we announced earlier this week, Regent College is thrilled to welcome Dr. Elizabeth (Lisa) Sung as Visiting Associate Professor of Theology for a two-year appointment starting on August 15, 2022. Lisa brings an incredible breadth of experience and expertise to her role: an academic background in musicology and in systematic theology; ministry experience as a campus pastor, spiritual director, retreat leader, and congregational worship director; and research specialties in the areas of theological anthropology (with a focus on personhood, culture, 'race,' and ethnicity) and soteriology (focusing on sanctification and spiritual formation).
This won't be Lisa's first time at Regent College. Initially a Scholar-in-Residence (2019/2020), she then became a beloved professor in the Chinese Studies Program (2020 and 2021) and Summer Programs (2021). She has also been an engaging contributor to Regent's Theology of the Person lectures, Evening Public Lectures, "Together at Midday" gatherings, and guest lectures in various courses.
Lisa holds an MDiv and PhD from Trinity Evangelical Divinity School, where she taught for nine years, as well as Master's degrees in piano performance and musicology from the University of Michigan. Prior to coming to Regent, Lisa held the Chester & Mary Paluch Chair of Theology at Mundelein Seminary, and served as Associate Professor of Biblical and Systematic Theology at Trinity Evangelical Divinity School (TEDS), where she received the "Faculty of the Year" award in 2013. Esteemed by her students, Lisa weaves mentorship and spiritual formation into her teaching practice.
As a scholar, Lisa combines academic excellence with a heart for spiritual formation and discipleship and a commitment to the whole church. She currently serves as Theologian-in-Residence at The Intervarsity Institute, which allows her to teach theology for seminaries, ministry organizations, and congregations throughout North America and East Asia. In 2018, Lisa was listed in "Ten New or Lesser Known Female Theologians Worth Knowing" by Christianity Today.
We had the chance to sit down with Lisa and discuss her work, life, and upcoming appointment at Regent. Read on to get to know Lisa better, and join us in welcoming her to the Regent community in this role.
Lisa, what draws you to the Regent community?
Besides its signature integration of spiritual vitality and intellectual rigour, Regent is the most holistically-oriented and internationally and ethnically diverse school of graduate theological education that I know! I deeply resonate with its expansive founding vision and values, especially its aim to equip not only those preparing for vocational ministry but also (distinctively) lay people to bring Christ's light into their professions. I also appreciate how authentic Christian hospitality is valued and concretely woven into life at Regent.
I'm looking forward to participating again in the unique ethos of the Regent learning community. It will be a joy to invest in the personal, spiritual, theological, and pastoral development of Regent students, who are emerging leaders in the global church.
What about your own research has been exciting you lately? What are you currently working on?
I'm currently working on two books: Race, Racism, and Christian Moral Identity, and a volume about the doctrine of humanity. Among other things, these projects have led me into doing theological exegesis on key Old Testament texts and into the field of moral theology. It's exciting to see how such resources can substantively inform and sharpen our understanding of the Scriptural vision of human well-being as we grapple with crucial contemporary theological and ethical issues and as we navigate sharp disagreements within the church and society.
What do you hope to teach students during your two years here?
My personal aim in teaching theology is to foster the lived reality of personal integrity and flourishing in Christ as the catalyst for missional living. So I'm eager to help Regent students "connect the dots" between theological anthropology and soteriology (especially sanctification and the practices of spiritual formation). As the philosopher-theologian Dallas Willard observed, "A carefully cultivated heart will, assisted by the grace of God, foresee, forestall, or transform most of the painful situations before which others stand like helpless children saying 'Why?' . . . The God-ordained order of the soul under grace must be discovered, respected, and cooperated with, if its God-intended results for spiritual growth are to be attained." In my own life, a growing understanding of this has been pivotal for overcoming the distinct, and sometimes very acute, challenges that I've faced as a second-generation, US-born Chinese American woman with a calling to vocational ministry and academia—and for learning how to thrive in my walk and work with Christ.
So, I'm excited to teach courses that will illuminate human nature and the dimensions, choices, patterns, and processes that contribute to our formation (for better and for worse) and the redemption of our lives, which begins by taking seriously spiritual transformation in Christlikeness. I look forward to introducing key insights from biology, the social sciences, history, philosophy, and literary theory to shed light on personal and group identity formation and cultural systems, racialization, and the like. Established Christian doctrine is, of course, essential, but it only takes us so far. My goal is to extend it, equipping students with a multidimensional perspective and a methodology to analyze their own complex situations, in order to bring the light of biblical teaching and practice to bear, appropriately and redemptively, on the unique and pressing issues we confront today.