A Legacy of Mission: Remembering Michael Griffiths
January 21, 2022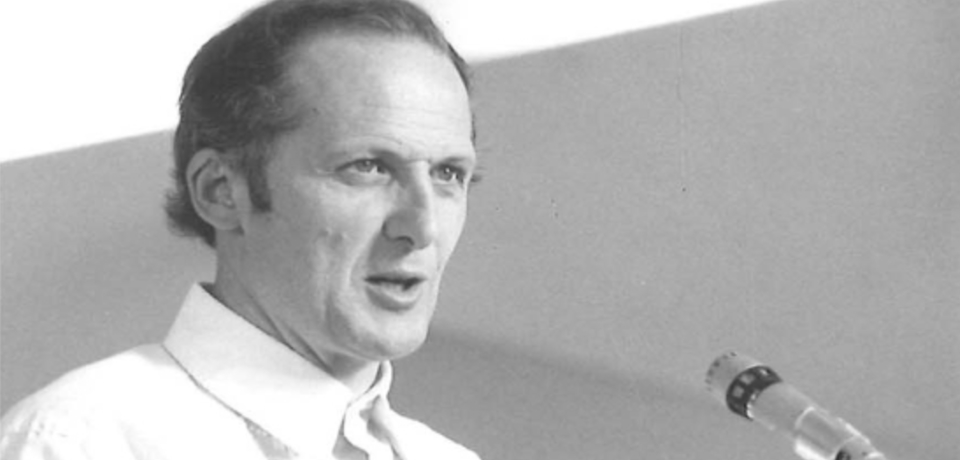 "We at Regent College celebrate the life and ministry of Michael Griffiths, our first professor of mission studies."
(Photo: OMF International)
Please join us in giving thanks for the life of Dr. Michael Griffiths, who passed away on January 9, 2022, at the age of 93.
Michael came to Regent in 1990 to serve as the College's first full-time professor of mission studies. His time at the College was brief, lasting only three years until his retirement at the age of 72, but he used this time to cultivate a passion for world Christianity that endures in the Regent community to the present day.
Reflecting on Michael's legacy, Regent College President Jeff Greenman said: "We at Regent College celebrate the life and ministry of Michael Griffiths, our first professor of mission studies. Although his time on faculty was brief, his impact on students and his contribution to our community in those years was very significant. He brought a wealth of experience in global mission and Christian leadership to bear on his mentoring and teaching, which involved no less than twelve new courses in just three years. We honour his legacy and mourn his passing."
Before coming to Regent, Michael and his wife Valerie engaged in student ministry in the United Kingdom and Japan. Michael went on to serve as the General Director of Overseas Missionary Fellowship, and then as Principal of London Bible College. He remained a popular speaker and writer throughout his career, influencing countless mission-minded Christians around the world.
To learn more about Michael's contributions to global missions and Christian leadership, please see this obituary from OMF International.
MEMORIAL SERVICE
Updated March 8, 2022.
Mike's family are exceedingly grateful for the grace and generosity of Millmead Baptist Church in hosting a service of thanksgiving for the life of Mike Griffiths.
When: Saturday March 26th, 2022
Time: 3pm
Location: Guildford Baptist Church in Millmead, Guildford, Surrey, GU2 4BE (England, UK).
The family looks forward to a special time of worship, thanksgiving, tributes and reflections on Mike's life and ministry.
You are warmly invited to take part either in person or remotely.
If attending in person, please register your attendance as soon as possible to help the family plan accordingly. Guests can register here. If arriving by car please be aware that parking around the church is limited and therefore aim to arrive in good time and plan your parking site in advance. Carparking is generally available within a 5 to 10 minute walk.
If you are attending remotely, a livestream will be available on the church's YouTube channel beginning a few minutes before the service. A downloadable order of service will be available from the church website closer to the event.