Introducing the Deep Roots Wide Reach Campaign
June 25, 2022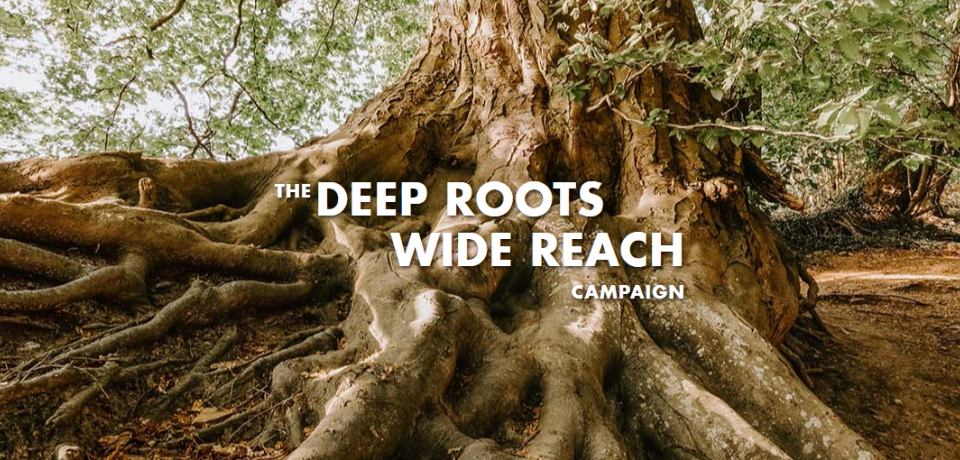 An investment in the future flourishing of Regent College and its mission
One year ago, as the Regent community celebrated fifty years of living theology, the College announced that it had embarked on a major capital campaign. Today, we're delighted to tell you more about that campaign.
This is an exciting moment in Regent's history, and we hope you'll be a part of it! To learn more, visit our new campaign webpage and take a look at the FAQs below.
What is the Deep Roots Wide Reach Campaign?
The Deep Roots Wide Reach Campaign is an investment in the future flourishing of Regent and its mission. It encompasses over a dozen projects designed to sustain and enhance key aspects of the College's life and ministry. According to President Jeff Greenman, this holistic approach sets it apart.
"When people hear the term 'capital campaign,' they tend to think of a single big project. I often get the question, 'What are you building?' My answer is, 'We're building an even greater experience for our students.' We're inviting people who believe in our mission to invest in the flourishing of Regent College so that students can continue to benefit from Christ-centered transformation."
Jeff explained that the name of the campaign reflects that vision of flourishing. "A healthy tree grows in two directions: its roots dig deep, and its branches reach wide. For me, this image reflects what Regent needs to flourish. We need to dig deep by drawing on a legacy of excellence to strengthen our core ministry: providing graduate degree programs where faculty and students come together in community. And we need to reach wide by sharing the wisdom of our faculty and community with new audiences who can be blessed by integrative theological education."
Why is Regent doing a capital campaign?
The origins of the Deep Roots Wide Reach Campaign go back to 2017, when Regent's Board, faculty, and administration engaged in a strategic planning process. As they worked together to discern God's calling, it became clear that Regent's future flourishing would require financial resources well beyond the scope of the College's annual budget. The Deep Roots Wide Reach Campaign exists to meet this need by raising $21.8 million in cash and estate gifts.
As Jeff Greenman put it, "The flourishing we envision at Regent is not for our sake, but for the sake of the church and the world. Our aim is to grow and deepen our ability to send out biblically grounded, theologically formed women and men who are equipped to bear witness to the truth of the gospel in every area of society."
What is Regent raising money for?
The Deep Roots Wide Reach Campaign includes funding for over a dozen strategic projects. From new faculty positions and refreshed degree programs to increased financial aid and accessible new resources, these projects are enabling Regent to fulfill its mission and serve the global church.
One major campaign goal is to sustain and build on Regent's tradition of excellence in theological education by investing in students, faculty, and the relationships they form in the context of a gathered learning community. The campaign therefore includes significant funding for the in-person degree programs that form Regent's core ministry.
The campaign also includes significant investments in Regent's ability to reach external audiences. Director of Communications and Public Engagement Amy Anderson said, "I'm delighted that the campaign includes funding for tools that will help us create great theological resources and share them with the extended Regent community, with the global church, and with potential students who are discerning their next steps. This wide reach will help introduce us to people who would be a great fit for a Regent program, and it will bless many others along the way."
To learn more about some of the projects funded by the Deep Roots Wide Reach campaign, be sure to check out the links on our campaign webpage! To find out how you can contribute to the campaign, keep reading.
How has the campaign been going?
The Deep Roots Wide Reach campaign has been engaging individuals about their giving. The campaign has been received enthusiastically by supporters around the world, and Regent has been blessed by many generous gifts. Thanks to the leadership of these early donors, Regent has already received over $19.5 million (about 90 percent of the campaign's total funding goal).
According to Director of Advancement Richard Thompson, "People are giving because they believe in Regent's mission and they're excited about Regent's future. It's both encouraging and humbling to connect with people who trust Regent enough to make very substantial gifts to sustain that mission and secure that future.
"I'm incredibly grateful for everyone who has made an early gift to this campaign. And I'm incredibly excited to invite other members of the Regent community to consider how they can get involved in the months to come."
Richard also highlighted the hundreds of gifts to Regent's Digital Reach Expansion—one of the the campaign's component projects—that were made during last year's reunion.
"Thanks to the amazing generosity of reunion attendees, we raised over $60,000 in just a few days," he said. "When people look at a campaign of this size, with a goal in the millions, they sometimes think they don't have much to contribute—that only very large gifts are needed or valued. But that's simply not true. Every gift, of every size, makes a difference. It's only when our community comes together that Regent is able to flourish. As our Dean of Students team likes to say, it takes a village!"
How can I help?
You can pray for Regent and the campaign. You can share our exciting news. And you can make a gift.
Right now, we're asking this community to come together to sustain Regent as a place. We need to raise $500,000 for this purpose, and we hope it will be a true team effort.
Why focus on the building? As Jeff put it, "Our shared life 'under the green roof' is such a distinctive part of Regent's ministry—in classrooms, the atrium, the chapel, the library. We know that embodied spaces matter for embodied people. But embodied spaces—like embodied people—need care. Our beloved building needs some upgrades and upkeep. We are asking our friends and alumni to help us to steward what we've received, sustain the quality of our building, and make sure Regent College is an effective place of learning for future generations."
Richard agreed. "So many lives have been transformed in this place, and we're inviting every member of the Regent community to consider making a gift so this legacy can continue. If you've never donated before, we hope you'll mark this special occasion with your first gift to Regent. If you're a regular financial supporter, we hope you'll consider making an additional gift to help meet Regent's campaign goals and fund the care of our building for years to come."