Celebrating Jim Houston's 100th Birthday
November 21, 2022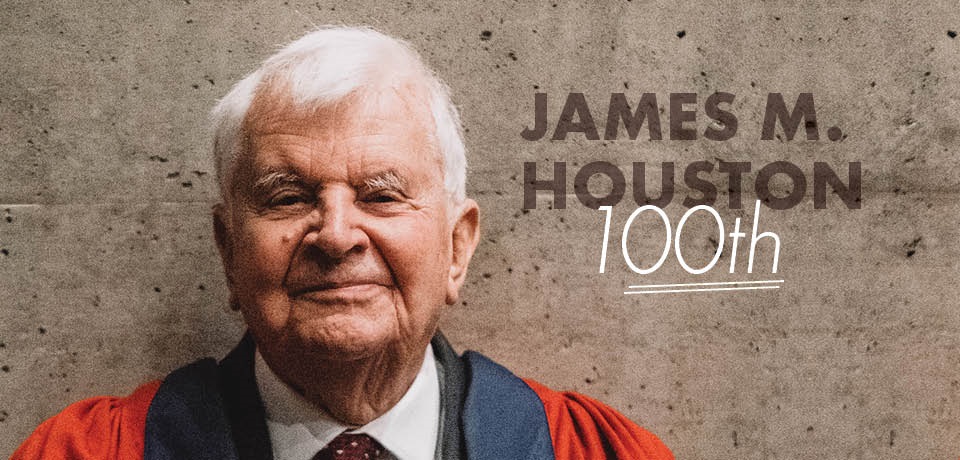 Please join us as we celebrate Dr. Houston's life, legacy, and ongoing ministry, and wish him a joyful birthday.
Today, the Regent community has the great pleasure of wishing Board of Governors' Professor of Spiritual Theology Dr. James Houston a very happy 100th birthday!
As Regent's founding Principal, Dr. Houston helped shape the life of the College and create the place that is loved by so many people around the world. As we join him in celebrating this milestone birthday, we are struck once again by the depth and breadth of his impact on countless individual lives, as well as the Regent community as a whole.
Regent College President Jeff Greenman wished Dr. Houston a happy birthday on behalf of the whole Regent community.
"This birthday is such a cause for celebration. I want to express our love for you, our congratulations on this milestone, and our very best wishes as you enter a new year of life. To quote that great Pauline affirmation, 'We thank God every time we remember you.' Happy birthday, Jim."
Members of the Regent community are warmly invited to share their own birthday wishes with Dr. Houston by sending him a message via his website.
Dr. Houston has been an integral part of the Regent community for over fifty years. Following his term as Principal (1970–1978), he was appointed Chancellor (1978–1980) as well as Professor of Spiritual Theology, until his appointment was endowed in 1991 as the Board of Governors' Professor of Spiritual Theology. His ministry of teaching, mentoring, and speaking deeply into the lives of students, alumni, and friends far and near has continued unabated into the 2020s.
Dr. Bruce Hindmarsh, Regent's James M. Houston Professor of Spiritual Theology, spoke warmly of his friend and colleague.
"I am grateful to have known Jim for about 35 of his 100 years, and what a blessing his friendship has been. It has been one of the greatest honours of my life to hold the Houston Chair at Regent College. What I have learned from him, what has become now a part of my life, I want to pass on to others, namely that thoughtful Christian scholarship and prayer belong together as a form of personal integrity.
"As I think back over Jim's life, it is remarkable to think of what he has achieved. In addition to his work as an institutional founder and educational leader, Jim showed remarkable prescience in his intellectual career, alert to widespread changes in the culture and the need to be ahead of these trends as a Christian thinker. He has a generosity of spirit matched with a prophetic boldness to always speak honestly to the truth as he sees it. He is a provocateur in conversation who rarely goes along with the consensus, but by his friends and colleagues he is known mostly for his empathy, charity, and his gift of discernment.
"With Jim, the personal and the intellectual have never been separated. Informally and formally, he became a spiritual director and mentor to hundreds of people around the world through conversation and letter writing. There are countless Christian men and women today whose lives have been changed by a single, never-to-be-forgotten conversation with Jim. And he is still going strong."
Please join us as we celebrate Dr. Houston's life, legacy, and ongoing ministry, and wish him a joyful 100th birthday.