Refreshing Our MDiv to Equip Ministry Leaders for Life
June 07, 2022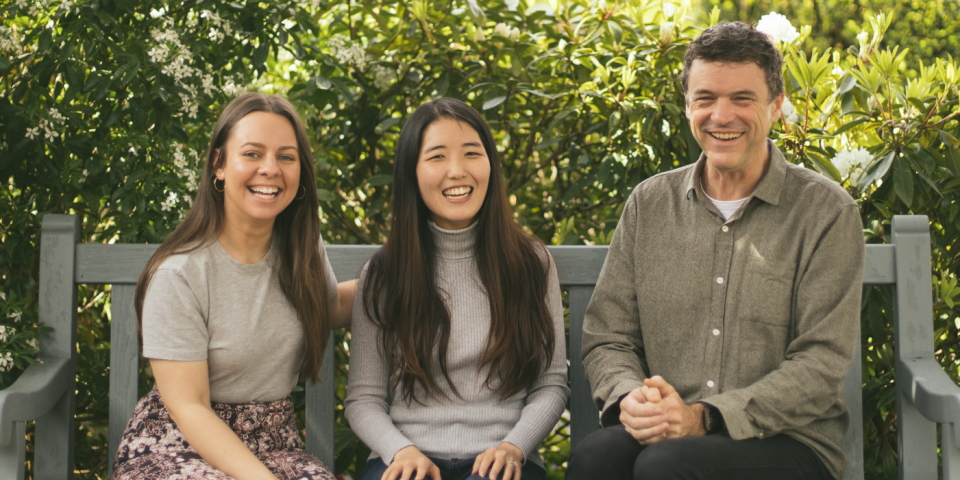 Audry, Sarah, and Mark (Regent's Pastoral Formation Team) offer holistic support to students with a future in ministry.
This year, Regent College is refreshing its Master of Divinity (MDiv) program—a robust 90-credit degree that helps students prepare for creative leadership, prayerful service, and redemptive engagement in ministry leadership. This work is being led by Associate Professor of Pastoral Theology Dr. Mark Glanville, and has been made possible by a number of generous gifts to Regent's Deep Roots Wide Reach Campaign.
A deep focus on the spiritual health and formation of MDiv students lies at the heart of Regent's MDiv program renewal. Over the past several months, three key developments have emerged out of this ongoing process:
the development of a Pastoral Formation Team to support and encourage students headed into ministry;
intentional mentorship for female MDiv students, to support emerging women in ministry; and
a renewed focus on spiritual companionship for all MDiv students, which will include subsidizing an ongoing relationship with a spiritual director for any student who seeks it.
Learn all about these exciting developments below!
PASTORAL FORMATION TEAM
The Pastoral Formation Team consists of Mark Glanville, MDiv Program Administrator Audry Goertzen (MDiv '23), and Program Coordinator for Pastoral Formation Sarah Jeong (GradDipCS '23).
Sarah, who joined the team in May, is excited about her new position. "My role is to connect pastoral students to internal and external supports, including faculty and staff, pastoral mentors, and spiritual directors. I look forward to forming ongoing relationships, learning about students' vocational, personal, and spiritual journeys, and connecting them with appropriate resources. I'll also provide a listening ear for feedback about the MDiv program as we continue to learn and grow in our ability to serve students."
In addition to providing administrative oversight to the MDiv program, Sarah and Audry support, equip, and encourage all students with a call to ministry. They offer practical training that doesn't fit into the regular MDiv program, such as lunchtime workshops by local chaplains, pastors, and other experts; monthly emails with job postings and other resources; a library with books focused on pastoral work, and more. Though they primarily resource MDiv students, any Regent student with a future in ministry is invited to make use of these supports. With this assistance, the Pastoral Formation Team pairs the rich theology in the MDiv curriculum with the everyday skills a pastor needs.
MENTORING FEMALE STUDENTS
At Regent, we see gifted women entering ministry year after year. We are fortunate to have a strong pool of mentors for male students, but have historically seen a gap in pastoral mentorship for female students. To ensure the essential gift of mentorship extends to all students, and to equip emerging female pastors in their call to ministry, the MDiv program has hired two deeply gifted pastors, Mardi Dolfo-Smith and Dawn Humphreys, to mentor women in the MDiv program.
Dawn and Mardi meet one-on-one with students to listen, pray, encourage, and share their own experience of living out a call to pastoral ministry. Recent graduate and former Pastoral Formation Team member Regula Winzeler (MATS '21) experienced the gift of Dawn's mentorship during her time as a student. Reflecting on this, Regula said:
"It was the first time in my life that I had a role model or mentor in ministry who was a woman. As a child, I didn't see myself in that pastoral role, because I didn't see women in leadership. To have that modelled in a close relationship as an adult made me almost sad, because it made me ask, 'Why wasn't this in my purview as a child?' My relationship with Dawn was empowering, and gave me a greater imagination for what it looks like to be a woman in church leadership."
Regula concluded her time on Regent's Pastoral Formation Team in April, and now works with Dawn at Strathcona Vineyard Church in Vancouver's Downtown Eastside neighbourhood.
SPIRITUAL COMPANIONSHIP
Everyone needs a guide in life, which is why formal spiritual companionship (commonly known as spiritual direction) is available for every student at a discounted rate. The Pastoral Formation Team is putting special emphasis on this opportunity for current and future MDiv students. In partnership with spiritual director John Lunn, Regent has committed to subsidizing students' spiritual companionship by placing them in relationship with spiritual directors at a significantly reduced rate of $20 per session. By nourishing the spiritual lives of current and future MDiv students, Regent hopes to lay a spiritually healthy foundation that sustains graduates in future ministry for all seasons of life.
LOOKING FORWARD: SENDING PASTORS OUT
What happens here directly impacts the church—that is, after all, Regent's aim: to cultivate wholehearted commitment to Jesus Christ, his church, and his world. In this spirit, we hope to host a gathering for pastors and church leaders from far and wide in May or June of 2023. This gathering embodies an important aim of Regent's MDiv program: to support and nurture pastors in their ongoing pastoral and missional vocation.
Dr. Mark Glanville expressed excitement for this gathering, and for all the ways in which Regent's MDiv program equips the global church. "Since it's experienced at the start of a pastor's vocational journey," he explains, "our Master of Divinity is thoroughly equipping tomorrow's leaders for life-long ministry, training pastors who offer the healing of Christ to their church, their neighbourhoods, and the world."

GRATITUDE FOR LEGACY GIFTS
Like so many essential aspects of Regent's ministry, the MDiv program has been significantly strengthened and sustained by the profound generosity of our donor community.
One of the first gifts to Regent's Deep Roots Wide Reach Campaign was an estate gift dedicated to funding a faculty position in pastoral theology for its first five years—a position filled by Dr. Mark Glanville in 2020. This generous legacy gift has since been supplemented by another generous gift to the pastoral theology position.
More recently, another significant estate gift provided a large portion of the resources needed for the ongoing work of refreshing Regent's MDiv program. Appropriately enough, this gift came from a woman who had served many years as a Presbyterian minister. Regent is delighted that this generous donor's legacy will include supporting the next generation of women in pastoral ministry, along with many other contributions to the future health of Christ's church around the world.
Learn more about Regent's Master of Divinity by visiting our MDiv program page.