Regent's Unsung Heroes: Sabrina Kutcher, Connecting and Encouraging
August 24, 2022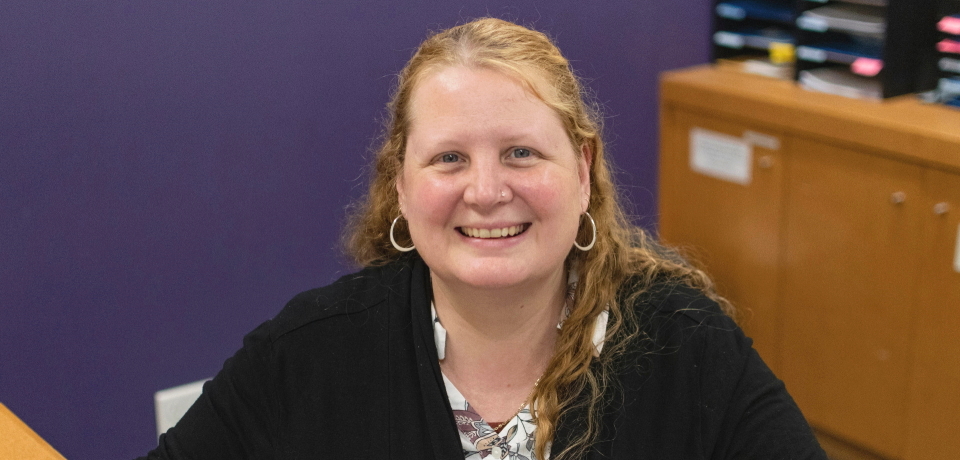 "When I help a busy professor or student, I'm helping them further the kingdom."
Fall 2022 is just around the corner! As we welcome faculty and students back to class, we're also celebrating the staff members whose hard work brings teachers and learners together. This month, we're delighted to introduce a few of the unsung heroes working behind the scenes to keep Regent open, accessible, and hospitable this Fall.
If you've called Regent recently, you've probably talked to our Receptionist, Sabrina Kutcher. This fall, Sabrina will be working the frontlines, helping hundreds of students and visitors—and her staff and faculty colleagues!—navigate their Regent experience.
Sabrina, how would you describe your job?
As Regent's Receptionist, I answer a lot of questions! I manage questions from students and from members of the public who call or come to the College in person. I work with staff and faculty quite a bit as well. I'm also the College's Financial Clerk.
Basically, I'm the go-to hub for everything people need. If I don't have it, I know who does—or I'll figure it out!
How did you find yourself in this role?
My husband is a student at Regent. He started classes in January 2020, but we came a few months early to get settled and find work. As we got closer to January I received a job offer somewhere else, but I didn't have peace about it. Then the Reception position opened up, I applied, and here I am!
My background is in social work, and I have a lot of retail experience. I have crisis intervention training. All those things have helped me to do this job.
You started this job in early 2020, just weeks before Covid changed everything. I imagine that crisis training came in handy?
At the beginning of the pandemic, Regent had just opened summer registration, and then suddenly we were online only. That caused real stress and disruption, and it upset a lot of people. It upset us too! There was a lot of uncertainty.
Crisis intervention is all about not panicking. People need to know you're listening, you're not upset, and you want to help them. A lot of people commented that everywhere else they called, they just got an automated system, and no one returned their calls. It meant a lot to people when I could say, "No problem! I can help you. I'll deal with your question right away."
Beyond any specific training, I'm someone who's gotten used to flexibility. I grew up in Ontario, but I lived in India for eleven years. I had to be flexible in my life situations. Even before living internationally, I had to be flexible in how I dealt with things as a social worker. It takes a willingness to say, okay, this is how I think things should go, but if it goes another way, I'll be flexible and do it that way. That's kind of how I've approached this position.
What do you find most meaningful about the work you do at Regent?
I find it meaningful when I can connect to people. I've gotten some phone calls that made me really glad God put me there to answer the phone. It's such a unique position to be in, to make connections with people and encourage them as they further their learning. Even if they're frustrated about something and I can help relieve their frustration—I feel very blessed to be able to do that.
People come through my door and ask me questions when they don't know who else to ask. When I'm able to help them or point them in the right direction, I can see their relief, that feeling of "oh, I don't have to stress about this anymore!" And, no, they shouldn't have to! Students need to focus on their studies, so how can I help them not stress out? I feel the same way with faculty. If I can help them with something, they're able to focus on teaching the students.
When I look around Regent, I see faculty, students, and support staff. We have different roles, but we're all part of the same circle. We're all in this together, partnered with each other. Without faculty and students, you wouldn't need support staff—but without support staff, faculty and students wouldn't be able to focus on teaching and learning. When I help a busy professor or student, I'm helping them further the kingdom.