New Scholarship Honours Professor Emeritus Don Lewis
May 13, 2022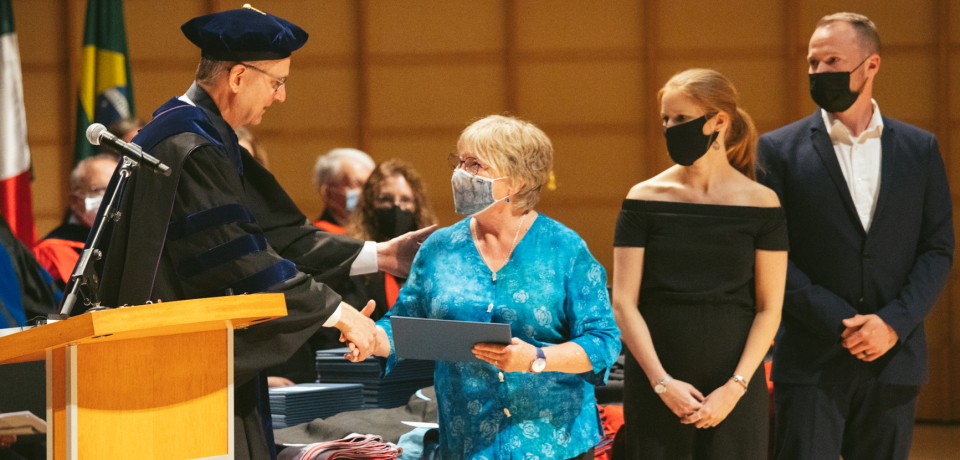 "Don's immense contribution to Regent, and his particular way of embodying Regent's mission and ministry, will always be remembered."
Regent's 2022 Convocation ceremony included a poignant tribute to Dr. Donald M. Lewis, who passed away unexpectedly in October 2021 while serving as Professor of Church History at Regent College.
President Jeff Greenman announced that Dr. Lewis has been posthumously named Professor Emeritus, a significant honour that recognizes meritorious service to Regent College and the broader academic community. This recognition, he observed, "means that Don's immense contribution to Regent, and his particular way of embodying Regent's mission and ministry, will always be remembered."
A certificate of recognition was presented to Don's wife, Lindi Lewis, who was joined at the ceremony by their daughter Annika and their son Benj (pictured above).
Also announced at Convocation was the creation of the Don Lewis Memorial Scholarship, an annual scholarship for students coming to Regent from outside North America. The Lewis family shared the following statement about this new scholarship.
"The Don Lewis Memorial Scholarship was founded by Don's family to promote his legacy. Don had a passion for students and loved to meet with and mentor them, both here in Vancouver and all over the globe. Don's life was one of joyful service and humility, something evident in his relationships, his scholarship, and his teaching here at Regent. We hope that Don's example will serve as a model for those who come after him."
Dr. Greenman remarked on the appropriateness of honouring Don's memory with aid to students.
"Don was an effective, dedicated, and deeply caring teacher who embraced the role of professor as a pastoral calling. He perfected the role of professor as pastor, turning long-term friendship, wise pastoral care, and prayerful support for his students into an absolute art form."
The Don Lewis Memorial Scholarship fund was established by the Lewis family and a number of other friends. Members of the Regent community who are particularly grateful for Don's ministry and impact are invited to honour his legacy by donating to the scholarship fund. To make a contribution, please visit our donation page.
About Dr. Don Lewis
Don Lewis came to Regent as a student in 1975. After completing his Master of Christian Studies degree, he worked in Vancouver before going to Oxford University (1978–81), where he completed a D.Phil. He started as an interim professor at Regent in 1981, and went on to spend a very happy forty years teaching History of Christianity until his unexpected death in October 2021. To learn more about Don's story and legacy, we invite you to read this tribute to his life.