Ubuntu Road—Second Steps
February 02, 2018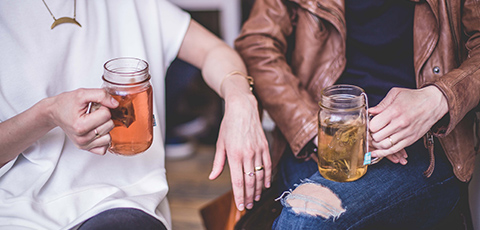 When you are connecting with the other, you each bring something to that connection, and through that there can be encouragement, support, debate, friendship, strength, grace.
The Ubuntu Road Initiative was catalyzed by the Student Council in the fall of 2017 in hopes of creating structured opportunities for students to connect more deeply with faculty, staff, and alumni as they process and digest their Regent experience.
Four months in, we spoke with the Ubuntu Road Initiative Facilitator, Claire Dyer, and RCSA President, Stephen Straits, for an update.
What catalyzed you two to start the initiative?
Stephen: As a student I kept seeing a desire to meet with people who had gone through this experience before. Regent stimulates a lot of different questions—whether it is about faith or culture—people want to talk about it, process it. Our hope was to provide a structure with opportunities for people to connect.
Claire: The Ubuntu element came from the Ubuntu philosophy, which is "I am, because you are, because you are, therefore I am." It acknowledges that we are made in relationship with not just God, but with each other, and in order to be me, I need to be in relationship with the other. When you are connecting with the other, you each bring something to that connection, and through that there can be encouragement, support, debate, friendship, strength, grace. It's an opportunity to bring Christ into the centre of those discussions.
How did you go about doing this?
Stephen: The RCSA wanted to be the moving point to connect faculty, staff, alumni, and students with students looking for connections. We launched the initiative this fall with a variety of opportunities and events.
Claire: We created some big, small, and mid-size events—all to provide space for those connections to happen. We had dinners with faculty in their homes, one-to-one coffees, times for prayer, Talk and Tapas nights, and Chinese fellowship gatherings. It is so important to know that someone is there! We also created a Facebook page to connect people.
Five months into the Initiative, how do you think it's going?
Claire: We actually see the need to simplify things. The vision was big, and good, but we see that in the future the emphasis needs to be on self-starting events. Certainly if people are new and wanting help with some sort of connection, they should find me so we can have coffee and figure out what connections might be helpful. Another option is that they can connect with people directly on our Facebook page. Generally we see the need for the one-to-one connections, so the focus will be on ways to facilitate that.
Stephen: We are hoping to put up posters showing some of the people who are available to meet and explaining some of the one-to-one possibilities. We will also get announcements in the Green Sheet and chapel.
How can the wider community of staff, faculty, alumni, and friends be helpful going forward?
Claire: This winter semester is so full; adding in more social opportunities for connections isn't really possible. What we need faculty and staff to do is to be alert and aware. Our hope is that they would email or talk to me where they see they can help or see a particular need.
Stephen: We'll continue to work toward finding good ways to connect those who want someone to talk things over with, and those who are glad to meet with students to walk with them. We will just keep raising the question, "Who might be a good person to process Regent with?"
If this interests you, Claire and her team would love to hear from you. Please email her at [email protected], or check out the Facebook page to see how you can get involved.