Monthly Donors Share Why They Give
June 25, 2018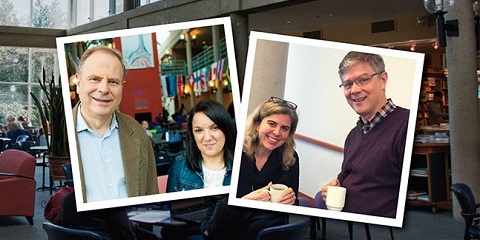 If half of Regent's graduates made a monthly gift of $20, Regent would receive about $600,000 a year in new revenue.
What do a Regent professor, staff person, Board member, and recent alumna have in common? They're all committed to the College's mission, and they all express that commitment through monthly giving. And they all hope more people will join them.
Over 30 percent of Regent's revenue comes from donations, and every gift is meaningful and needed. But, as Bruce Hindmarsh, Bill Reimer, Connally Gilliam, and Mandy Thayil wrote in a recent letter to Regent alumni and donors, monthly giving plays a unique role in promoting financial sustainability. For one thing, it's all about teamwork.
"We're all doing what we can, because we know it makes a difference, but what matters most is that we're all in it together," they said. "We're not just individual donors, we're part of a giving community."
Alumna Mandy Thayil (MATS '14) notes that donating a small amount each month was a great way to start giving back to the Regent community.
"Not long after I graduated, I felt challenged to start giving, despite the financial uncertainties I faced as a part-time non-profit worker. Monthly giving let me set aside a reasonable amount given my circumstances, so the whole thing felt manageable."
Even small monthly gifts add up fast. Consider this: if half of Regent's graduates made a monthly gift of $20, Regent would receive about $600,000 a year in new revenue.
Another point to consider: those numbers only tell half the story. Monthly gifts don't just pay bills, they create stability by smoothing out the highs and lows of a financial cycle that is tied to the academic year. This is vital to the College's ability to budget effectively and make long-term plans.
Board member Connally Gilliam emphasized this point: "I raise support for my position at Navigators, and I know how much recurring gifts help my budgeting process!"
Professor Bruce Hindmarsh echoed that sentiment. "When my wife Carolyn and I were missionaries with Youth for Christ, we had to depend entirely on donations as we pursued a mission we believed in," he said. "As Regent faculty members, we feel like we are every bit as much missionaries as ever. We know from experience that regular giving lays a foundation of stability and health for missional work. It would be wonderful if all those alumni who feel that God has his hand on the College would join us as underwriters of the mission."
Monthly giving makes things easy for donors as well, Connally pointed out.
"If I want Regent to have my money, this is the best way to do it," she said. "My life is full of complexity and data points, and this way I can be sure that supporting Regent won't slip through the cracks."
Ultimately, these four monthly donors give to Regent because they believe in Regent's mission.
"Twenty-nine years ago, I jumped at the chance to become a bookseller here," Bill Reimer recalls. "Since that time, I've seen Regent serve as a destination and shelter for thousands of students thirsting to know more about 'mere Christianity' and grow in faithful discipleship to Jesus Christ. My wife Dorcas and I started giving back to Regent financially a number of years ago, and we have no regrets. Regent is a unique place of Christian thought and devotion on a major university campus, and it's worthy of support in a time when Christian centres are increasingly fragile."
Click here to read more from Bruce, Bill, Connally, and Mandy. To join them, you can set up a recurring gift using this donation page.