Eugene Peterson in Hospice Care
October 15, 2018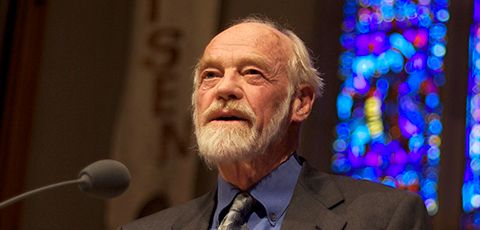 As many have heard, Regent's beloved Professor Emeritus Eugene Peterson has entered into hospice care. He was hospitalized for pneumonia last week but his physicians anticipate that he will return to his home in northern Montana later this week. Eugene has been struggling with heart failure for several years.
When Eugene's son, Eric, assured his father that "We are going to try to help make these remaining months as comfortable and enjoyable for you as possible," Eugene responded with his memorable smile and replied, "Thank you."
Eugene was the James M. Houston Professor of Spiritual Theology at Regent College from 1993 to 1998. As he prayed so richly for so many in the Regent Community over the years, we would be grateful if you would join with us in praying for Eugene, his wife, Jan, and their family.