Dr. Paul Spilsbury to Serve as Acting President of Regent College
October 16, 2018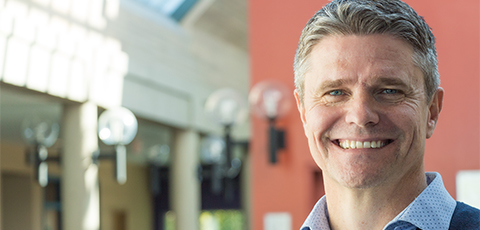 I am deeply grateful for Paul's commitment to the College and have every confidence in his excellent leadership.
This fall, Academic Dean Paul Spilsbury has assumed the role of Acting President of Regent College. This temporary transition, authorized by the Board of Governors, has been planned for some time in order to facilitate a necessary medical leave for President Jeff Greenman. In a letter to the Regent community explaining the transition, Dr. Greenman wrote:
"As you receive this, I am entering a period of medical leave from my duties as President of Regent College. The Board of Governors has authorized Paul Spilsbury, Academic Dean of the College, to serve as Acting President until my return. I am deeply grateful for Paul's commitment to the College and have every confidence in his excellent leadership.
"This is a carefully planned, temporary transition for which we and the Board of Governors have been preparing for some time. It has been necessitated by a latent but serious condition with my heart. While I feel and appear to be perfectly fine, my medical advisers have informed me that the condition must be addressed. I am scheduled to undergo surgery on October 16.
"I am confident that both Regent and I are in good hands; however, my recovery period will be lengthy. I will be away on medical leave for an extended period and I will be taking a complete rest from my work at the College throughout that time. My assistant, Maria Bitterli, will manage my email and other communications while I am on leave.
"Regent is deeply blessed with a praying, caring community. I would be grateful if you would not only hold me in your prayers at this time, but also continue to pray for the ongoing work of the College and for Paul as he leads that good work."
For the duration of Dr. Greenman's medical leave, matters relating to administration of the College may be referred to Acting President Paul Spilsbury ([email protected]). Correspondence and good wishes may be directed to Dr. Greenman via Maria Bitterli, Assistant to the President, at [email protected] or 604-221-3322.
Update (Nov 1, 2018)
Dr. Greenman is at home and recovering well from surgery. He is not currently receiving visitors but is very grateful for the prayers and support provided by the Regent College community. Please continue to hold Dr. Greenman, Dr. Spilsbury, and the College in your prayers.