Iain Provan Wins Humboldt Foundation Award for 2019
October 18, 2018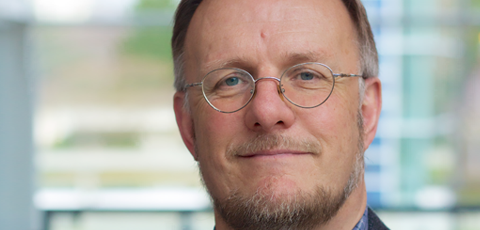 The leading thread through it all has been hermeneutics.
In this informal interview, Dr. Iain Provan shares his hopes for his upcoming Humboldt Grant—a unique opportunity to focus solely on research and writing—in which he will look at a wide range of hermeneutical assumptions about Israel.
You've been awarded a third Humboldt Foundation grant for research in Germany. Can you tell us about the grant and what you plan to use the money for?
Actually, this is the fourth segment of funding that I've received from the Alexander von Humboldt Foundation. I'm very grateful. The Foundation was originally established in Berlin in 1860 in order to provide support to German academics wishing to do research abroad. In its current form, it has the mission of promoting international cooperation between scholars from Germany and abroad, and this includes funding research trips to Germany.
I received the initial grant in 1996 while I was still teaching at the University of Edinburgh, which allowed for a six-month sabbatical in Tübingen. I received funding in 2012 and 2015, providing further study in Erfurt. This spring I will be returning to Erfurt for three months where I intend to work on a new book.
What aspect particularly excites you, and why?
I confess my wife, Lynette, and I miss Europe. It's wonderful to reconnect with European biblical scholarship and with European culture more generally. Secondly, Erfurt is a great context in which to research. We live quite simply there, in an apartment in the centre of the old city, so it's possible to get a lot done in a short period of time.
If you could have one outcome from this time of research, what would it be?
To be energized by a period of uninterrupted study and reflection and recharged for upcoming years of teaching, speaking, and writing at Regent and in Vancouver.
Do you see a book coming out of this work and, if so, can you give us a preview?
One of the conditions of the grant is that I submit a research proposal. I'll be working on a book that explores the hermeneutical assumptions underlying different appropriations of "Israel" by groups and nations through the ages. I'll be reflecting on what has been good and bad about both the assumptions and subsequent conclusions, and making proposals about what we can learn from all this today.
As you have been involved in this work in Germany for several years, how has your research and scholarship evolved over time?
The leading thread through it all has been hermeneutics. Back in 1996 my focus was on the history of Israel, and out of that time came my book A Biblical History of Israel. In 2012 I worked on what became Convenient Myths and Seriously Dangerous Religion. In 2015 I finished my latest book, The Reformation and the Right Reading of Scripture. The German connection has been a very fruitful one.
You are scheduled to lead a trip in Germany in 2019 as a Spring School course. What will be the theme of this journey, and where in particular will you be traveling?
We are running a second "Reformation Tour" of Germany from April 29 to May 8, 2019. We'll be visiting most of the important Luther sites and learning more about the Reformation and its enduring importance. We'll spend time in Eisleben, Mansfeld, Worms, and finish in Wittenberg, following Luther's own life in those places.
Our first Reformation Tour last year was a great success: it was a wonderful group of people and the tour sparked so many stimulating discussions. I'm really looking forward to revisiting those sites and discussing the implications of the Reformation with a new group this spring.
Interested in joining Iain in Germany? Learn more about his Reformation Tour at rgnt.net/germany. Space is limited, so sign up soon to reserve your spot!