Hans Boersma's Seeing God: The Beatific Vision in Christian Tradition Launched at Regent College
August 01, 2018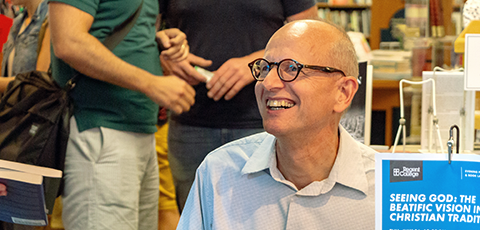 "This is theological reflection of the most illuminating kind" — David Bentley Hart
Hans Boersma's much-anticipated new book, Seeing God: The Beatific Vision in Christian Tradition, was released with a lecture and book-signing at Regent College on July 26.
Seeing God is landmark work of historical theology, surveying the richly varied history of Christian expressions of the "beatific vision." The term, for those unfamiliar, refers to the blessed vision of God that we will receive in the afterlife, and—as Boersma highlighted in his lecture—in which we have the pleasure of participating here on earth.
While the thrust of the work is historical, Boersma makes no attempt to hide the fact that the book also has both a personal and polemical grounding.
"So much of this journey has been a personal search," he commented. For Boersma, the scholarly exploration of these historical texts was also a personal delving into "What it is God teaches us about the promise of the end time."
And the polemic? In the lecture, Boersma pointed toward the modern church's forgetfulness in regard to the doctrine of the beatific vision, and his desire to bring the historically central doctrine back into focus.
"Throughout the history of the Christian church the beatific vision has been treated as the end, the purpose of the Christian pilgrimage.… In the last several centuries the topic has undergone some hard times. Particularly within the tradition of Neo-Calvinism the topic of beatific vision has come under sustained attack.
"I thought it was high time that someone spend some good time on recovering the tradition of the beatific vision.… We need a recovery of the doctrine of beatific vision to counter the modern loss of telos, of purpose."
The book has already attracted the attention of some well-known names in the world of theology, including Andrew Louth, David Bentley Hart, and John Milbank. Reviews have highlighted the remarkable way in which the book does justice to diverse theological figures—from Orthodox to Calvinist, from Puritan preacher to Medieval Catholic poet—breaking down barriers of misunderstanding between traditions.
Andrew Louth, Professor of Patristics in the University of Durham, comments, "In this remarkable book Hans Boersma seems to me a one-man ecumenical movement, as he explores with rare skill the different ways of thinking that have expressed Christian faith and hope. There is nothing bland about his exploration, which rather delights in tension and difference."