Clive Lim Appointed as Visiting Associate Professor of Marketplace Theology
August 03, 2017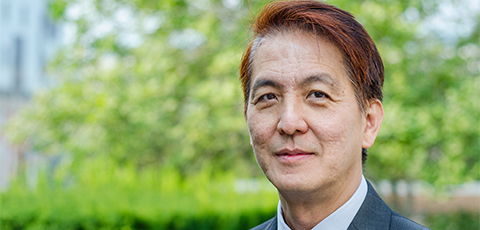 "I hope to bring a more hands-on approach to leadership and encourage the students to grapple with the realities of business and non-profits—not just the fallenness but the beauty and hope."
We are very pleased to announce that Regent has appointed seasoned business executive and theological thinker Dr. Clive Lim as Visiting Associate Professor of Marketplace Theology.
Dr. Lim will be teaching in the Fall Term at Regent for the next three years, kicking things off this September with a Regent favourite, Money Matters, as well as a brand new course, Entrepreneurship: Innovations in Business and Not-for-Profit. For many at Regent, Dr. Lim is a familiar face: he completed his MA Theo. Studies at Regent in 2008, has previously co-taught Marketplace classes with Paul Stevens, and was recently hired as sessional faculty for the MA in Leadership, Theology & Society, currently in its inaugural year.
Along with his academic background in ethics and theology, Dr. Lim brings a wealth of entrepreneurial and business expertise. In 1999 Dr. Lim started TeleChoice International Limited with a team of five employees. Today, Telechoice employs two thousand people in offices throughout Southeast Asia. Altogether, Dr. Lim has more than twenty years of entrepreneurial experience in thirteen businesses spanning from hospitality to technology.
In addition to his MATS at Regent, Dr. Lim received his Dip. Marine Engineering from Singapore Polytechnic, Masters in Business Management from the Asian Institute of Management, and DMin from Gordon-Conwell Theological Seminary. His research and teaching interests include stewardship, entrepreneurship, and business leadership.
We asked Dr. Lim a few questions to get to know a little bit more about Regent's newest faculty member.


What have you been doing since you finished your MA at Regent in 2008?
I punished myself with more studies. I continued with the DMin program at Gordon Conwell Theological Seminary, focusing on Business Ethics and Leadership. In the last decade my family were living in Toronto, before returning to Singapore last year. After dabbling in different kinds of businesses I am focusing on investment and money management.
Are you currently involved in business work? In non-profit work?
I am presently the Managing Director of Leap International, an investment firm based in Singapore. In 2009, our family set up the Leap Foundation, a charitable and missional foundation based in Singapore—I oversee gifts to Myanmar, Cambodia, and China. I am also a board member of the Institute of Marketplace Transformation.
Could you expand a bit on the work of the company you founded, TeleChoice, and how your theological convictions coloured the company's values and objectives? Things you wish you had done differently?
TeleChoice will always be a joy and I cherished the relationships I built with the board, management, and employees. I felt pride in hearing from the staff that there were no "office politics" whilst I was there. Our values reflect our Christian faith and I hope it will continue to be so. That said, I focused too much on the results and growing the company. I wish I had prepared my succession better.
You also have a teaching role in Regent's new MALTS program. Can you tell us a bit more about what you hope to bring to this?
I hope to bring a more hands-on approach to leadership and encourage the students to grapple with the realities of business and non-profits—not just the fallenness but the beauty and hope.
Are there books on money that you have found especially significant?
My favourites—Jacques Ellul's Money and Power and Ron Sider's Rich Christians in an Age of Hunger: Ellul warns readers about the insidious spiritual and social influence of money, and Sider challenges readers to think and act more responsibly about our riches in the light of a still hungry world.
What do you see as the crucial theological challenges for those whose work revolves distinctly around money?

To be more open-minded and to think more deeply about money.
Those in the marketplace tend to adopt a rational and market approach, basing decisions and relationships on calculated cost and benefits. On the other end are those who denounce money as mammon and avoid dealing with money. I believe we need to hold both views in tension when we engage the issue of money in our lives, our families, and our communities.