Remembering Eugene Peterson
October 22, 2018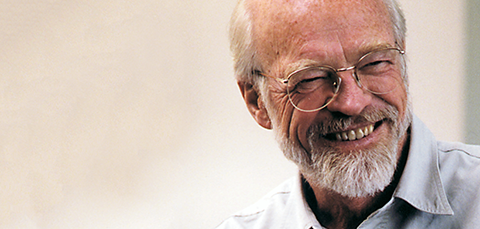 The work of the Christian life is participating with people and the Spirit of God.
It is with great sadness that the Regent College Community mourns the loss of Eugene H. Peterson, a beloved faculty member, teacher, pastor, and friend. Eugene was the James M. Houston Professor of Spiritual Theology at Regent from 1992 to 1998.
He had received hospice care for the past week and died early this morning at his home near Flathead Lake, Montana. He was 85.
Eugene embodied the conviction that all of Scripture is a conversation, "God does not speak and then walk off. Listening goes on." Of being a pastor, he went further, "The work of the Christian life is participating with people and the Spirit of God. You can't live it without the Spirit or without people. A pastor has the task of making sure that people understand that as a possibility––and an attractive one."
Through his lectures, sermons, and conversations at Regent, Eugene blessed countless students, pastors, and visitors. He taught classes entitled "Soulcraft: Spiritual Formation," and "Tell it Slant: Parables as Spiritual Direction." He frequently preceded his lectures with the class singing St. Patrick's hymn, "I Bind Unto Myself Today," beloved for its refrain "Christ be with me, Christ within me, Christ behind me, Christ before me." More than once Eugene paused, explained to the students that they needed to stop, attend to the words, and sing it again.
Eugene was generous. He preached frequently in Regent's weekly chapel service and at local churches. He gave everyone his undivided attention. When pressed he admitted that he'd learned to allow extra time to get from his Regent office, down the stairs, through the atrium and out to the parking lot––entirely to be present to those he met. Eugene's gravelly voice, crinkling eyes and broad, delighted smile were treasured presents.
One student recalls, "You'd ask him a hard question and then there was a long pause. Always a long pause. And then there was a one-sentence answer. It would take years to unpack its wisdom. After 9/11 I asked, 'How do we respond to all these tensions and grief in chapel?' He paused. 'Let ritual do its work.'"
Born in East Stanwood, Washington, Eugene grew up in rural Montana, exploring the mountains and loving the trees. He attended Seattle Pacific University and then New York Seminary, as well as taking an MA in Semitic Languages at Johns Hopkins University.
He began as a pastor at Christ our King Presbyterian Church in 1963 when he was asked to plant a church in Bel Air, Maryland by the Baltimore Presbytery PC (USA) and remained there for twenty-nine years. Eugene and Jan then spent a year at Pittsburgh Seminary before coming to Regent in 1992. In 1999, the Petersons retired to their home in Montana, Eugene intent on completing his renowned (and best-selling) paraphrase of the Bible, The Message.
Throughout his adult life, Eugene made it his daily practice to read the Bible in its original languages. He gave out of what he received, offering to others the Word and the Spirit that animated his own life. It was through Eugene's thirty-three books that his words––and his understanding of ministry in the local church––affected and blessed so many. His five-volume Spiritual Theology series, beginning with Christ Plays in Ten Thousand Places and concluding with Practice Resurrection, arose specifically from his teaching at Regent.
Eugene was a winsome advocate for poetry, insisting, "at least half the Bible is written in poetry. Why don't Christians immerse themselves more in poetry so we can learn how language works? Language is related to information, to getting things done, but the Christian life is not about getting things done. It's about living."
In honour of his value for not just words, poetry, and scripture but also fiction, drama, and art, the Petersons returned to Regent in 2013 for the dedication of the Eugene and Jan Peterson Chair in Theology and the Arts. His lecture Why This Chair? began, "Theology is the North Pole and art the South Pole of the Christian Life. Theology is the study of what God does and says; art is what people say and do in the entire context of what God says and does…. You can't have one without the other…'"
Eugene's joy and long obedience are now complete. We will always miss him. Our hearts ache with Jan and their family.
A public Service of Witness to the Resurrection will be celebrated on Saturday, November 3 at 1 pm Mountain Time. The service will be livestreamed at fpckalispell.org. You are warmly invited to join us in the chapel at Regent as we gather to watch the livestream of the service at 11:45 am PST. Details here.