Regent College Publishes Don Lewis's Investigation of Mission and Poverty in Victorian London
July 24, 2018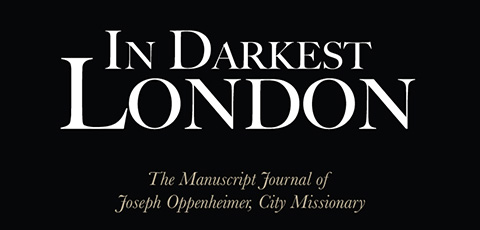 "Here is a source that vividly illuminates the work of Victorian Evangelicals in the growing cities of the age." — David Bebbington
Regent College Publishing has released In Darkest London: The Manuscript Diary of Joseph Oppenheimer, City Missionary, an arresting portrait of the poor and bereft in Victorian London by Dr. Don Lewis. The book launch, lecture, and celebration will take place Tuesday, July 31 at Regent College.
The work is an in-depth study of the hand-written journal of Joseph Oppenheimer, a German-born Jewish convert to Christianity who, between 1858 and 1862, was employed by the London City Mission. The journal, in the words of Lewis, "provides an unedited, first-hand account of life in the poorest of London's slums, written by a perceptive and well-educated outsider who was also a foreigner."
In addition to the journal itself, the book includes an eight-part study on the historical context of Victorian London and on what we know of Joseph Oppenheimer. The study zooms in on the neighbourhood to which Oppenheimer was assigned, Dudley Street, St. Giles'-in-the-Fields. This neighbourhood—portrayed in the Gustav Doré sketch on the cover—was where the desperately poor came to sell used clothing, and was considered the worst slum in London.
American historian Dr. Mark Noll comments: "Donald Lewis's compelling book documents a person who, through desperately difficult work, sought not sensationalism but salvation. Joseph Oppenheimer, a converted German Jew, left a diary from his work with the London City Mission that is here quoted at illuminating length and also used for an informative account of Christian outreach to London's poor in the years shortly before William Booth's more famous mission launched the Salvation Army."
David Bebbington, Professor of History at the University of Stirling, adds, "Here is a source that vividly illuminates the work of Victorian Evangelicals in the growing cities of the age."
We hope to see you on July 31 to celebrate with Dr. Lewis the release of this significant study.